Written by David Neilsen
Directed by Scott Rabinowitz
3/4/00 - 3/18/00
Mr. Dibble
Jay Harik
Aldrich Allen
Mrs. Dibble
Florence Regina
Delilah Dibble
Michelle Philippe
Deputy Willis
Paul Urcioli
Corey Klemow
Sgt. Feeblemind
Brett Miller
David Neilsen
Professor Bob
Patrick Towne
Scrappy
Leo Marx
Michael Louden
Dr. Lance
Phil LaMarr
Father Lincoln San Vicente
Gerlad McClanahan
Hell hath no fury, like the scorn of a demonized, satanic bitch from hell!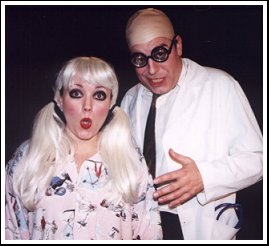 Michelle Philippe as the lovely Delilah
with Patrick Towne as the lovely Professor Bob.

A lovely group photo...(from top-left to bottom-right)
Michael Louden, Jay Harik, Paul Urcioli & Florence Regina.

The NFL's lovely Brett Miller as Sgt. Feeblemind.
And he couldn't be happier to be here!