What would Halloween be like without a Shitting Devil?
Much better for Phil Sokoloff!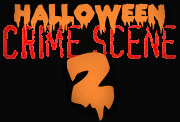 10/30/99
Our 2nd Annual CRIME SCREAM! This time in Prime Time! With two full acts! Our most disgusting show ever! A full night of variously appalling sketches and performances in very poor taste! (Just ask The Shitting Devil!) And haunting music from Jessie Thompson and, our friend, The Legendary Buck Silvertone!

Good Evening...I'm your host, Scott Rabinowitz...
And this woman is quite a trollop...