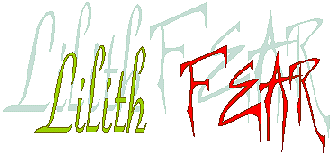 A One Night Only
CRIME SCENE SPECIAL EVENT!
Produced by Pussies with Pens
(Donna Tina Charles, Jenifer Hamel & Pogo Saito)
8/14/99

The chicks take over CRIME SCENE for one-night only, and there's nothing we can do about it! Two different one-week-only stories, Go-Go Dancing to the Death, Songs, Stories, and other Femme FEAR-someness!
Featuring:




Written by Danielle Surrette
Directed by Sharon MacMenamin
| | |
| --- | --- |
| Laura Angles | Timbre Henning |
| Ma (Caroline Angles) | Noelle Potvin |
| Pa (Charles Angles) | Benjamin Byron Davis |
| Mary Angles | Babe Hack |
| Carrie Angles | Shirley Roeca |
| Mrs. Olsen | Christine Deaver |
| Mr. Olsen | Joe Seely |
| Nellie Olsen | Jessie S. Marion |
| Willie Olsen | Paul Plunkett |
| Albert Angles | Andrew Friedman |
| Indian 1 | Eric Johnson |
| Indian 2 | Guy Stevenson |


Written by Piper Henry
Directed by Synthia Learned
Costumes Designed by Nicole Thomas
| | |
| --- | --- |
| Detective Jingle | John Sylvain |
| Detective Jarvis | Gerald McClanahan |
| Ruby Dawl | Lauren Hollingsworth |
| Candi Dawl | Quinn Sullivan |
| Candi Box | Linda Miller |
ALIVE!
Choregoraphed by Funk & Frank
(Bethany Funk and Fran Kelly)
The tragic true story of the Uruguayan rugby team stranded after a plane crash and forces to eat each other to survive...interpreted entirely through Dance!!!
Dancers
Gabby Anderman
Donna Tina Charles
Jenifer Hamel
Tenny Priebe
Pogo Saito
SONGS...
Getting Over Tanya
by Jenifer Hamel
Spreading Love
by Gabby Anderman
The Tool
by Amy Bryson &
Jessie Thompson
Lilith
by Pogo Saito

Goddess Mic
Michelle Philippe
Oracles
Caroline Andres
Tina Ballabio
Amy Bryson
Amy Jones
Detra Payne
Jessie Thompson
Jennifer Wu
The Delightfully-Named
Adam Bitterman
Himself
Montage Sequence Performers
Gabby Anderman
Mary Hayes
Eric Johnson
Corey Klemow
Michael Louden
Sharon MacMenamin
Michlle Madden
Tenny Priebe
Melissa Roddy
Tom Roddy
Phil Sokoloff
Guy Stevenson
Go-Go Dancers
Aldrich Allen
Joe Hernandez-Kolski
Corey Klemow
Chad Kukahiko
Peter Mattsson
Scott McShane
Steve Millunzi
David Rodwin
Al Vicente
Lovingly brought to you by...



Have you been a naughty boy?