"Trouble on Galos 7"
Written by Mark T.J. Lifrieri
Directed by Mark T.J. Lifrieri / Jonathan Goldstein
Episodes #1 to #3: 7/31/99 - 8/14/99
Episode #4: 8/28/98

Capt. William J. Arkansas
Jonathan Goldstein
Brian Leahy
Bright
Tenny Priebe
Audrey Rapoport
Lisa Grant
Circuit
Lisette Bross
Hiagg
Stan Freitag
Frieze
Scott McShane
Val
Darren Cooper
"Brad Friedman"
Lum
Mark T.J. Lifrieri
Ensign Dunsel/Voltar
Corey Klemow
Aberra
Jill Bennett
Jennifer Wu
Jessie Marion
Ungus
Louahn Lowe
Karin Powsner
Bil Garrity's Headshot
Scott McShane
Passerby
Bob Klemow
Guinan
Detra Payne
Tal
Haynes Brooke
Fareen
Darrin Jaques
Magreb
Aldrich Allen
Salek
Benjamin Davis
Cubed
Jack Carey
Commander Flower
Bil Garrity
Mr. Zero
Craig Mathers

Al

Al Vicente
CRIME SCENE - the final frontier. These are the voyages of the Starship Disappointment, "the Little Yellow Bus of Starfleet". The inept crew attempts to mediate peace beween the Voktars and the Uparararararards. Good luck. Even the Star Fleet has a bad day ya know...Whatever Shatner didn't screw up, we will! And that's a promise!


Capt. William J. Arkansas (Brian Leahy)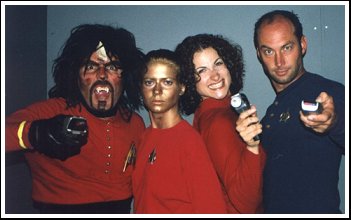 Stunning!
Stan Freitag as Hiagg, Lisette Bross as Circuit,
Tenny Priebe as Bright, Darren Cooper as Val.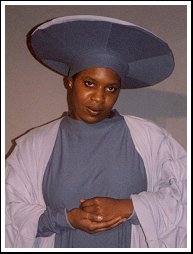 Whoopie!
It's Detra Payne as Guinan!

What are you eating under there?
Jill Bennett and Louahn Lowe as
Aberra and Ungus respectively.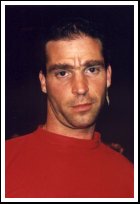 Glum Lum
Mark T.J. Lifrieri as Writer, Director
& the part of Lum couldn't be prouder!