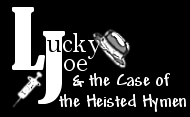 Written by Mark Bate, Tyler Tanner & Jeffrey Folschinsky
Directed by Sharon MacMenamin
2/10/01 - 2/24/01

Some things are tough to find, sister...
Lucky Joe
Mark Bate
George the Blue and Yellow Monkey
Richard Gustafson
Victoria Sucrets
A.K. Paxton
Ina Burke
Phillip Shine
Bil Garrity
Tom Kiesche
Alicia Pacewell
Noelle Potvin
Subterfuge
Tyler Tanner
Mrs. Renaldo
Shelley Wenk
Mr. Renaldo
John Sylvain
Sheik of Curacao
Christian Olave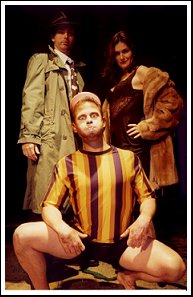 Lucky Joe, Victoria Sucrets and that Monkey on his Back...
(Clockwise from Top Left) Mark Bate, A.K. Paxton & Richard Gustafson

There is no one here. Certainly not Subterfuge.
Or even Tyler Tanner.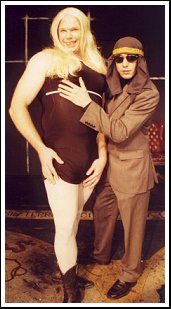 The lovely Philip Shine and the Sheik of Curacao
Tom Kiesche & Christian Olave

Very Happily Married...Mr. & Mrs. Reynolds
Shelley Wenk & John Sylvain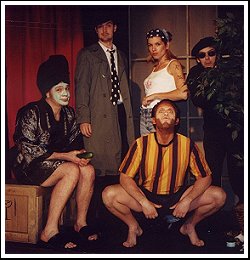 (Clockwise from the guy in the Cucumber Mask)
Bil Garrity, Mark Bate, Noelle Potvin, Tyler Tanner & Richard Gustafson