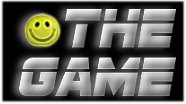 Written by Aaron Francis
Episodes 1 & 2: Directed by Michael Franco
Episodes 3: Directed by Scott Rabinowitz
Episodes 4: Directed by Aaron Francis
2/3/01 - 2/24/01

Play or be played. Have a nice game.
Smiley
Ben Davis
Cat
Crystal Keith
Lincoln
Jacob Sidney
Blade
Kirstin Burbank
Dave
Aaron Francis
Roz
Dezhda Mountz
Spoo
Zach Eisenberg
Skitt
J Warner
Bad Guy 1/
Bad Guy 2
Matt Saxe
Raze
Alisa Steen
Marshall
Jay Harik
Moll
Matt Saxe
The Three Thugs
Stan Freitag
Brad Friedman
and Scott Rabinowitz
Charley
Nancy Barnes
Thiran
Darrin Jaques
Ferrelle
Sarah Holbert
Goldi
Lisette Bross
Hans
Joe Jordan
Guard 1
J Warner
Guard 2
Matt Saxe
Baron von Munchmaussen
Jonathan Goldstein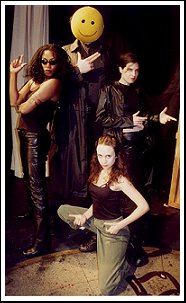 The original team...before the massacre...
(Clockwise from Top) Ben Davis, Dezhda Mountz, Crystal Keith & Alisa Steen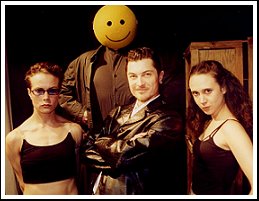 The new team...
Ben Davis (on top, and then from left...) Kirstin Burbank, Jacob Sidney & Crystal Keith.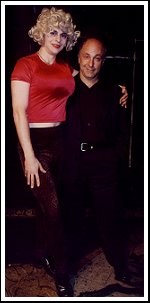 Bad Guy and Bad Girl...
Matt Saxe as the very sexy Moll with Jay Harik as Marshall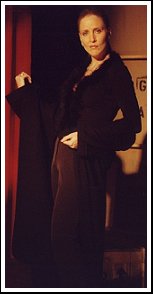 Another Bad Girl...
Nancy Barnes as Charley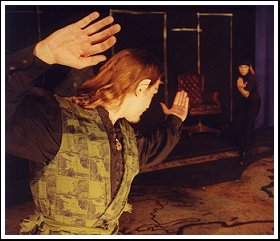 Thiran versus Blade. Put your money on Blade.
Darrin Jaques and Kirstin Burbank