Star Wars' Jar-Jar Binks,
AHMED BEST in...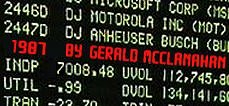 Written & Directed by
Gerald McClanahan
4/13/02 - 5/4/02
A tale of Buyouts! Big Bucks! And...Break-dancing!!!
Where "Beat Street" meets "Wall Street"!!!
Where break-dancers "break out", and stock brokers go "for broke"!!!
Eisenstadt
Kirstin Burbank
Ellis
Martin Yu
Janowitz
Matt Saxe
McInerney
Chase Sprague
Elliot Komodo
Scott Leggett
Oliver Jackson
Ahmed Best
Zephyr
Henry Dittman
Harlequin
Tom Chalmers
T-Spoon
Bryan Krasner
Bizzy B
Rachel Dara Wolfe
Lori Funk
Dance Judge
Adam Sears
ManDieE
Angela Rubino
Heather
Julie A. Lockhart
Pauly "The Weaz-el" Shore
Dean Jacobson
"Downtown"Julie Brown
Detra Jones
The new epic storyline from the brilliant provocateur who brought you
provacateur who brought you
EMPIRE: The Hollywood Years, Ten Little Actors, Cappuccino Jones
and too many other to mention dammit!