Presented as part of 2001's
4th Annual Shocktober Spooktacular!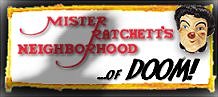 Written by Donald Marshall
Directed by Joe Jordan
10/20/01 - 10/27/01
It's such a good feeling...to know you're alive...
Mister Ratchett
David Sparrow
Mr. Mailman
Joe Jordan
Princess Janet
Crystal Keith
Frank / King Tomtom
Paul Byrne
Edie / Ms. Pussypuss
Stephanie Bell
Director Bob
Adam LeBow
Stage Manager Jim
Mike Lanahan
Larry the Loveable Lobster
John Williams
Sharri / Minstsauce
Lauren Cohn
Tabatha Hall
Sound Man Greg
Brad Friedman
Slinky Winky
Dean Jacobson
Puppets by Richard Gustafson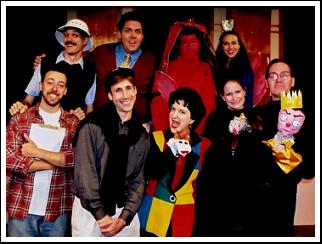 The lovable gangs all here!
Clockwise from Top-Left...
Joe Jordan as Mr. Mailman, David Sparrow as Mister Ratchett,
John Williams as Larry the Lovable Lobster, Crystal Keith as Princess Janet,
Paul Byrne and friend as Frank/King Tomtom, Stephanie Bell and friend as
Edie/Ms. Pussypuss, Lauren Cohn and friend as Sharri/Mintsauce,
Adam LeBow as Director Bob and Mike Lanahan as Stage Manager Jim.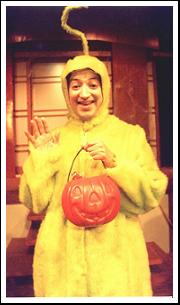 Dean as the lovable(?), Slinky Winky!

Tabatha Hall as Sharri, with her hand up Mintsauce's ass.

King TomTom at the throat of Frank (Paul Byrne)