Written and Directed by Joe Jordan
9/15/01 - 9/22/01
He's a cop with an attitude. A bad attitude. No, a really really bad, nihilistic, self-loathing, jaded, and petulant attitude with a general disgust for the overall zeitgeist and ultimate folly under which the human condition lives on this absurd planet called earth.
Det. Gunter Stein
Jamie Callahan
Det. Amy Heckle
Tenny Priebe
Chief Det. Lundtz
Stan Freitag
Officer Miller
Tina Ballabio
Margaritte Dewitt
Tabatha Hall
Officer Blisk
Tom Chalmers
Officer Gelman
Dean Jacobson
Landlord
Richard Gustafson
Dean Jacobson
Andrew Timmins
David Lampert
Janice Barker
Linda Miller
Michael Stanwyck
Philip Sokoloff
Benjamin
Darrin Jaques
Eddie Prince
Brad Friedman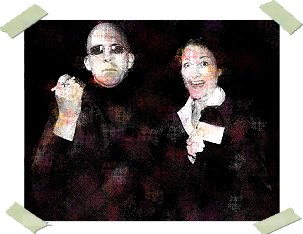 Uber Cop, Det. Gunter Stein with new partner Det. Amy Heckle
Jamie Callahan & Tenny Priebe


Officer Miller and Chief Det. Lundtz
Tina Ballabio and Stan Freitag



The Landlord...okay...
Richard Gustafson...okay?

Officer Gelman, Margaritte Dewitt and Officer Blisk
Dean Jacobson, Tabatha Hall and Tom Chalmers