It's not just TV...It's CRIME SCENE!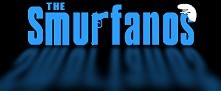 WEEKS 1 & 2: 9/28/02 - 10/5/02
/28/02 - 10/5/02
and then in WEEK 3, things change into...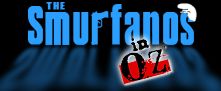 WEEK 3: 10/12/02
Written by Donald Marshall
Directed by Meredith Anne Patt
Based on an idea by Lisette Bross & Donald Marshall

Feeling blue?...
It's another Ground Breaking Original from CRIME SCENE!
Every Family has it's problems...
Tony Smurfano
Adam Bitterman
Dr. Smurfi
Julie A. Lockhart
Brawny
Stan Freitag
Vanity
Matt Saxe
Jokio
Rob Brink
Pussy
Frank Stasio
Strawberry
Lisa Anne Nicoli
Field
Haven Hartman
Tony Jr.
Jordon Krain
Janette
Ariadne Shaffer
Smurfia
Rena Malin
Papa Uncle Junior
Steve Rozic
The MonChiChi's
Sondra Mayer
C.M. Gonzalez
Jesse Nickles
Wyatt Nickles
Tony Jr. Junior
Jack Freitag
Augustus Hill
Bashir Salahuddin
Ms. Gale
Lisa Anne Nicolai
Sister Glenda
Julie A. Lockhart
Tinman O'Reilly
Philip Wofford
Vernon Scarecrowenger
Brad Friedman
Tobias Bitcher
Stan Freitag
McManus the Wizard
Chauncey Deville
Naked Guys
Aaron Francis
Andy Wolf
Toto
Sasha
and Jacob Sidney as Father Gargamel!
Special Thanks to Sewing Goddess Julie A. Lockhart!