Crime Scene
Who: Sacred Fools Theater Company
Where:
Heliotrope Theater
660 N. Heliotrope Drive, Silver Lake

When: 11p.m., Saturdays
Tickets: $5, or pay to see the main show first and admission to "Crime Scene" is free.
Phone: (310) 281-8337
Web Site: Crime Scene

Listen to the "Crime Scene" Theme Song
Download the free RealNetworks player to listen.
Blood Hounds
The Sacred Fools Theater Company slays audiences with a weekly late-night show featuring three serialized story lines filled with murder, mayhem and sometimes song and dance!

By Debbi K. Swanson
Special to Calendar Live!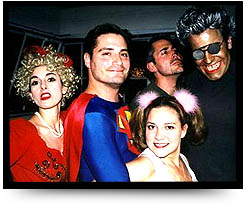 "Crime Scene" actors Melissa Roddy from "HEIST! The Musical!" Stan Freitag from "The Stuperfriends," Li'l Jessie Marion from "Flying Fists of Fury...," J. Haran from "City of Angles" and Patrick Towne from "The Shocking Adventures of General Electrick!"
Photo courtesy of Desi Doyen

f you see a hip, young crowd hanging around Heliotrope Drive and Melrose Avenue in Silver Lake late Saturday night, it's not because they're dying to get into the latest underground club -- they've gathered to observe the scene of a crime.
Many are regulars who come each week to watch as murder and mayhem unfold. Ghoulish, you say? Oh no, it's theater!
Created and performed by the Sacred Fools Theater Company, "Crime Scene" is a campy, rowdy, raw send-up of murder/crime genres that keeps you coming back because the stories end in cliffhangers each week. New stories begin every three weeks and tickets are $5.
A young, party-like crowd hangs out at the 99-seat Heliotrope Theater well before the 11 p.m. show in order to get a good seat, grab a $2 beer and catch up on the latest story lines. The show attracts a mix of regulars, newcomers or friends who have been eagerly dragged there by regulars. As the show begins, there's a scramble for seats. If you're not quick, you might wind up standing or sitting on steps because most of the hour shows sell out.

It's like a Southern Baptist service with nudity, profanity and promiscuity.


-- Michael Anderson

Skewering sacred cows with adult humor is "Crime Scene's" mission and its source of popularity. Regular attendee Michael Anderson quips, "It's like a Southern Baptist service with nudity, profanity and promiscuity."
The weekly performance consists of three concurrent stories, each containing three scenes. On one recent night, the audience found out who killed the arrogant "Cassie" in the conclusion of "A Chorus Line-up," learned if Charlie Brown actually murdered Snoopy in the last installment of "You're A Dead Man Charlie Brown," and witnessed barbarian escapades in "The Emperor and the Queen's Parisian Weekend."
In "A Chorus Line-up," the '70s costumes conjure up images of Richard Simmons on acid. The actors carry small, hand-held mirrors, mocking the musical's trademark set of full-length mirrors. In "Charlie Brown," Marcie is in love with Peppermint Patty, Schroder is a gay deejay and the Great Pumpkin appears in Marlene Dietrich drag.
"Crime Scene" co-creator Scott Rabinowitz was inspired to create a satirical murder mystery after performing similar productions in New York, which he says were extremely popular. It's the three-story structure that keeps audiences interested and returning week after week, he explains. The longest story was Paul Plunkett's popular "City of Angles," which ran for 14 weeks.
"If you don't like one story, or if one isn't going particularly well, the other two usually are," Rabinowitz says.
"Crime Scene" is performed after Sacred Fools' main stage production. In an effort to fuel attendance, those who attend Saturday's main show are offered free admission to "Crime Scene."
Members say the company's web site has also contributed to the show's following. Cyber sleuths who want to get in on the act at home can check out the "Crime Scene" web site, peruse "Crime Scene" case files, play "Crime Scene: The Game," see photos from the shows and listen to the "Crime Scene" theme song.
The show's popularity has attracted new money and talent to the small theater company. The constantly rotating stories require a battalion of actors, writers and directors. Sacred Fools members estimate that nearly 30 writers, 30 directors and more than 200 actors have participated in the show since its inception a year ago.


Pogo Saito, center, as Irene Plymouth in "All About Eva" with Amy Bryson, left, as Eva Harrison, Sharon MacMenamin as Fuzzy Abromowitz and Jenifer Hamil as Judge Jody.
Photo courtesy of Desi Doyen


The demands of the serial show require blender-speed work by writers, directors and actors who have just two normal rehearsals and one quickie run-through on Saturday for that night's show. It's do-or-die on stage.
But the impromptu nature of the shows seems to be part of the attraction for the audience. There are memorable moments produced by the manic energy and lack of rehearsals.
"When we squirm, they love it," Paul Plunkett says.
And things do go wrong. One night, the light board blew out in the opening scene and the actors had to perform without any light cues. The audience roared with laughter throughout the show anyway.
"It's like when you see an accident on the freeway," says audience regular Anderson. "You just have to watch."
"Crime Scene" starts a new batch of stories Saturday, July 31. The three story lines are: "Murder on the Ocean Queen," in which a star is murdered on a luxury cruise; "Noche Negro," described as a sick and twisted piece about a boy and his mother that features members of the Sacred Fools and Zoo District theater companies; and a science-fiction spoof.
A special one-night-only show created by women, called "Lilith Fear," takes place Aug. 21. The show features a piece written by Sacred Fools' founding member and "Crime Scene" co-creator Danielle Surrette, who died June 30. Surrette produced, wrote and acted in many of the shows and members were shocked and saddened by her unexpected death, said Philip Sokoloff, the company's publicist. Surrette created "Lilith Fear" to give women the opportunity to write, produce and direct for the stage, said Sokoloff. The show will be performed in Surrette's memory.

Debbi K. Swanson is a freelance writer specializing in theater and entertainment.