Congratulations to MACBETH Director Joe Jordan,
Recipient of a 2002 Garland Award Honorable Mention for Direction!
Congratulations to MACBETH Music & Sound Designer, Jef Bek!
Nominated for a 2002 Ovation Award for Best Sound Design
and Recipient of a 2002 Garland Award Honorable Mention for Music Direction!
From the Director of last year's acclaimed Comedy of Errors...
7 Actors...1 Horrifying Deed...

By William Shakespeare
Directed by Joe Jordan
"Vigorously physical...
lives up to its full name!"
- LA Times

"Sleek, spirited...
heart-wrenching and sublime!"
- LA Weekly (Recommended!)

"Sheer drama at its highest!...
Masterful!...
A definite notch in the
Sacred Fools' belt!"
- ReviewPlays.com

"Deeply satisfying...custom built
for the whirlwind that is Macbeth!"
- Backstage West
On the Sacred Fools Mainstage...
Thursday - Saturday @ 8pm
July 18 - August 24, 2002
EXTENDED through
August 31, 2002!
Tickets: $15
Reservations: (310) 281-8337
or Purchase Tickets Online!


Featuring...
Jay Edward Anthony - Chad Brummet - Amy Bryson
Jeff Elam - Mark TJ Lifrieri - Jessie Thompson - Christine Zirbel
Shakespeare's classic tale of ambition gone awry, stripped down to its gripping, harrowing essence....Just seven actors portray all of Shakespeare's characters in this stylized, physical production.

See what happens when fate and love conspire to make one man's dream come true - if he'll do just one horrifying deed...

Associate Producer
David LM Mcintyre
Music & Sound Design
Jef Bek
Scenic Artist
Sheryl Lynn Davey
Lighting Design
Rex Austin Barrow
Set & Costume Design
Amy Bryson & Jessie Thompson
Assistant Director
Scott Rabinowitz
Fight Choreography
Brian Reynolds

Stage Manager
Heatherlynn Lane

Sound Operator
Jason Tuttle
REVIEWS!
L.A. WEEKLY - * Recommended! *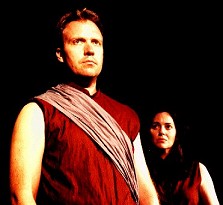 Jeff Elam & Amy Bryson
Using a cast of just seven actors, director Joe Jordan has given the Bard's tragedy a refreshing, effective mounting. Jay Edward Anthony, Chad Brummet, Amy Bryson, Jeff Elam, Mark T.J. Lifrieri, Jessie Thompson and Christine Zir bel switch roles throughout with amazing fluidity in this sleek, spirited production, with bagpipe music and a wonderfully atmospheric use of drums throughout, courtesy of musical director/sound designer Jef Bek. If there is a glitch in this show, it's in the hot and cold performance of Elam in the title role, who sometimes speaks his lines as if he were auditioning for a spot in one of those fast-talk commercials, thereby reducing the Bard's soaring prose and some of the play's most dynamic and emotionally gripping moments to bland trifles. In stark contrast, Bryson is outstanding as Lady Macbeth; her "sleepwalking" scene is heart-wrenching and sublime. Bryson and Thompson's eerie, minimalist set design neatly underscores the play's forbidding tenor, which is nicely complemented by Rex Austin Barrow's lighting.
-- Lovell Estell III
©2002 LAWeekly
BACKSTAGE WEST
Stagings of Shakespeare's more frequently produced works often seem to spring up with no new insight or experiment spurring them on or in adaptations that have little if anything to do with the plays. Director Joe Jordan's production is not one of these. In it, there are some deeply satisfying reflections on the text; notably, Jordan's fast-paced staging--which uses only seven actors and minimal props--feels custom built for the whirlwind that is Macbeth, and the necessity of having female actors jump into male roles amplifies the play's gender dynamic as we see masculine and feminine characteristics occurring independently from physical sex. Jordan also approaches--and may yet achieve--the goal set forth in his note: to focus on the bare elements of storytelling, thereby allowing the story to take precedence. This mark was narrowly missed on opening night, but one suspects that with the benefit of a few more performances the show will reach its potential.

While Jordan's is a bare staging, it's by no means a simple affair. The actors not only play multiple characters, they also perform much of the accompaniment on large drums, flute, and percussive bones that emit clouds of bone dust when clacked together. The live effects are combined with recorded music by musical director/composer/sound designer Jef Bek to create a soundtrack with elements of relentless masculine drive and feminine magic. Along with the production's intricate choreography--the actors stay onstage most of the time, either manning instruments or ready to jump into a scene--there are costumes to be manipulated. Tunics with long sashes by Amy Bryson and Jessie Thompson (who also provide a striking set) are worn in myriad configurations to portray a lady, a soldier, a king, a young boy. These technical elements boil down to lithe storytelling, and judging from their graceful execution on the night reviewed, one would think the show had been up for weeks. In general, the cast does an excellent job juggling the various roles; especially memorable are Jordan's highly choreographed Sisters (Bryson, Thompson, and Christine Zirbel), Jay Edward Anthony's Macduff, Chad Brummet's Malcolm, and Mark TJ Lifrieri's Banquo.

Some elemental matters, however, took a while to fall into place. In the first half, there were a few inconsistencies--loud, stylized deliveries mixed with moments so small and filmic as to be barely audible. Jeff Elam as Macbeth hit his stride by Act Four and began to mold a compelling villain/victim, but stiffness, tentativeness, and a few line trip-ups seemed to impede his performance early on. Consequently the evolution of his character was not as clear as that of Bryson's chilly, haunted Lady Macbeth. But the quick progress of one evening bodes well for the rest of the run.
-- Anne Kelly-Saxenmeyer
©2002 Backstage West
L.A. TIMES
In casual discussion, the titles of Shakespeare's plays usually are shortened to just the protagonists' names: "Hamlet," "Othello," "King Lear" and so on. But the Sacred Fools production of "The Tragedy of Macbeth" puts such eloquent emphasis on Macbeth's self-inflicted downfall that it demands to be known by the full title.

Shakespeare's story roughly parallels that of Adam and Eve in the Garden of Eden. The Scottish Lord and Lady Macbeth live in grace as favorites of the king. But once greatness is whispered in Macbeth's ear, it drowns out everything else. With his wife as conspirator, he murders the king and attains the crown, only to be cast out of paradise.

Director Joe Jordan relates this sprawling story with just seven identically dressed actors, from whom he has coaxed vigorously physical performances. The set and costumes are drenched in a color that looks, portentously, like dried blood, and the action is ominously underscored by electronic hums, thundering drums and the shrieks of plucked piano strings (composed by Jef Bek).

Jeff Elam, who plays Macbeth, is less physically imposing than the muscular Jay Edward Anthony, who plays King Duncan, or Mark TJ Lifrieri, who plays betrayed buddy Banquo. This lends Macbeth a poignant sense of ordinariness and vulnerability.

With her porcelain face and cascade of dark curls, Amy Bryson's Lady Macbeth also looks delicate. But sexual heat and sheer force of will make her powerful. Whenever Macbeth wavers in his bloody plan, she is there to urge him on.

Again and again, Jordan (who staged last summer's Brazilian carnival-flavored "The Comedy of Errors" at Sacred Fools) puts the action into unexpected perspective, enabling it to be seen in telling new ways. When the king and his retinue arrive at Macbeth's home, for instance, they are left waiting for several uncomfortable moments at the gate--a little snub that forebodes the deadly one to come. Shortly thereafter, Lady Macbeth arrives as Macbeth is nearing the end of a soliloquy. He trails off, embarrassed to have been caught talking to himself.

When the performers--who also include Chad Brummet, Jessie Thompson and Christine Zirbel--aren't part of the action, they're manning the instruments.

While it's a neat theatrical stunt to have so few actors tackling so many roles, confusion is unavoidable. ("Isn't that the king? I thought he was dead." "No, that actor is playing Macduff now.")

The payoff comes in the end, when the multiple casting adds psychological dimension to Macbeth's final moments. His first combatant on the battlefield is his former Lady Macbeth. And when Macbeth finally faces the entwined king/Macduff, the king seems to be acting through Macduff to see that justice is served.
-- Daryl H. Miller
©2002 L.A. Times
REVIEWPLAYS.COM

"Is his a parking space I see before me, the white lines 'round my car?"

Treason, back stabbing, lies and other foul deeds filled the chill night air. And that was only the parking lot at the Sacred Fools Theatre, where people were trying to jockey their cars in place just before the performance. On stage, the presentation is sheer drama at its highest, unique and creative and sure to be emulated in the future.

The familiar story of a man and his lady, driven by ambition and desire, gets a new working over by the Fools, who are no fools when it comes to presenting classic Shakespeare.

Stark and Spartan in set design, the story vibrates with tension and force, and when you hear the staccato drumming and other effects, chills actually creep up and down the spine.

There are many factors that contribute to the success of the presentation. Certainly the costuming is unique, simple, classic and reminiscent of a cloistered order whose secrets are not for the world. The dark walls and lighting foreshadow the blackest deeds and minds of the protagonists, and the unique music adds a wintry cast to the coldness of their hearts.

No one is colder and more heartless than Lady Macbeth as played by Amy Bryson who manipulates her husband (Jeff Elam) to perform the foulest of deeds. Elam's Macbeth has an excellent blend of ambition, madness, but mostly a sense of helpless lack of power to deal with his lady.

Macduff is a potent character, and Jay Edward Anthony lives the part with enthusiasm and well placed disdain for the murdering Macbeth.

The dialog is mostly true to the original, the classic speeches ("Is this a dagger . . . Out damn spot . . .") are excellent, and the witches' incantation is thoroughly convincing that something wicked will this way come.

Director Joe Jordan has done a masterful job mounting the play, with only seven actors to play all the parts. This gutsy move, which is viewed as being able to focus on the bare elements of story telling, could also be his Achilles heel. For those familiar with the story, it's not too hard to refocus and tell who is playing what part, even though the face is now supposed to be someone else. For those who come to Shakespeare for the first time, this could be very confusing and confounding and the essence of the story could be lost in trying to figure out who is who (whom?).

Christine Zirbel, Jessie Thompson
& Amy Bryson
So Chad Brummet comes on as Malcom and then Porter, and then as a murderer, and Jay Edward Anthony is Macduff, but also Duncan and a murderer; Mark TJ Lifrien is a Sergeant, Banquo, a Doctor and Siward, and Jessie Thompson is Donalbain, Angus, Fleance, Lady Macduff, a gentlewoman and a witch. Christine Zirbel is Ross, Seyton and a witch and besides Lady Macbeth, Amy Bryson is a witch, and also McDuff's son. Jeff Elam must feel under employed, since he only plays Macbeth.
The play is a definite notch in the Sacred Fools' belt, and multiple roles or not, the cast does a terrific and convincing job proving again that when a project is carefully planned and done with true feeling, the result has to be a definite plus.
-- Jose Ruiz
©2002 ReviewPlays.com