THIS IS AN ARCHIVE OF THE FZ6D.COM WEBSITE
AS OF JULY 2010. FOR ALL THE LATEST NEWS
FROM THE 6TH DIMENSION, VISIT WWW.FZ6D.COM!

To return to the full Sacred Fools website, click here, or on the Fools logo at top right!
Sacred Fools Theater Company presents
a World Premiere Theatrical Entertainment: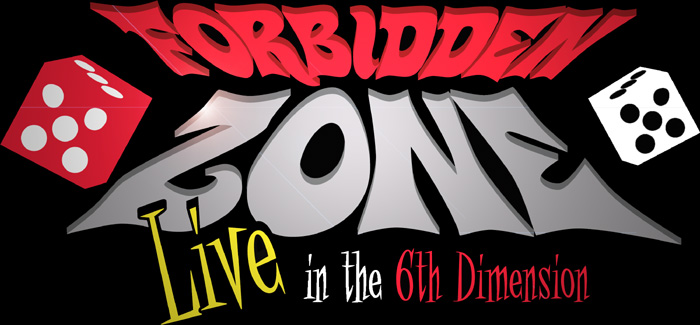 adapted by Michael Holmes
directed by Scott Leggett
Forbidden Zone: Live in the 6th Dimension is adapted from the motion picture Forbidden Zone, originally
produced and directed by Richard Elfman. Licensing of the Stage Play is from F Z Distribution, LLC.
MAY 21 - JUNE 26, 2010
Fridays & Saturdays @ 8pm
plus Sundays, June 13 & 20 @ 7pm
EXTENDED THROUGH JULY 10!
Now playing THURS-FRI-SAT at 8pm
Q&A w/"Forbidden Zone" creator RICHARD ELFMAN after the July 9 show!

of all normalcy and complacency

"...glam dazzle... cartoon razzle..." –L.A. WEEKLY
"Sacred Fools describes its new musical as 'a freefall
celebration of weirdness,' and it lives up to the name...
it's always lively and loony." –BACKSTAGE
"...keeps an eerie, otherworldly hold on its audience... absolutely stunning,
mind altering, and completely transportive..." –THOMAS HAMPTON REVIEWS
"The acting and live music were spot-on... If I could see it
again... I would." –STEVE JULIAN (Theatre Critic, KPCC)
WORLD PREMIERE! Adapted from one of the greatest midnight movies of all time! A surreal and bawdy journey to the Sixth Dimension, featuring the music of Danny Elfman and the Mystic Knights of the Oingo Boingo!
CLASSIC B&W FEATURES:
* New High Definition Transfer
* 16 x 9 Anamorphic WideScreen
* New Dolby Digital 5.1 Track
* Isolated Music Score in 5.1
* Commentary Track
* New Documentary Featurette with Interviews of Richard Elfman, Danny Elfman, Susan Tyrrell, Matthew Bright, Marie-Pascale Elfman, John Muto
* Deleted Scenes & Outtakes
* Scenes from lost "Hercules Family"
* Music Video
* Theatrical Trailer
* Optional English Subtitles
* Much more…

COLOR DVD FEATURES:
* Introduction by Richard Elfman
* Dolby Digital 5.1 Track
* DTS 5.1 Track
* Optional English Subtitles (SDH)
* Closed Captions
* Pop-Up Trivia
* Japan Promo (Elfman speaks Japanese!)
* Extended Scene (The Passion Of Squeezit)
* Deleted Scenes in Color
* Theatrical Trailer in Color
* 16 x 9 Anamorphic WideScreen
SPONSORS