Coming up in
Season 18

Key Art for Season 18 Mainstage shows by Christopher Komuro
On the Mainstage: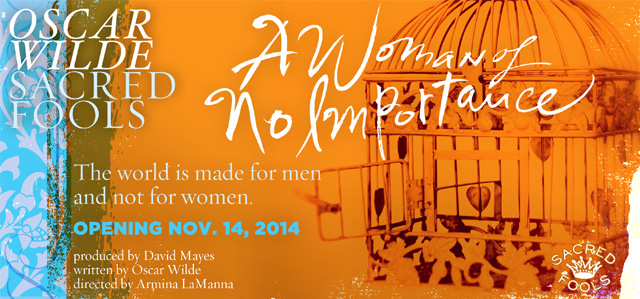 A Woman of No Importance
by Oscar Wilde
directed by Armina LaManna
produced by David Mayes
NOV 14 - DEC 20, 2014
Preview Thurs, Nov. 13 @ 8pm
Fridays & Saturdays @ 8pm
Sunday Matinees Dec. 7 & 14 @ 3pm
A woman's past comes back to haunt her when the lover who left her to raise their child alone becomes the potential employer of their illegitimate son. Wilde skewers gender bias and the outdated rules of Victorian society in this early feminist comedy of manners. This will be the Foolsí first foray into the witty world of Oscar Wilde.
There Is a Happiness That Morning Is
by Mickle Maher
directed by Ruth Silveira
produced by Brandon Clark
JAN 23 - FEB 28, 2015
Preview Thurs, Jan. 22 @ 8pm
Fridays & Saturdays @ 8pm
Sunday Matinees Feb. 8 & 15 @ 3pm
Ellen and Bernard have been teaching the poetry of William Blake at a small college for 15 years. But last night, in a public display of passion, they may have taken their love of poetry and their love for each other too far. This profoundly humorous tour-de-force is presented almost entirely in rhyming couplets.
Occupation
by Ken Ferrigni
directed by Ben Rock
produced by Shaela Cook
APRIL 3 - MAY 9, 2015
Previews March 27-28 & April 2 @ 8pm
Fridays & Saturdays @ 8pm
Thursdays, April 16 & 23 @ 8pm
WEST COAST PREMIERE! In 2017, crushing national debt and debilitating unemployment has caused the US to sell Florida to China for $5 trillion. The South Florida Christian Militia is leading an insurgency in the Everglades to oust the Chinese Army. How far will they go to keep the States United? This darkly comedic, high-octane political allegory will be a West Coast Premiere.
Astro Boy and the God of Comics
JUNE 20 - JULY 25, 2015
Previews June 13-14 & 19
Fridays & Saturdays @ 8pm
Sundays @ 7pm
WEST COAST PREMIERE! This multimedia performance art piece tells the story of famed Japanese animator Osamu Tezuka and Astro Boy, his most famous character. This West Coast Premiere features interactive video, live drawing and stylized movement. Itís a whimsical, retro sci-fi visual extravaganza that examines post-WWII fascination with technology and destruction, and the relationship between creation and creator.
Also Playing (Nov/Dec):
Sacred Fools Spotlight -
Charles presents: A Trip Through the Multiverse
Mondays at 8pm
Nov. 24, Dec. 1, 8 & 15
written & performed by Chuck Armstrong & Charlie Stockman
With an eclectic and imaginative series of sketches in the tradition of Kids in the Hall and Monty Python, Charles Presents: A Trip Through the Multiverse is a genre-bending chimera of comedy goodness. Itís a police procedural within an historical epic; itís a murder mystery with inverted light cues; itís a ghost story told by a frustrated ghost. The show is intelligent without sacrificing accessibility, and its unique interwoven style hardly ever stops to breathe and never ceases to surprise.
The Sacred Fools Spotlight Series is a specially curated selection of performers and productions from across the country and around the globe that Sacred Fools believes illuminate our shared core values of heart, showmanship, and dedication to craft. MORE ABOUT THE SPOTLIGHT SERIES
Ongoing Shows:
Serial Killers
Saturdays @ 11pm
(check calendar for exact dates)
Five plays enter... three plays leave.
NOW IN ITS TENTH SEASON! Each week, three continuing stories face off against two new tales. At the end of the show, you vote for the three stories that you would like to see continue on to next Saturday night, where their subsequent episodes will then be pitted against two completely new storylines. Each week's serials could live on for weeks... or be quietly smothered in their sleep Ė itís up to you. But whichever pieces you vote for, one thing is for certain - by the end of the evening, you will be a Serial killer.
Like SERIAL KILLERS on Facebook!
Ten Tops
Next: Friday, November 21 @ 11pm
(Performer signup: 10:30pm)
OUR VERY ECLECTIC OPEN MIC - NOW ON FRIDAY NIGHTS! Join in... or just watch! In Sacred Fools' oldest ongoing show, ten performers get up to seven minutes each to do anything they want, from sketch comedy to dramatic readings to dance. Arrived too late to be one of the ten? "Charisma Round" performers get three minutes each! Look for Ten Tops over the next year on November 21, January 30, April 10 & June 26!
THE BEST OF TEN TOPS
Friday, August 8, 2015 @ 11pm
A curated selection of the best performances from the past year!
Fast & Loose
Thanksgiving Weekend - Saturday, Nov 29, 2014 @ 11pm
New Year's Eve - Wednesday, Dec 31, 2014 @ 8pm
Mother's Day Weekend - Saturday, May 9, 2015 @ 11pm
Fourth of July - Saturday, July 4, 2015 @ 11pm
A FOOLISH TRADITION! Several new plays are created in just 24 hours. We'll have time for sleep later. A party will follow the New Year's Eve show, complete with complimentary flute of champagne to see in the New Year.
plus FAST & LOOSE: DOUBLE TAKE
Saturday, August 1, 2015 @ 11pm
Missed it the first time? Or just want to see it again? Now you can. A curated selection of some of our favorite plays written for FAST & LOOSE this season.
The Box
produced by Padraic Duffy & Hans Gelpke
July 11, 18 & 25, 2015
Saturdays @ 11pm
From the creators of Serial Killers comes a whole new experience in late-night. Details still locked up in... The Box!
The Sacred Fools Workshop Series
Sacred Fools launched its Workshop Series in order to provide opportunities for company members to expand and enrich material that is still under construction, outside of the pressure of production. Learn more...