CITY OF ANGLES
Written by Paul Plunkett
Directed by Scott Rabinowitz / Paul Plunkett
Lincoln SanVicente
Gerald McClanahan
Vince DonVito
Laurel Doheny
Danielle Surrette
Piper Henry
Amy Bryson
June Bronson
Sharon MacMenamin
Pico LaCienega
J. Haran
and tons more!
FBI agent, Laurel Doheny, crime writer, amateur sleuth and man of the cloth, Father Lincoln SanVicente and private dick, June Bronson get mixed up in the same murder. All paths lead through Crenshaw Fairfax III, and a wild assortment of Mobsters, Clergymen, Senators, Men in Black and a host of mysterious ne'r-do-wells.
Our longest running CRIME SCENE to date! Fifteen weeks!!!
... And all we've got is one lousy picture!
(someone hiding the evidence??)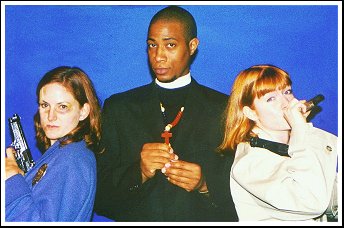 The original Laurel Doheny (Danielle Surrette),
the almost-always Father Lincoln SanVicente, (Gerald McClanahan),
and the every-damn-time June Bronson (Sharon Macmenamin).