THE FIRST ANNUAL SLASKY AWARDS™!
5/29/99


1 2 3 4 5 NEXT>
Produced by
Scott Rabinowitz
Danielle Surrette
Paul Plunkett
Jim Tosney
Adam Bitterman


Directed by
Scott Rabinowitz
Gerald McClanahan
Jenifer Hamel
Paul Plunkett
Michael Louden


Written by
Howard Rabinowitz
Paul Plunkett
Danielle Surrette
Brad Friedman
Joshua Rebell
Gerald McClanahan
Scott Rabinowitz
Jim Tosney


Musical Director
David Rodwin

Crime Scene Musicians
Charles Papert
David Holcomb
Paul "Pistol Packin'" Ridenour


Lighting by
Aaron Francis


Sound by
Corey Klemow


Floor Manager
E. Lumins

Accounting by
KPMG LLP

Photographs by
Desi Doyen
Crime Scene's 1st Anniversary show was a sold-out, star-studded, trumped-up, award show spectacular!
But it wasn't just the audience that sold-out! We sold out everything by shamelessly revisiting favorite Crime Scene characters, death scenes and musical numbers from the past glorious year! If it worked before - why not run it into the ground?! And so we did, in one fabulous, gala, prime-time event!
Even a stunning appearance by a streaker could not mar this glorious evening, full of live music, dead bodies, and phony awards! If you missed it...well, you missed it. But we'll see you next year!
---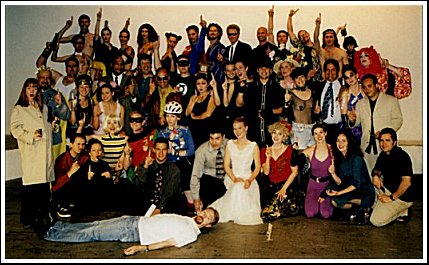 A sampling of the motley crew on hand to bring you The First Annual Slasky's™!