THE FIRST ANNUAL SLASKY AWARDS™!
5/29/99


<PREV 1 2 3 4 5 NEXT>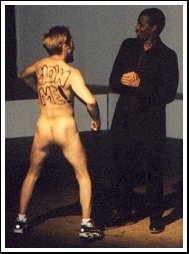 Silky Streaked at Slasky's!
Best Song & Dance Award Presenter, Gerald "Silky" McClanahan
gets the David Niven treatment...a small suprise from streaker Joe Hernandez!

Bambi Returns -
David Holcomb reprises his gripping portrayal of the orphaned
deer from Best Song & Dance Award nominee The Bambi Dance.

Best Crime Served Up! -
Cater Waiter Jay (Aldrich Allen) from the delicious
No Entree presents the Best Crime Award to audience
fave, Kung Fu fightin', Flying Fists of Fury.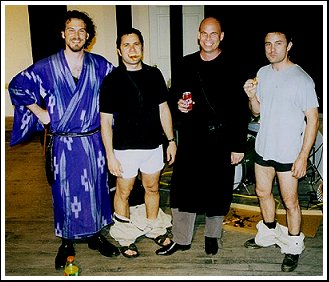 Scared the Pants off 'em! -
The Live Band featured David Rodwin on Keyboards,
saxophonist, Charles Papert, drummer Paul "Pistol Packin'" Ridenour
and Guitarist, David Holkum.

Can we get more room in the Dressing Rooms?! -
Backstage was a can of sardines...From left, Melissa Roddy from
HEIST! The Musical!, Stan Freitag from The Stuperfriends, Li'l Jessie Marion
from Flying Fists of Fury..., J. Haran from City of Angles and
Patrick Towne from The Shocking Adventures of General Electrick!