THE SHOCKING ADVENTURES OF GENERAL ELECTRICK!
The Case of the Dancing Billionaress
Written by Robert Previto
Directed by Brad Friedman
Choreography by Babe Hack
1/23/99 - 2/13/99

The Power Broker
Rob d'Entremont
AC
Desi Doyen
DC
Daintry Jensen
Static
Brad Friedman
E. Lumins /
General Electrick
Adam Bitterman
Molly Mugtree
Babe Hack
Mowgli Mugtree
Patrick Towne
Shamus the Shopkeeper
Scott Rabinowitz
Winston
David Holcomb
Announcer
Brad Friedman
General Electrick is the heroic guise and nom-de-guerre of the cerebrally challenged citizen, E. Lumins, a mild-mannered mainatenance man, who, whilst absent-mindedly changing a light bulb in a nuclear power plant one day, found himself instantly transformed into the brightest man on Earth, with the ability to shed light on any subject! Dubbing himself General Electrick, Lumins set out on a crusade to rid the world of all darkess and iniquity! So join him now, as he fights his darkest nemesis, the Power Broker, in The Case of the Dancing Billionairess!

The brightest man on Earth!!!
Adam Bitterman is General Electrick!

The man with the golden abacus!
Rob d'Entremont is the Power Broker, Master of Kinetic Energy!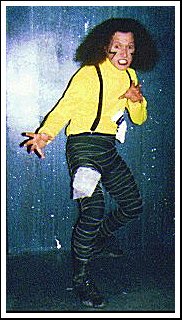 Nothing sticks to this moron!
Brad Friedman is Static, the incomprehensible toady!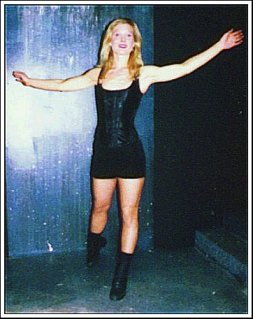 The dancing billionairess...in the flesh...nearly!
Babe Hack is Molly Mugtree!

"That's billionaire splooge there!"
Patrick Towne is Mowgli Mugtree!
David Holcomb is his yummy lacky, Winston!
PHOTOS BY DESI DOYEN