THE FIRST ANNUAL SLASKY AWARDS™!
5/29/99


<PREV 1 2 3 4 5 NEXT>


All Hell Breaks Lose! -
Mayhem marks Crime Scene at it's finest!

Gotta Lotta Livin' To Do! -
HEIST! The Musical's! Brian Chenowith
reprises Tom-Tom Jones lipsynchin' classic.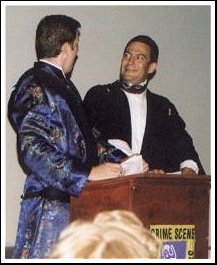 The Queen is Still Dead! -
The Archduke (Jim Tosney) and The Viscount (Scott Rabinowitz)
from The Queen is Dead, conspire to award the
Best Song & Dance award to All About Eva.

Fashion Designers Have Feelings Too -
All About Eva's Tiffany Saito takes Best Song & Dance for her
powerful portrayel as Irene Plymouth. Flanked from left to right by
Amy Bryson as Eva Harrison, Sharon MacMenamin as Fuzzy Abromowitz
and Jenifer Hamil as Judge Jody.