Who cares to fight evil? Not...


NEGATIVE MAN!
A superhero with a really bad attitude!
Written by Corey Klemow & Aaron Francis
(from an idea by Jefferson Smith)
Directed by Corey Klemow
One Night Only: 3/18/00
Followed up by Negative Man 2: "No Sweat!" in 2001!
Negative Man/
Kent Clarke
Scott McShane
Lena Lorn
Kristy Zornes
Johnny Oldman
Bryan Bellomo
Parry Ecru
Mike Rainey
Richard Simmons
Tom Chalmers
Millie
Detra Payne
Narrator
Brad Friedman
People in Crowd
Mikhail Blokh
Paul Byrne
Ariadne Shaffer
HenchPeople
Mikhail Blokh
Paul Byrne
Dean Jacobson
Melissa Roddy
Ariadne Shaffer
Negative Man was so Negative,
we couldn't even get him to pose for a picture!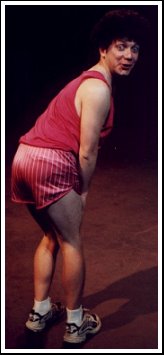 Negative Man's mortal enemy,
Richard Simmons, however (Tom Chalmers)
was so positive, we couldn't get him to stop posing!