Written by David Neilsen
Episode 1: Directed by Linda Miller
Episode 2-3: Directed by Scott Rabinowitz
Episode 4: Directed by David Neilsen
(The Director of the Week Club!)
4/1/00 - 4/22/00
Your presence is requested at the
METROPOLITAN MUSEUM OF ANTIQUITIES
for an Earth-shaking announcement.
(Panties optional.)

Dr. Wicket Pepper

Jay Harik
Dr. Nathan Ortiz
Mark Auerbach
Scott Rabinowitz
Jim Tosney
Dr. Chloe Dithers
Lisa Grant
Tenny Priebe
Prof. Bing Smithington
Dean Jacobson
J Warner
Lola Kraft
Jill Bennett
Jessie Marion
Candice Weber
Kentucky Jones
Stan Freitag
Scoop Noodles
Tom Chalmers
Ernie Ott
Ho-Kwan Tse
Bryan Bellamo
Sarah Brookworm
Kristy Zornes
Tenny Priebe
Dead Woman
Sara Winterer
What do an Egyptologist, a Voodoo Expert, a Vikingologist, Kentucky Jones, Lola Kraft, a reporter and a security guard all have in common? Why BRAINS of course! Delicious!
A new story from the demented author of
Sock Dolager & Deprogramming Delilah!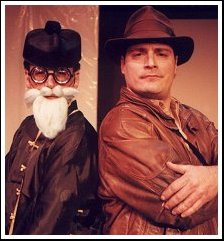 Mark Auerbach and Stan Freitag as
Dr. Nathan Ortiz and Kentucky Jones.

Jill Bennet is Lola Kraft - don't ya think?

Brains! Brains! Brains!
(Clockwise, starting with the Viking Guy...)
Jay Harik, Kristy Zornes, Tom Chalmers, Stan Freitag,
Lisa Grant, Mark Auerbach, Dean Jacobson, Ho-Kwan Tse & Jill Bennett