On Tuesday, September 21st 1999,
10 Sacred Fools, including the writer/director,
set out to rehearse a Crime Scene.
On Wednesday, September 22nd,
the writer/director disappeared.
On Thursday, September 23rd,
one of the actors disappeared.
One Week later...that Crime Scene script was found.


Written & Directed by Gerald McClanahan
9/25/99 & 10/9/99 - 10/16/99
Juliette
Juliette Armstrong
Lisette
Lisette Bross
Amy
Amy Bryson
Dawn
Dawn Hillman
Etana
Etana Jacobson
Scott
Scott McShane
Detra
Detra Payne
Jessie
Jessie Thompson
Sam
Sam Toffler
Aaron
Aaron Francis
Scott
Scott Rabinowitz
With Special, Shocking, Stunning, Suprise Appearances by:
Gerald McClanahan
&
Piper Henry
And among the Many Crime Scenes within Crime Scenes...
"Norse & Soused"
Written by Gerald McClanahan
Directed by Detra Payne

Deja the Familiar
Juliette Armstrong
Margot the Kidder
Amy Bryson
Loofah the Sponge
Dawn Hillman
Felicity Gold
Etana Jacobsen
Frida the Extraneous
Michelle Madden
Hagar the Slack
Scott McShane
Katcher the Wry
Jessie Thomspon
Prof. Bartholomew Gold
Sam Toffler
And then there's...
"Crime Seen!"


Written by Alan Smithee
Directed by Scott Rabinowitz
Lincoln San Vicente
Adam Bitterman
Brad Friedman
Tom Chalmers
Tom Chalmers as "Brad Friedman"
Corey Klemow
Colonel Szechuan
Bil Garrity
Scott Rabinowitz
Michael Louden
Guinan
Sharon MacMenamin
June Bronson
Jennifer Wu
Li'l Davey
Marty Yu
Aaron Francis
Aaron Francis
Who dunnit? We dunnit! Though if you can figure it out, you're a better person than us! The self-referential CRIME SCENE sensation from the auteur genius who brought you All About Eva and HEIST!: The Musical returns to find out if we can take it as well as we can dish it out! A must for CRIME SCENE junkies! (You know who you are...and you should be ashamed of yourselves!) With an ending so stunning even the cast didn't know who dunnit!!!
* The incidents portrayed are fictitious. The names, and any similarity of character or history of any person herein, are, well... not entirely coincidental.
** Representatives from S.A.G., A.F.T.R.A and Actors Equity were on hand during the production to ensure that no Sacred Fools were harmed in the making of this CRIME SCENE.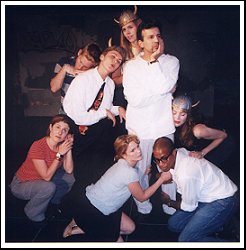 The cast of...one of the plays within plays...
(Clockwise from bottom left)...uh, never mind. You figure it out!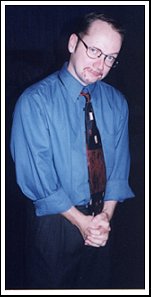 Tom Chalmers as This Week In Crime's Brad Friedman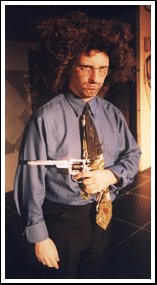 Corey Klemow as This Week In Crime's Brad Friedman
(Can't they leave that man alone!?!)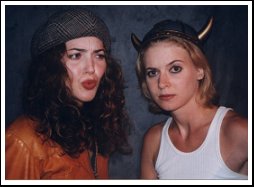 Amy Bryson and a hornier-than-usual Lisette Brosse.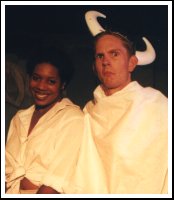 Detra Payne and a horny-as-usual Scott McShane.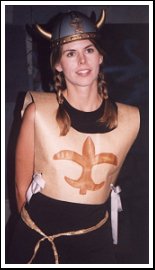 The sweet-and-lovable Michelle Madden.
Who would never kill anybody...or would she?