Music & Lyrics by Tom Lehrer
Conceived & Staged by
Desi Doyen and Brad Friedman
Accompanied by Patty Lund
One Night Only: 6/17/00

The sweet sounds of crime...
Followed up later by:
CRIME SONG 2!: Randy's Revenge!
CRIME SONG 3!: Hollywood Babble On!
and
CRIME SONG 4!: The Lady Killers!
| | |
| --- | --- |
| "The Irish Ballad" | Performed by Jessie Thompson |
| "My Home Town" | Performed by Brad Friedman |
| "I'll Hold Your Hand in Mine" | Performed by Jim Tosney |
| "I Got It From Agnes" | Performed by The Ensemble |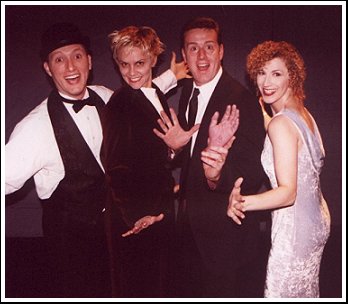 The Group...From Left...
Brad Friedman, Jessie Thompson, Jim Tosney and Patty Lund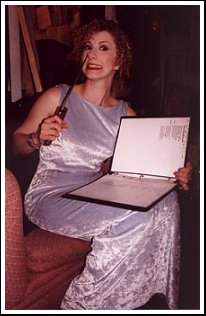 The Elegant Ms. Patty Lund...
The pianist prepares for a difficult performance