"It's a Wonderful Death" returns in December 2000
as a Full-Length Holiday X-Travaganza!
Click for info on the All New, Colorized Production!

Written by Brad Friedman
Directed by Benjamin Davis
12/4/99 - 12/18/99
George Bailey...the most hated man in Bedford Falls! And you thought Mr. Potter was bad! You may recognize this beloved Christmas Classic...then again, things aren't always what they seem...one man effects the lives of so many others. And they're none too happy about it!
George Bailey
Scott Rabinowitz
Mary Hatch
Gabby Anderman
Lisa Grant
Violet Bick
Tenny Priebe
Harry Bailey
Jordan Ancel
Bil Garrity
Peter Bailey
Bruno Oliver
Ma Bailey
Stephanie Bell
Elizabeth Warner
Henry F. Potter
Stan Freitag
Potter's Assistant
Eric C. Johnson
Annie
Aldrich Allen
Sam Wainwright
Richard Gustafson
Ernie, the Cab Driver
Zack Eisenberg
Ol' Man Gower
Dean Jacobson
Cranky Old Man
John Sylvain
Chairman of the
Bailey Building & Loan
Board of Directors
Jeff Benninghoffen
Uncle Billy
Steven Rozic
Rudy Decon-Bailey
Gerald McClanahan
Joe
Richard Gustafson
Resident of Pottersville
P.J. Byrne
Mrs. ZeeZee
Linda Miller
Clarence
Patrick Towne
Joseph
Benjamin Davis
Jesus
Aaron Francis
God
Brad Friedman
From the author of Ted Kazcinski's Ship of Fools and This Week In Crime!

Don't let the good looks for you...
Scott Rabinowitz as that son-of-a-bitch, George Bailey!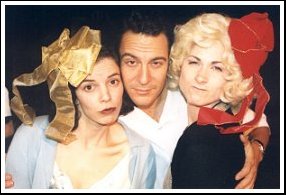 The lovely Mary Hatch, the despicable Boy George (Bailey),
and that trampy Violet Bick!
Gabby Anderman, Scott Rabinowitz, Tenny Priebe

Uncle Billy...Getting a clue...
Steven Rozic

Mr. Potter...The richest man in town...
Stan Freitag