Written by Tom Kiesche
Directed by Brad Friedman
From the team that brought you Murderous Camoflauge and Creature Comforts...
Comes an all new Thriller / Suspense / Drama / Romantic Comedy / Porn Story with a Heart!
3/17/01 - 4/14/01

An electrifying new tale...comes BACK to life!
Dr. Zabenko
Nancy Barnes
Bruno
Tom Kiesche
Vicki
Crystal Keith
Darla
Kirstin Burbank
Eugene
Jack Turnbull
Cara
Jenna Z. Wilson
Missy
Alisha McKinney
Trisha
Carla Jo Bailey
Troy
Tim Munday
Swartz
Scott Stein
Kenny
Matt Duggan
Uncle Lou
Jay Harik
Principal Kiesche
Ronald J. Kiesche
Swartzy's Mom
Gail Borges
Detective Springstep
David Sparrow
Stan Freitag
Detective Mobbet
John Williams
Zoe
Ruth Silveira
Lieutenant Nipp
Brad Friedman
* Spotted Jay
Victor Isaac
* Lady T
Nicole Feenstra
The Reporter
Shirley Anderson
Man
John Prince
Male Townie
Darrin Jaques
Male Townie Two
Patrick Grasso
Male Townie Three
Matt Lussier
Female Townie
Melissa Roddy
Female Townie Two
Ingrid Koopman
Female Townie Three
Atim Udoffia

* These two had their own spin-off storyline later!
Check out "The Adventures of Spotted Jay,
Pornographer Slash Detective"

Vicki...
Just your average, all-America, teenage girl...
with a monster of a family history!
Crystal Keith

The Kids at school used to tease her...
Man, was that a bad idea...
(Clockwise from top-left) Tim Munday, Jenna Z. Wilson, Lizzie Lulu (what's she doing there?!), Carla Jo Bailey (partially hidden), Matt Duggan, Scott Stein, Alisha McKinney and Kirstin Burbank

The school guidance counselor tried to help her...
It didn't work...
Jack Turnbull

The neighbors warned the cops...
They didn't believe her...
David Sparrow, Ruth Silveira and John Williams

Well, maybe one did...
But he had his own set of problems...
Brad Friedman

Her Uncle Lou only made things worse...
Jay Harik and Tim Munday

Funerals were held, as bodies...
and monsters began to pile up...
Too many to name...We'll leave it to you!

But it was too late...
Scott Stein and Troy Munday

...Cause monsters just wanna have fun...
Alisha McKinney and Tim Munday

...Alotta fun...
Stan Freitag and John Williams

Of course the media was there...
Shirley Anderson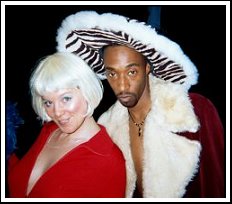 ...And opportunists came out of the woodwork...
Nicole Feenstra and Victor Isaac
(as Lady T & Spotted Jay! Who got a spin-off out of it!)

Even the finest staff at the finest sanatorium could not contain...
Frankenstein, Vicki!
Nancy Barnes and Tom Kiesche
(He wrote it! Blame him!)
Thanks...and apologies...to Mary Shelly.