From the team that wasted your time with
Creature Comforts, Murderous Camoflauge and Frankenstein, Vicki!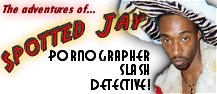 Written by Tom Kiesche
Directed by Brad Friedman
5/12/01 - 5/26/01
That guy from Frankenstein, Vicki is back...and he's one bad motha...with a whole new set of problems...you dig? Ya see, a priest, a nun and a rabbi walk into his new office...No really! You can't write this shit!
Followed up with "The FURTHERING Adventures of...Spotted Jay!" in 2002!
Spotted Jay
Victor Isaac
Lady T
Lisette Bross
Priest Pat
Whitey Broughton
Paul Byrne
Nun Nancy
Dezhda Mountz
Rabbi Robinstein
Steve Rozic
Tim / Tom
Brad Friedman
Buddhist Barbara
Stephanie Bell
Orville
Scott Rabinowitz
Sheriff Sam
Tom Kiesche
Fred Dewar
Calhoun
Candy Double D Melons
Dawn Hillman
Vixen Assets
Carla Jo Bailey
Announcer
Kevin Delaney

Lady T and Spotted Jay...Happy in their new town
Lisette Bross and Victor Isaac

...Until a Priest, a Rabbi, a Nun (and a Buddhist)
walk into their office!
Whitey Broughton, Steve Rozic, Dezhda Mountz & Stephanie Bell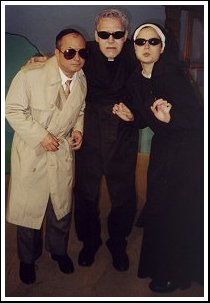 Sheriff Sam is dead and these clergyfolks have alterior motives!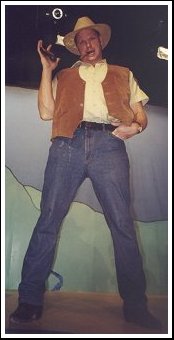 But wait! It's Sherriff Sam after all!
Tom Kiesche

Are things about to get worse for Spotted Jay?!

...Nah...it's just some porn star friends in some crazy outfits!
Carla Jo Bailey, Calhoun & Dawn Hillman