Written by David Neilsen
Directed by James Tosney
9/9/00 - 9/23/00
Sock Dolager returns in an all new case!
And this time murder is on the menu!
Don't miss the private dick deep inside a public whorehouse!
From the author of Sock Dolager & the Case of the Edible Fruit! , Deprogramming Delilah, and BRAINS!
Sock Dolager
Scott McShane
Sally
Sara Winterer
Head Hooker Hannah Hammond
Amy Bryson
Felicia Muldoon
Michelle Philippe
Tammy the Receptionist
Alex Sage
Terry
Lisa Watson
Candy
Jessie Marion
Deena Rubinson
Betty
Ina Burke
Suzie
Suzie Edie
Senator Sam Salmon
Bryan Beery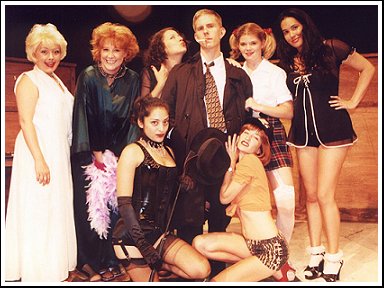 Sock and some his Wicked Women...
(Clockwise from Top-Left) Michelle Philippe, Sara Winterer, ????,
Scott McShane, Suzie Edie, Ina Burke, Alex Sage, Deena Rubinson