Fool is the name of the sketch-and-improv comedy troupe that has been resident at the Sacred Fools Theater in Hollywood for a couple of years now. The group has attracted a following by plying its craft in a regular late-night spot Fridays at 11 p.m. and entertaining the legions of night-owls looking for laughs.. But, there's a whole other audience that doesn't stay up that late and being mindful of this, Fool is temporarily vacating its Friday late-night spot to begin a mid-week engagement of performances. Starting March 20, Fool will play a limited engagement of Tuesday and Wednesday evening performances that begin at 8 p.m. This new show is called "Hot Fool Injection" and it is an evening consisting entirely of high octane sketch comedy (all scripted, no improv).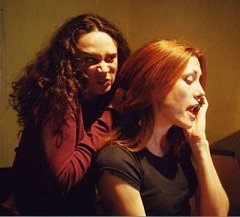 "Hot Fool Injection" examines and comments upon such topics that capture the attention of America at the beginning of the new century as safe sex, new over-the-counter medications for the aches and stresses that plague us, the sexual initiation of youth, the game-show craze, customer service, a new animal mascot that will make the kids forget about that darn purple dinosaur, and what really happens to screenplays in the Hollywood system. You'll also meet unusual people such as Mr. Perfect, the perfect boyfriend; and Brother Josiah, an openly gay Amish teenager.
"Hot Fool Injection" is written by Marty Yu, Tamara Pennington, Tara Beth Connolly, Gerald McClanahan, and Chris Connor, all of whom are in the cast. The other performers include Crystal Keith, Rob English, and Chase Sprague.
Tom Chalmers directs. Chalmers is the founder of Groundlings East in New York City. The busy Chalmers appears in the current mainstage show at Sacred Fools, "Feet"; and produces and hosts its monthly adult storytelling series "Listen To This" on the first Monday evening of each month.
McClanahan and Yu produce "Hot Fool Injection" for the Sacred Fools Theater Company. Until recently, McClanahan was the Sacred Fools artistic director. He co-directed last season's "The Brides."
The mid-week performance slot has proven to be very popular at Sacred Fools, with its most recent mid-week show "Grimm!" playing to sold-out houses. "Hot Fool Injection" may well do the same, as it provides all that one asks for in a show of its type: clever writing; an attractive performing ensemble of very funny people; and loads of laughs.