Press
Here's a sampling of what the critics have had to say over the years. Check out the pages of our past productions for many, many, many more reviews!
ABOUT THE COMPANY...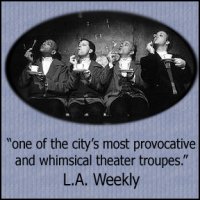 "...uniquely representative of what our Los Angeles theatre scene can achieve, on its own terms... singular, distinctive and elevated standards..." -David C. Nichols, Los Angeles Drama Critics Circle (2009, at the LADCC Awards. Read the full speech below!)
Article: "New Fools on the Block" -Footlights (2016)
Interview: "Meet Padraic Duffy of the Sacred Fools Theater in Hollywood" -VoyageLA (2017)
One of the "12 Best theater Companies in Los Angeles... a perpetually buzzing hotbed of theatrical dynamism... an extraordinary track record of success... Sacred Fools often feels like the beating heart of the L.A. theater scene." -Lyle Zimskind, LAist (2015)
One of "9 99-Seat Companies That Put L.A. Theater on the Map... known for producing edgy and provocative new works." -KC Wright, BackStage (2014)
"Sacred Fools is sparkling proof that good things do come in small packages, and that the Los Angeles 99-seat theatre scene is an increasingly viable catalyst for the creation of new theatre works." -Larry Dean Harris, The Dramatist Magazine (2013)
"If you're looking for something a little more adventurous on L.A. stages, you need – as usual – to turn to the smaller players... one of the funkier survivors of the economic downturn, Sacred Fools Theatre Company..." -Steven Leigh Morris, L.A. Weekly (2009, on The Playgoer blog. Read the article!)
"BEST OF L.A. (Theatre Tickets Under $25) ...Some of L.A.'s most entertaining and economical theater... provocative, funny, and inventive new work..." -Los Angeles Magazine (2013)
"The Sacred Fools consistently exemplify theatre in its purest form... A true collaborative, this company has carved a name for itself on the Los Angeles theater scene as a bold and eclectic company... The Sacred Fools is sure to take you on a journey that you'll be glad you went on." -Terry Scannell, CBS Los Angeles (2010. Read the article!)
"...L.A.'s delightfully irreverent theatre company." -Buzzine (2012)
"...specializes in irreverence." -L.A. Stage Times (2012)
"...a thank you to Sacred Fools Theater Company, which never disappoints and brings to L.A. theater a boisterous energetic chance-taking revitalization." -Buzzine (2012)
"...friendly yet adventurous fare." -L.A. Times
ABOUT OUR SHOWS...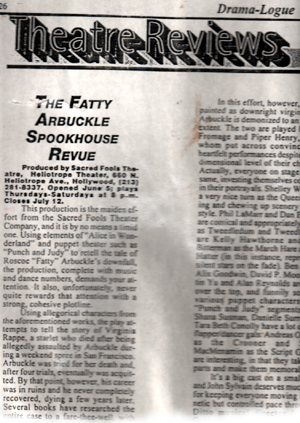 "RECOMMENDED / TOP TEN... an impressive accomplishment... The Sirens of Titan is an accomplished and ultimately moving play, and this production is well worth seeing." -Terry Morgan, Stage Raw (2017, The Sirens of Titan)
"...a not to be missed theatrical event. It's a Broadway worthy production right here in our own backyard." -Hollywood Revealed (2016, Skullduggery: The Musical Prequel to "Hamlet")
"...a gripping eighty minutes of tense conflict... thought-provoking in concept and gripping in performance..." -Paul Myrvold's Theatre Notes (2016, A Gulag Mouse)
"...wildly funny... The five-character ensemble are a marvel to watch under Jeremy Aldridge's smooth direction... A triple threat production: great writing, great direction, great acting! Bravo!" -Broadway World (2016, Past Time)
"...compelling... this singular, bluesy chamber work scores in haunting intensity." -L.A. Times CRITIC'S CHOICE (2015, Miravel)
"...a scintillating, invention-packed tour de force of visual wit, breathtaking acrobatic performance and sumptuous, seamlessly integrated, multimedia production design... poignantly whimsical and critically savvy... a kind of high-wire — and highly polished — vaudevillian pastiche. GO!" -L.A. Weekly (2015, Astro Boy and the God of Comics)
"...triumphant... wickedly entertaining... feels suspiciously like a groundbreaking new musical" -L.A. Times (2014, The Behavior of Broadus)"...one of the most uncomfortable yet thought-provoking theatrical experiences since EQUUS." -The Movie Guys (2014, Taste)
"This scorching drama is for the theatergoer who prefers his/her live stage productions to be edgy, imaginative and adventurous — i.e., Sacred Fools' house specialty." -Hollywood Progressive (2014, Bill & Joan)
"...inventively cinematic staging... an unusually fine ensemble... capture[s] all the nuanced terms of Dick's allegory." -L.A. Weekly PICK OF THE WEEK (2013, Do Androids Dream of Electric Sheep?)
"Under the resourceful leadership of director Scott Leggett, utilizing every inventive trick the creative nutjobs who populate Scared Fools have to conjure, 'Neverwhere' goes everywhere the imagination can take it... Critic's Score: A" -BackStage (2013, Neverwhere)
"...blares with heart-searing humanity and brazen, balls-a-swingin' humor... relentlessly smart and poignant..." -Flavorpill (2013, Absolutely Filthy)
"GO... seriously funny and endearingly sweet." -L.A. Weekly (2012, A Kind of Love Story)
"GO! ...the most exciting new play to emerge from this theater since Louis & Keely, and one of the best new works of the city's theatrical season so far." -L.A. Weekly (2012, Stoneface: The Rise and Fall and Rise of Buster Keaton)
"...not only wildly entertaining but leaves the audience with provocative and disturbing questions... a wild rompy but gut-laughy time." -Buzzine (2012, The Magic Bullet Theory)
"... a striking, uniquely affecting work." -BackStage (2011, Crumble (Lay Me Down, Justin Timberlake))
" ...both unsettling and highly addictive at the same time... One can already see that a cult following is imminent." -Musicals in L.A. (2011, Carnevil: A Gothic Horror Rock Musical)
"...all three actors remain truthful as they run wild with their outlandish characters and outrageous dialogue. [Laurie] Metcalf has the chops to be a silent film star... [French Stewart] is a clown of the highest order." -Stage and Cinema (2011, Voice Lessons)
"...entertaining... poignant..." -L.A. Weekly (2011, Four Clowns)
"As effective as Plunkett's direction is, this fine revival really soars on the wings of the cast's terrific performances." –L.A. Weekly – GO! (2011, Endgame)
"... an emotionally and intellectually absorbing production of a smart and sometimes intoxicating play." – L.A. Weekly – GO! (2011, Puzzler)
"...an extremely imaginative, clever spoof that had the audience howling with delight..." – Jesther Entertainment (2010, Watson)
"...absolutely stunning, mind altering, and completely transportive..." -Thomas Hampton Reviews (2010, FORBIDDEN ZONE: Live in the 6th Dimension)
"...bold, startling and devastating." –DreadCentral.com (2010, Baal)
"...this world premiere musical more than delivers on its promise of a good time." –Broadway World (2009, Savin' Up For Saturday Night)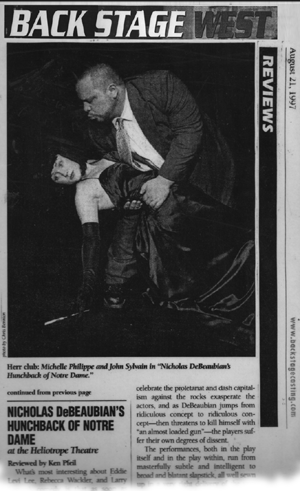 "...hilarious and thought provoking..." -L.A. Weekly PICK OF THE WEEK (2009, Land of the Tigers)
"...vitally engaging... delightfully, thoughtfully provocative..." –L.A. Times CRITIC'S CHOICE (2008, 43 Plays for 43 Presidents)
"...glorious... not to be missed... about as perfect as a musical can get." –L.A. Weekly PICK OF THE WEEK (2008, Louis & Keely Live at the Sahara)
"...audaciously original... could become a toothsome cult hit." –L.A. Times RECOMMENDED (2008, Beaverquest! The Musical)
"...astonishing... a resounding success... [a] fantastic production!" –Variety (2007, The Mystery of Edwin Drood)
"...deliriously wrong and exactly right... an unhinged hoot... inspired dementia!" –L.A. Times (Critic's Pick 2007, The Swine Show)
"...hits all the right notes... perfectly pitched... riotous wit!" –L.A. Times CRITIC'S CHOICE (2006, La Bęte)
"...brash, fearless and playfully unconventional... inventively stylish fun!" –L.A. Times (2006, Claire Z.)
"...will keep you laughing on the ride home!" –BackStage West (2006, Ten West)
"...an ingenious idea... as funny as it is fascinating!" –BackStage West (2006, I Wrote This!)
"...deliciously macabre... given a sumptuous staging by helmer Pat Towne and Sacred Fools' nine-thesp ensemble." –Variety (2005, Gorey Stories)
"Sacred Fools Theatre deserves commendation for their constant effort to bring to their stage truly daring performers!" –SoCal.com (2005, Billy the Mime)
"A knockout production... the best kind of theatrical brain candy!" –L.A. Times CRITIC'S CHOICE (2005, Ivona, Princess of Burgundia)
"Breath-catchingly tender." -BackStage West (2005, Finer Noble Gases)
"Leaves the onlooker begging for more... a must see!" -Center Stage, KXLU 88.9 FM (2005, Love Tapes)
"Moody... captivating... eerie!" -BackStage West (2004, Quiet, Please)
"Sharp and witty entertainment... fresh, funny and an innovative way to enjoy the theater!" -L.A. Splash (2004, 360x2)
"...a real satire, as sobering and frightening as it is savagely funny." -L.A. Times CRITIC'S CHOICE (2004, Dubya 2004)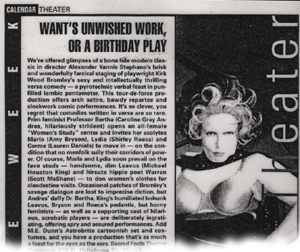 "A gem... impressive and moving!" -Lively-Arts.com (2004, Underneath the Lintel)
"Smart, original and bizarrely funny!" -L.A. Splash (2004, Midnight Brainwash Revival)
"Astonishing! ...a masterpiece!" -L.A. Weekly PICK OF THE WEEK (2003, Strange Beliefs)
"A standout ensemble... An unforgettable event!" -L.A. Weekly RECOMMENDED (2003, Valparaiso)
"Ingenious... breathtakingly inventive... groundbreaking!" -L.A. Times (2003, The Mechanical Rabbit)
"Sad, and thoughtful, Parker would only be pleased." -BackStage West (2003, Dorothy Parker's Big Blonde)
"Brims with laughs and shivers!" -L.A. Times (2002, Dracula: A Musical Nightmare)
"Hypnotically beautiful!" -L.A. Weekly PICK OF THE WEEK (2002, Cirque Picnique)
"Ambitious and impressively realized... a large and gifted cast... [a] vivid, richly disorienting endeavor." -L.A. Times (2002, Crazyface)
"Provocative and compelling... the kind of a play that gets into your head and stays there. It is not to be missed!" -The American Reporter (2002, Drama Dept's Uncle Tom's Cabin)
"Delightful! ...gleefully revels in the holiday season's dark underbelly!" -L.A. Weekly RECOMMENDED (2001, A Very Crime Scene Christmas)
"Exuberant... ! The Sacred Fools have their way with Shakespeare, and the Bard is none the worse for it!" -BackStage West CRITIC'S PICK (2001, The Comedy of Errors)
"Smart and vivacious... Artfully melds the mood of a Christopher Durang play with the nonlinear logic of a Monty Python skit... Boasting crisp-to-perfection performances!" -L.A. Weekly RECOMMENDED (2001, Feet)
"Wonderful performances, lyrical writing... alluring and captivating!" -Backstage West CRITIC'S PICK (2001, GRIMM!)
"...the play's ideas, as tackled by a relentlessly enthusiastic cast, entertain to the fullest!" -L.A. Weekly PICK OF THE WEEK (2000, Dubya 2000)
"...the most entertaining evening of Shakespeare in recent memory!" -L.A. Weekly PICK OF THE WEEK (2000, 2 G's)
"...surprising wit and potency!" -L.A. Times CRITIC'S PICK (1999, The Adding Machine)
"A wonderful blend of wordsmithing and wackiness... BE THERE!" -L.A. Times CRITIC'S PICK (1999, Want's Unwished Work)
"Majorly inspired!" -BackStage West/DramaLogue CRITIC'S PICK (1998, Timon of Athens)
"These Sacred Fools are cool, and anything can happen!" - BackStage West (1998, The Fictionist)
"...a major force on the L.A. theater scene!" -DramaLogue (1997, Tuesday)
"Brilliant... director John Sylvain and cast fashion a fairy tale of their own seamless design!" -BackStage West (1997, The Fatty Arbuckle Spookhouse Revue)
Speech given by David C. Nichols, theater critic for the L.A. Times, presenting Sacred Fools with the Los Angeles Drama Critics Circle's Polly Warfield Award for an Excellent Season in a Small to Mid-Sized Theater
Monday, March 16, 2009
It seems safe to say that few if any Los Angeles Drama Critics Circle critics -- or any Los Angeles drama critics, ever -- were any more tireless or devoted champions of the many small theatres that are the wellspring of our city's theatrical landscape than the late, great Polly Warfield, the original "glass-half-full" theatergoer. Now, every year there are worthy contenders aplenty for the special award that bears her name. Numerous companies and theatres, many of them represented among tonight's attendees, and some absentees, manage, week in and week out, on a regular basis, to produce work of entirely notable caliber, at that in the face of increasingly severe economic constraints. Hence, the impetus for the Warfield this year is rather more particularized, and this year's recipient seems uniquely representative of what our Los Angeles theatre scene -- not the New York, or Chicago, or Boston, or San Francisco, or New Orleans, etc., theatre scenes, and we love them, but still -- what our Los Angeles theatre scene can achieve, on its own terms, and where our small-to-midsized output rightfully belongs in the larger context of the national identity.
I give you three examples, all from 2008: If the defining element of L.A. theatre is company-specific, and therefore indefinable, yet, perhaps, leaning toward cutting-edge irreverence, try this on for size: a double-entendre-ridden country-western tuner in which a same-sex romance -- at least, we think it was same-sex --between the country's last surviving beaver and a pathologically well-spoken bunny produces a biology- (and description) defying hybrid lovechild. Hindered and/or spurred on by the hambone interference and erotic high jinks of the human contingent, accompanied by a barroom-ready band perched in the back of an onstage pickup truck beside an outhouse, it winds up making a heartfelt plea for love and tolerance in an unfeeling world, don't ask me how. That was Beaverquest!, by Padraic Duffy and Bobby Stapf, which originated as a short work in the company's Serial Killers late-night series. For all its many quirks, it could only have transpired where it did, and was, undeniably, unlike anything else going last year.
Secondly, the fertile but too-seldom realized potential of the 99-seat arena to foster artistically venturesome yet commercially viable properties was tapped by this year's recipient, resulting in the Equity-waiver equivalent of a gusher: the infectiously swinging, edgily trenchant Louis & Keely Live at the Sahara. Directed by award-winner Jeremy Aldridge, Jake Broder and Vanessa Claire Smith's "Star is Born"-flavored account of the pivotal, turbulent relationship between Louis Prima and Keely Smith was a house smash; moved to the Matrix for a second SRO run; has already garnered multiple honors and nominations from every stage awards entity in town, this one inclusive; and returns this week in a newly, fully retooled edition at the Geffen's Audrey Skirball Kenis Theatre, as the stage directorial debut of film helmer Taylor Hackford. There's more than one lesson in there somewhere.
Finally, during the last legs of a seemingly unending election cycle, accurately deemed historic where it wasn't hysteric, tonight's honoree offered the L.A. premiere of 43 Plays for 43 Presidents, a ruthlessly surreal, awesomely well-researched, alternately satiric and sober omni-partisan vaudeville from the NeoFuturists of Chicago about every chief executive in the nation's history. Under Paul Plunkett's inspired direction, the six-member ensemble didn't just seamlessly straddle a kaleidoscopic approach taking in everything from Suzan-Lori Parks to Tom Lehrer, "Meeting of the Minds" to "Constitution Rock," Gore Vidal to Ernie Kovacs. Right up to the California filing deadline, the finale found said cast abandoning the fourth wall to hand out voter-registration forms, challenging spectators to put their money, or at least their moxie, where the show's mouth and moxie most decidedly were.
Therefore, in light of such singular, distinctive and elevated standards -- maintained, I should add, amid on-going and recurring late-night series, off-night attractions, guest productions, ad infinitum, go to their website -- and for exceptional devotion to their company mission statement while stretching in all possible directions, it is my infinite joy and immense pleasure to present the Polly Warfield Award, for an excellent season by a small-to-midsize theatre, to Sacred Fools Theater Company.
--David C. Nichols
reprinted with the author's kind permission