The Christmas Present
written & directed by Guy Picot
DECEMBER 4-23, 2012
Tues-Weds, Dec. 4-5 @ 8pm
Tues-Thurs, Dec. 11-13 @ 8pm
Tues-Sat, Dec. 18-22 @ 8pm
plus Sundays, Dec. 16 & 23 @ 8pm
TICKETS: $15
Buy Tickets Now or call (310) 281-8337
Will you get what you want this Christmas?
'Twas the night before Christmas
and all through the house
not a creature was stirring...
So Colin hired a prostitute and checked into a hotel.
What followed was truly a Christmas miracle.
An encore presentation of last year's darkly comic Christmas hit!
A LONDON TIMES "TOP FIVE THEATRE" PICK!
"...spellbinding... hilarious but deeply dark and meaningful work." -Brighton Magazine (Brighton, UK)

"...a darkly funny tale..." -The Argus (Brighton, UK)
Reviews of the Sacred Fools Production

"Those who like their Christmases on the rocks, with bitters, will feel right at home..." -L.A. Times
"As the sultry Salome, Higgins glides through the role with a steamy, soothing calm, while as her counterpart, Moss has an inexorably gritty and humane charm." -L.A. Weekly (GO!)
"...Smart and Rewarding... a delightful time... Picot's smart script keeps us guessing without feeling manipulated or confused... The production is crisp, clear, and full of nice little moments from beginning to end... "The Christmas Present" is just the sort of evening that some of us have been looking for this time of year." -BackStage
"...fresh, gifted writing... rewarding and sweet..." -BroadwayWorld
"Picot's script is clever and original, and under his sharp direction, all three actors give incisively-honed performances... manages in its own acidic way to send theatergoers back out into the December night with more than a bit of holiday spirit in our hearts." -StageSceneLA
Like THE CHRISTMAS PRESENT on Facebook!
Listen to author Guy Picot and producer Erin Parks talk about THE CHRISTMAS PRESENT on "The Call Sheet"!
Enjoy homemade mince pies at our concessions stand when you come to see The Christmas Present!
Photos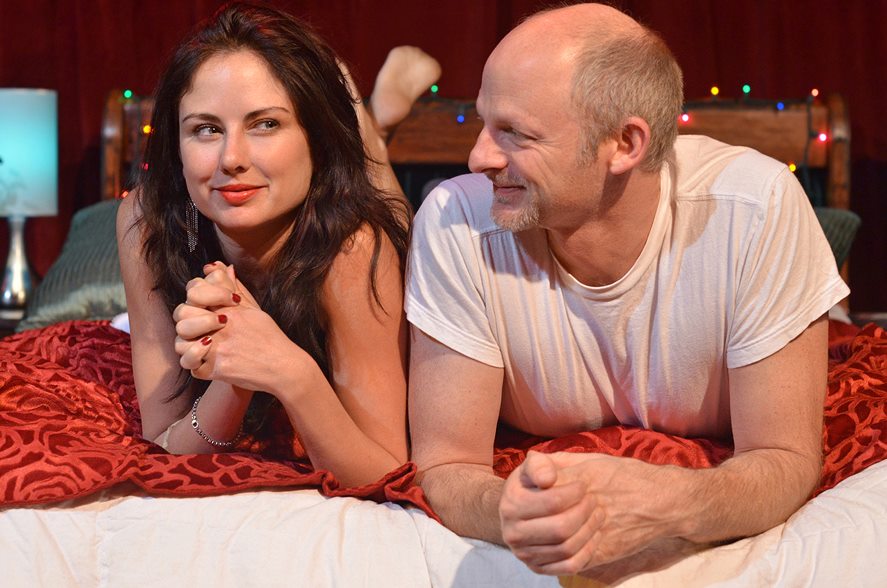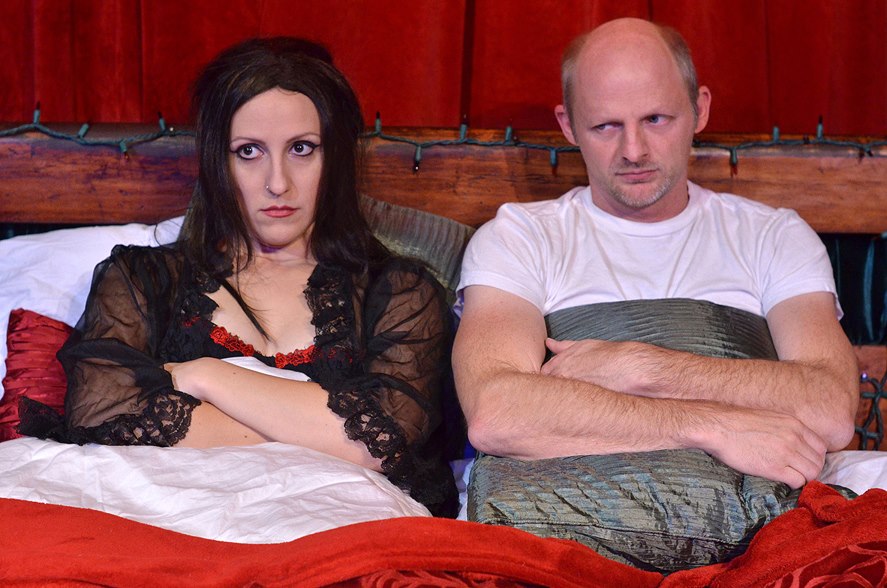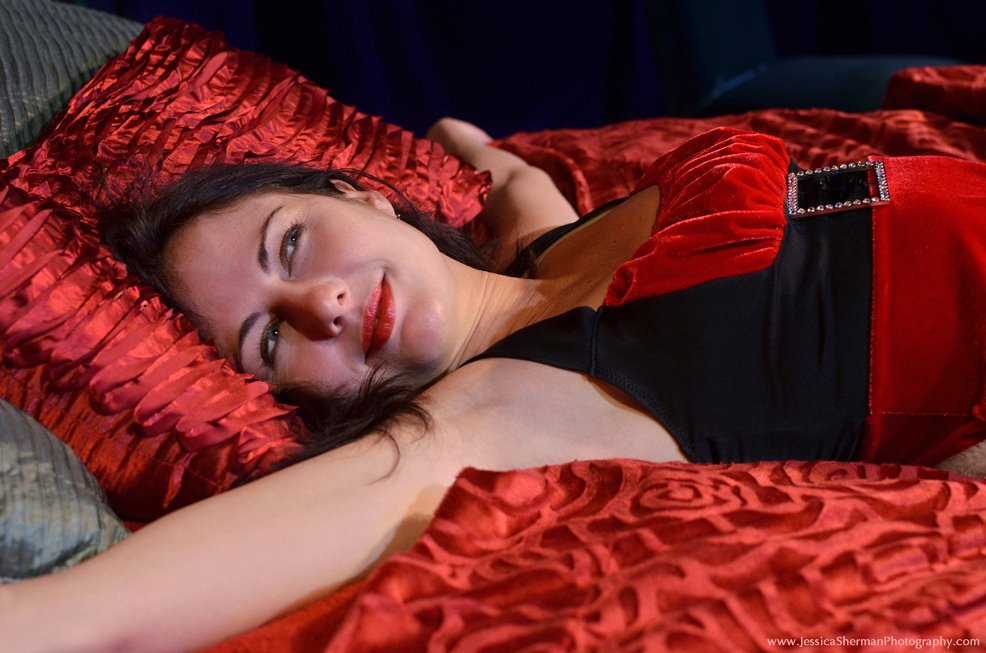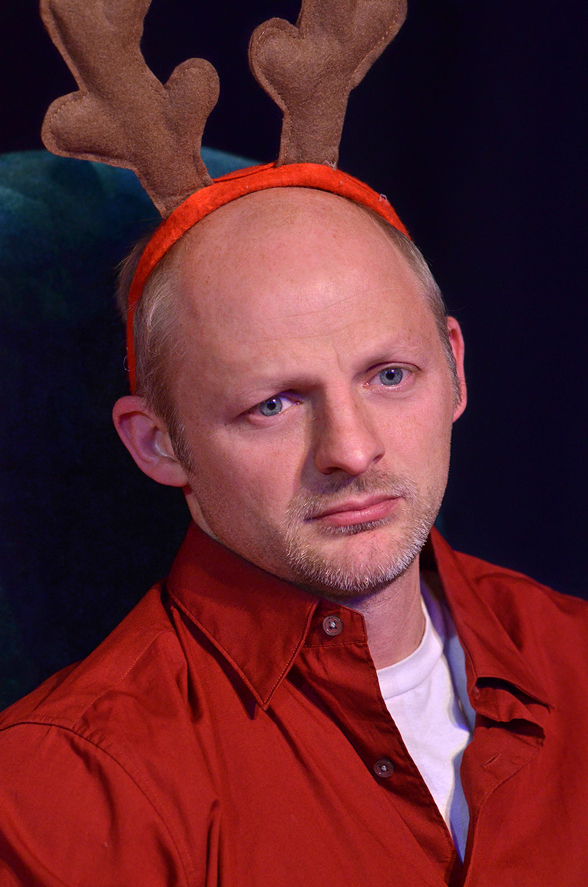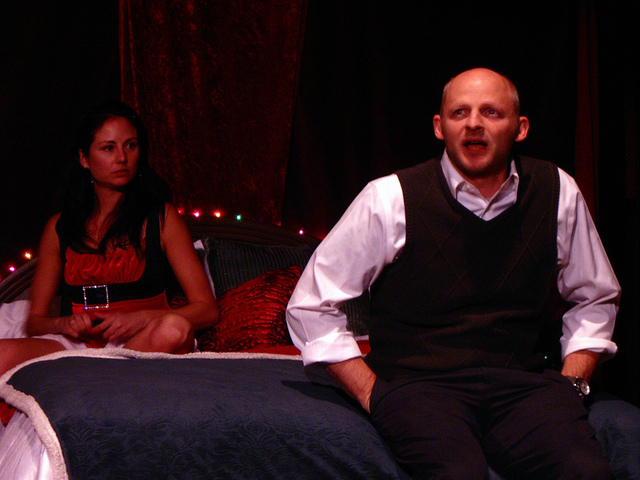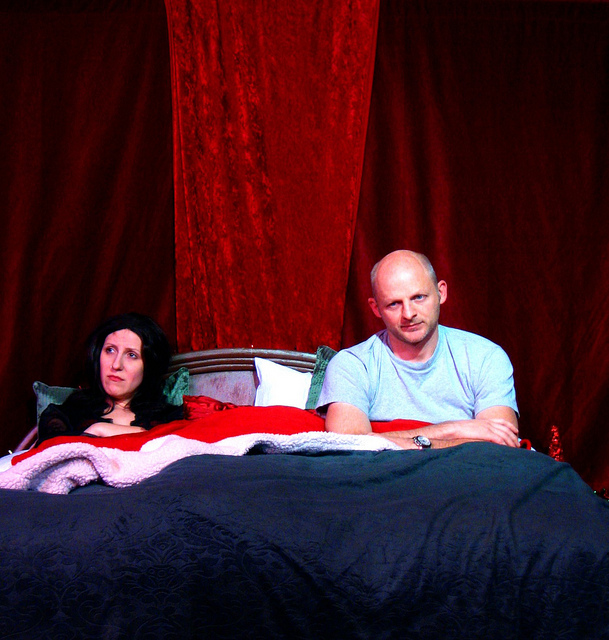 Cast
Troy Blendell as Colin Sasha Higgins as Holly Mandi Moss as Debbie
Crew
Producer - Erin Parks
Design & Costume Consultant - Tifanie McQueen
Associate Producer - Joseph Beck
Stage Manager - Ari Radousky
Co-Producer (2011) - Richard Levinson
Previous Run: U.S. Premiere!
DECEMBER 6-24, 2011
Tuesdays & Wednesdays @ 8pm
plus Thurs-Sat, Dec. 22-24 @ 8pm
Reviews
BackStage
'The Christmas Present' Is a Smart and Rewarding Comedy
There are plenty of us who are somewhat like Colin, the squirrelly Brit at the center of playwright Guy Picot's "The Christmas Present." Without any immediate family to spend the holiday with—the closest he comes is an ex-wife—Colin is simply "not on the Christmas map." But there may not be too many of us who'd choose to spend our Christmas with a prostitute in a cheesy hotel room. We also might not bring along a nasty-looking knife if we did. So it's a good thing that we can have a delightful time as interlopers, watching just what satisfying surprises are revealed in this bittersweet seasonal comedy.
Actor Troy Blendell could not be more perfect as the lost soul who's bought "the full Christmas package" and plans to spend Christmas Eve through December 26, British Boxing Day, with a hooker. But for Colin, it's not just about achieving biblical proportions in bed. Terribly proper, his prime motivation is clearly not the chance to unwrap the sweet, kittenish young woman who goes by the name of Salome (Sasha Higgins) and at first seems almost reluctant to take his money. What Colin wants is to erase all of the horrible holidays of his past, the "traditional shit Christmases," by snuggling up, sharing comfort and joy, and pretending it's all real. But then again, there's some anger there, so maybe he's looking to get something else entirely out of the unorthodox assignation.
In a rewarding and understated way, Picot's smart script keeps us guessing without feeling manipulated or confused. When—spoiler alert—the playwright reveals that Salome is only a fantasy and the real-life version in the form of truth-telling, straight-talking Debbie (Mandi Moss) shows up, he's got us just where he wants us.
Picot also directs, eliciting terrific performances from his three actors. The production is crisp, clear, and full of nice little moments from beginning to end. When he's with Salome, Blendell's Colin is as adorable as she is; their perfect and lovely pairing has a too-good-to-be-true authenticity. But the real payoff is in Colin's matchup with Debbie, whose stripped-down honesty in Moss' hands is fabulously nuanced and powerful. Oh, and props to the playwright for not dipping into the "she wants it as bad as he does" well when it comes to sex workers.
This isn't a wild and edgy comedy; it's not even particularly outrageous, and we don't quite take the danger element seriously. But when you put it all together, "The Christmas Present" is just the sort of evening that some of us have been looking for this time of year.
--Jennie Webb
© 2012 BackStage
L.A. Weekly - GO
Sacred Fools' The Christmas Present: Who Spends Christmas With a Prostitute?

There's an imposing bed at the center of the stage. Colin (Troy Blendell) has such a typically English, genial disposition, you have to wonder why he's booked a hotel room (somewhere in Britain) for Christmas to be spent in the company of a hooker, what the escort agency calls "the Christmas Package."

There's a divide between what Colin thinks he's doing and what's actually unfolding, and that divide is the most provocative idea posed by writer-director Guy Picot in his dark comedy The Christmas Present, being performed at Sacred Fools Theatre through Christmas Eve.

Colin addresses the audience with droll jocularity, which carries over into his awkward interactions with Salome (Sasha Higgins), the sweet brunette bombshell who arrives in fashionable leather before reappearing in a sexy Santa outfit.

That he's assigned for himself the false name of John reveals Colin's singular lack of imagination, which offers a glimpse into why the poor guy can't, or doesn't want to, find a friend or some family to hang out with over the holidays.

Another clue is his slightly neurotic reaction to Salome's mention of a snowy Christmas, something he insists she shouldn't mention for fear that her fantasy White Christmas image may not manifest itself, thereby forcing meager reality into his insulated, paid-for world of perfect fantasy.

The final clue is the occasional wisp of hangdog desperation lodged somewhere within the twinkle of his eyes when he keeps telling her how perfect she is.

"Well, it's very sweet of you to keep saying that, but you don't really know me," she coos. "The sort of good time that you seem to want is about, I don't know, affection, comfort, companionship."

"Exactly," he fires back.

"But we can't really be that, can we," she reasons. "We haven't earned that from each other."

After asking her if she can take it on "trust," she expresses surprise that he should want human comfort. "Usually I just do sex and go."

That's a little hard to believe — that men residing in the outer margins of loneliness who hire upscale hookers aren't trying to purchase a substitute for a profound spiritual lack as well as a physical one.

Yet Salome doesn't have to be believed because she's a figment of Colin's imagination, a fantasy of the perfect woman who, after dispatching the matter of payment with assurances that she'll not break their contract by leaving early (though he may if he's dissatisfied), slithers like a feline across his bed, stoking his ego with gentle compassion while engaging in a quality of conversation that's assuredly intelligent without being pedantic.

She's too good to be true because she isn't true. She's an object of his psychic desire.

Her scenes are interspersed with the arrival of a second Salome (Mandy Moss), the real woman with whom Colin is actually reckoning — straight-talking, passion-killing, with a cavalier disregard for the impotence she provokes in him. Worse, she's a single mother — news that has the effect of ice chucked onto his shriveling libido.

And so, the play traverses the line of pretending, strung between silky romanticism and gravel-lined reality. Colin floats in the former as though on the wings of an angel; when he tumbles into the latter, he lashes out with sarcastic barbs, and in return the second Salome scratches and cuts him back through her matter-of-fact, sensible repartee. He's vindictive, she's not.

Both women play at being his friend, but which is truer?

Through Colin's ability to bridge the chasm between a generic fantasy and human contact, Picot gets to the heart of the divide between men and women. There's little here that's earth-shattering, and no point of connection between Colin's model of female perfection and the outside world of commerce and porno.

The play also traffics in cliches, in its fantasies for arousal, from calendar pinups to porno archetypes.

But eventually it becomes clear that Picot's point is that those fantasies lead to disconnection and loneliness not only for guys but for women, too. For this reason, The Christmas Present is a better play than it appears at first glance.

As the sultry Salome, Higgins glides through the role with a steamy, soothing calm, while as her counterpart, Moss has an inexorably gritty and humane charm. Blendell's Colin portrays the john's bewilderment with plausibly brittle and defensive darts, as he aims to fathom the causes of his loneliness. The inner causes are all too obvious, but their relevance to the world beyond his hotel is what gives this play its value.
--Steven Leigh Morris
© 2011 L.A. Weekly
L.A. Times
In art as in life, Christmas has its dark side. For every Scrooge and Grinch transfigured by the spirit of giving, somewhere a Raymond Carver character is shouting, "That's the last Christmas you'll ever ruin for us!" at her drunk husband.

Those who like their Christmases on the rocks, with bitters, will feel right at home at Sacred Fools Theater's U.S. premiere of "The Christmas Present," written and directed by Guy Picot.

The play is subtitled "a dark British comedy," but even the most cynical American may find it longer on the dark and the British than the comedy. Although the tale of a borderline sociopath and the grouchy prostitute he's hired to spend the holiday with him in a hideous hotel room — she's his "present" —does provoke laughs, they're closer to Nietzschean yelps of despair than Yuletide jollity.

Miserably divorced Colin (Troy Blendell) has hired "Salomé" primarily for companionship. Or so he explains to the lovely, accommodating woman (Sasha Higgins) who arrives after he has hidden a knife under the bed. This Salomé turns out to be a fantasy; a second knock heralds the actual prostitute (Mandi Moss), a belligerent harpy. Scenes of their squabbling alternate with tenderer, if creepier, imaginary interactions between Colin and the hooker of his dreams.

Blendell's Colin is a deceptively average-looking "bloke" whose unctuous good humor keeps giving way to twitching rage. Higgins brings a quirky sweetness to her slight role. But the play doesn't really come to life until the fiery Moss shows up in her sweatpants and starts laying waste to Colin's delusions. Ultimately, for all its bile and threats, "The Christmas Present" pulls its punches, delivering not a bloodbath but its own darkly comic, very British Christmas miracle.
--Margaret Gray
© 2011 L.A. Times

BroadwayWorld
It's indeed a pleasure to see some fresh, gifted writing as in Guy Picot's The Christmas Present, in which he takes a familiar theme, that of loneliness/bitterness at holiday time, and puts it in a new unexpected context. Colin (Troy Blendell) may be your average UK divorced businessman, but his daydreams are hardly normal, bordering on the psychotic/demonic side. Depressed over his failed relationships with women and with life in general, his patient, friendly- seeming manner conceals the mind of a serial killer. Enter two women Holly (Sasha Higgins) and Debbie (Mandi Moss), different as night and day, into a 36-hour call-girl for Christmas scenario. The way Picot lays it out at the top it's difficult to determine whether Holly or Debbie is the actual prostitute who calls herself Salome. In a rapid succession of scenes the two girls alternate Salome, leaving one to question if we are seeing two different time frames. Higgins turns up later as a chambermaid, rattling Colin's brain, and so whether the action that transpired in Act I with her as the call-girl is real or fantasized is to be determined. Holly was sweet, the perfect mate, whereas Debbie is plain, a single mom who enjoys belaboring her plight and creating mayhem for Colin. At least, in the beginning. They gradually warm to each other, eating bonbons and listening to carols on the tele, but neither one really wants to be there. Debbie only needs the money; Colin is stuck with someone who is really not his type.
There is tremendous humor sprinkled throughout the play, and Colin's erratic behavior comes off as quite funny at times, as he grimaces over the tediousness of it all. It's the element of surprise that sustains interest in his character. We keep waiting for him to make a move in the direction of his plan, but... What ultimately does come to pass is rewarding and sweet, fulfilling the true message of Christmas. Blendell is a delight as Colin, resourcefully alternating energetic and muddled moods depending on the moment. Higgins is beautifully beguiling as Holly, but unfortunately we do not see enough of her. It is Moss as Debbie that truly has the finest hour in the play weighing the conflicts at hand and adding a genuine human touch as she caringly handles Colin. How the play ends is a nice surprise, leaving one to think, as I'm sure Picot intended, that if just one person cares, it can make a difference.
Picot the director keeps the action moving at a fine pace. Tifanie McQueen keeps set and costuming very simple. Labeled a dark British comedy, The Christmas Present is a refreshing change of pace from a multitude of varying Christmas Carols out there.
--Don Grigware
© 2012 BroadwayWorld

StageSceneLA
WOW!
The deadly-looking knife Colin hides under the queen-size bed he's about to share with prostitute Salome in The Christmas Present clues us in from the get-go that Guy Picot's dark holiday comedy isn't going to be the sort of warm-hearted fare that usually fills our theaters each December.
Following four UK productions and a raved-about American debut last year at one of L.A.'s theater gems, The Christmas Present returns for another holiday-go-round at Sacred Fools, directed by its playwright and with its trio of 2011 stars intact.
The Salome (Sasha Higgins) whom Colin (Troy Blendell) has rented from Xmas Eve to Boxing Day on the 26th as his "Christmas Present" is precisely the kind of luscious brunette to fulfill any straight British male's sexual fantasies, though we soon learn that Colin has more on his mind than just getting his rocks off—that and whatever use he plans to put that knife to.
What the lonely 40ish divorcee is hoping to experience with Salome (whose real name it turns out is Holly) is the "affection, comfort, and companionship" that are so sorely lacking in his daily life, even if it's only on a bought-and-paid-for thirty-six hour fantasy basis.
Holly does not hesitate to burst Colin's bubble, telling him in no uncertain terms, "The sort of good time that you seem to want … We can't really be that, can we? We haven't earned that from each other."
Persistent bloke that he is, Colin does somehow manage to convince Holly to go along with his fantasy Christmas wish, but there's still that knife lurking ominously under the bed they're about to share.
And that's just the half of it, quite literally half of The Christmas Present, for not long after Colin and Holly have met cute, Lemon Baarsden's theatrical lighting changes from the burnished glow in which he has bathed our two protagonists to a brighter, starker light under which Colin greets a second, and very different, Salome.
Salome Number Two (Mandi Moss) is a considerably coarser, more plain-spoken hooker (real name Debbie) than Holly's call girl de rève, one whose list of I-don't-do-thises and I-won't-do-thats seems hardly likely to satisfy any man's sexual fantasies, let alone Colin's desire for comfort and joy on a lonely Christmas Eve.
For the rest of The Christmas Present's first act, Picot's script alternates between scenes of Colin and Salome/Holly and Colin and Salome/Debbie, played under alternating warmly golden and starkly white lighting plots, and we wonder (or this reviewer did at least) whether we might possibly be seeing two successive Christmas Eves. The fact Colin hid the knife under "Debbie's light" suggests that he intends it for her, and Holly's mention early on that she has taken over the name Salome from a another rent girl had me wondering if she just might be victim number two.
By Act One's dramatic fadeout, playwright Picot's real intentions have become clear, and though other The Christmas Present reviews have spoiled the surprise, this one will not.
Suffice it to say that it is Colin and Debbie who end up the center and heart of this tale of two lonely, angry, yet still somehow hopeful souls, a dramatic comedy whose characters capture our attention, if not quite our hearts, all the way through to The Christmas Present's just-right, cliché-free dénouement.
Picot's script is clever and original, and under his sharp direction, all three actors give incisively-honed performances, fine-tuned over the course of last year's run.
Blendell's terrific Colin keeps us on the edge of our seats, and not simply wondering how and when he plans to use that knife. Far more than that, Blendell creates an all too real character whose conflicting emotions and desires are all too human.
Moss is splendid too as a tell-it-like-it-is single mom whose way of supplementing her welfare check may not fit Colin's image of what's right and what's wrong, but which suits her very well indeed, thank you.
Higgins, sensational in last year's Kowalski, does memorable work once again as a saucy-but-sweet young thing who's almost too good to be true.
The Christmas Present unfolds on the same stage where Sacred Fools' The Coarse Acting Show has been running concurrently, the likely reason that Baarsden is credited as lighting consultant rather than designer (and Tifanie McQueen as set/costume consultant). Suffice it to say that the two designers' work here is first-rate, with particular snaps for the outfits McQueen has created for Colin, Holly, Debbie, and the two Salomes,
The Christmas Present is produced by Erin Parks (who played Holly in Brighton a few years back) and Richard Levinson. Joseph Beck is associate producer. Ari Radousky is stage manager.
The Christmas Present makes for a terrific alternative to the many A Christmas Carols running around town. Though about the only thing the two tales share is their English setting and the word Christmas in their title, much like its better known predecessor, The Christmas Present manages in its own acidic way to send theatergoers back out into the December night with more than a bit of holiday spirit in our hearts.
--Steven Stanley
© 2012 StageSceneLA

Feature Article
BackStage
Making Theatrical Revivals Feel Fresh and New
by Guy Picot
Theatrical revivals get a bad name. How often have we heard the word revival being preceded by "tired" and "old"?
As artists and creators, we are naturally excited by the new and the ground-breaking. Bands are always proudest of their latest song, and authors are always proudest of their latest novel. As a playwright, I feel the same. The play I've just finished is always the best thing I've ever written. Except at Christmas. My play "The Christmas Present" was first performed in the UK 11 Christmases ago. I am currently directing it for the sixth time. I don't think I will ever get tired of it.
Actors understand the discipline of doing something over and over again and making it feel fresh. It's a good skill for directors too. The Christmas theatrical window is pretty limited, five or six weeks at most. If a show is successful then a repeat outing is far more likely than an extension into spring, as nobody wants to listen to stuff about snow and Santa in March.
So, revivals of this type of show are inevitable. Thankfully, "The Christmas Present" really has turned out to be a gift that keeps on giving. Each cast I have been lucky enough to work with has illuminated the play in new and interesting ways.
We held the U.S. premiere last holiday season, so it magically became "English-y," as it was performed abroad all those times before. I got to direct American actors for the first time, and their questions and insights took us down paths that I previously hadn't unexplored. American audiences respond differently too. My festive story of a divorced businessman, a hooker, and a hotel room seems darker in sunny L.A. Surefire laughs in the UK might just get uncomfortable sniggers here, and sometimes there are laughs where I wouldn't have thought possible. But it evens out, it's billed as "a dark comedy" so it will always be one or the other, and if we're lucky, both.
Christmas itself is wrapped up in repeated rituals: family meals, opening presents, sitting round the TV. It's all about the cozy and familiar. Mounting this show has become one of those rituals for me. As a Brit in exile, it also gives me a flavor of home just when I'm most likely to be missing family and friends.
This year, I'm particularly delighted to have entirely the same cast as last year, as Sacred Fools Theater Company wanted the production again. So we all have the same job: To make it a bit better. Don't do something a particular way just because that's how it was before. You must re-examine, make new choices, and re-create. We should all be a year better, not just a year older.
Last year the British accents arrived by degrees during rehearsal, often via South Africa. This time they were pitch-perfect at the read-through. A wonderful new set necessitated some re-blocking, which in turn colored the dialogue. New elements are absorbed, and the tone subtly changes. All of a sudden it's a new and better show.
The actors know that it worked last year; they're not getting into a plane that's never flown before. It gives them the confidence and courage to explore and to try that idea they'd thought of before but were too stressed with line-learning to mention.
When something is billed as a "world premiere," it just means it's never been done before. Very often, it will l never be done again. Plays that start out in a ninety-nine seat theater need second and third productions if they are to eventually make it into print and posterity.
New and ground-breaking is great. It's why I'm a member of Sacred Fools Theater company. I hope to be doing something new and ground-breaking very soon. But not right now, Christmas is coming, and you know what that means.
--Guy Picot
© 2012 BackStage