"Raise Your Hand... From the DEAD!!" Program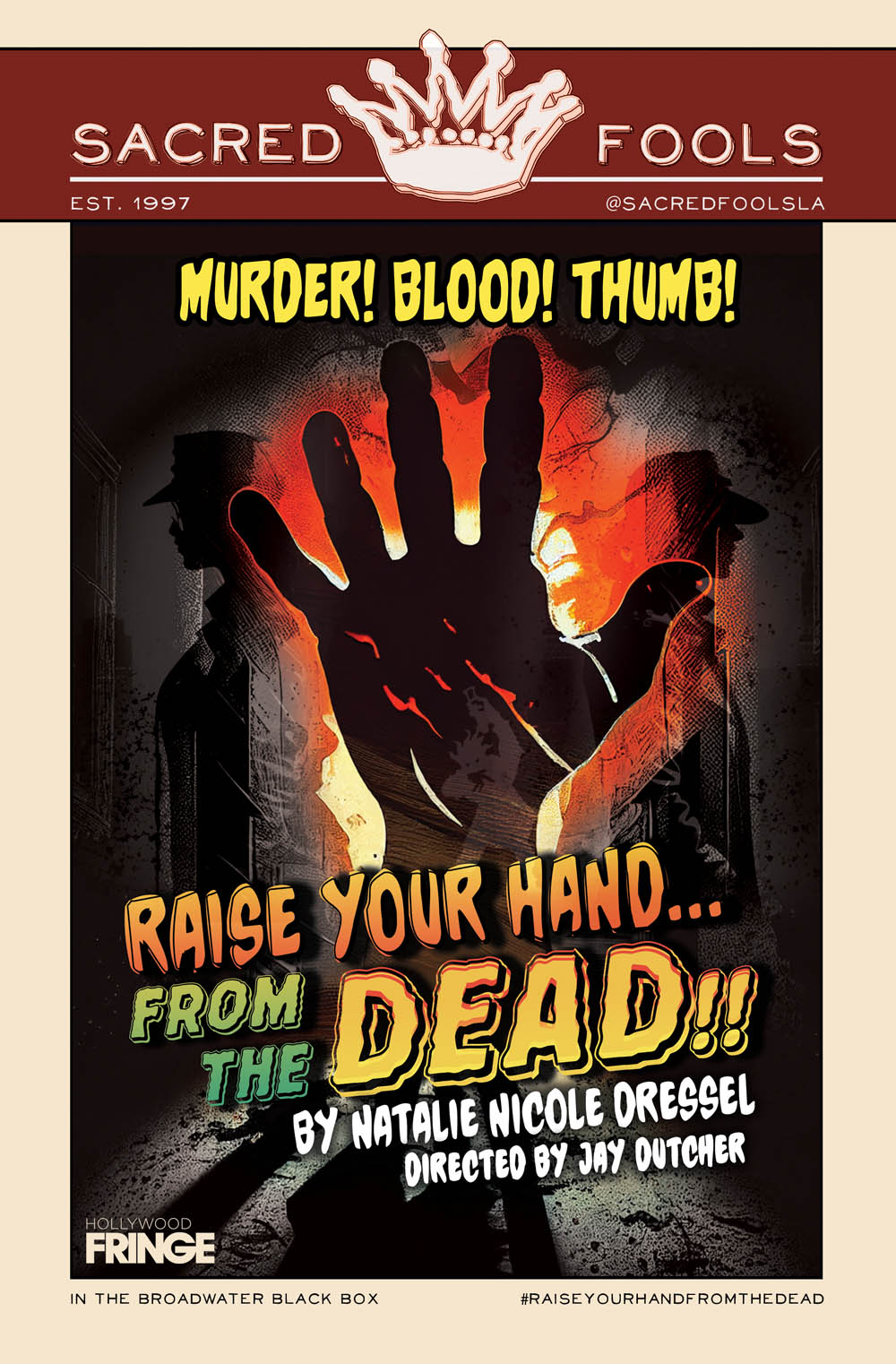 Sacred Fools Theater Company presents...
Raise Your Hand...
From the DEAD!!
CAST:
Natalie Nicole Dressel

Animal Control Detective Palmer

Cj Merriman *

Private Investigator Shaker

Scott Leggett *

Dr. Manos

Marian Gonzalez

The Hand

Angela Oliver *

Pinkie

Ian Walker Price

Trip / Mr. Thumbson

Tee Vaden

The Narrator
Stage Manager: Rebecca Schoenberg
Intimacy Coordinator: Nedra Gallegos
Fight Choreographer: Tyler Stillwill
"Raise Your Hand... From the DEAD!!" Theme Song: Ryan Thomas Johnson
Key Art: Michelle Hanzelova
* Member of Actors' Equity Association, the Union of Professional Actors and Stage Managers in the United States
This production is presented under the auspices of the Actors' Equity Los Angeles Membership Company Rule.
Produced for Sacred Fools by Cj Merriman & Scott Leggett
Special Thanks:
Connor Esquivel
Dean Grosbard
Padraic Duffy
Bruno Oliver
Tee Vaden
Coming in October to Sacred Fools
Sacred Fools will be premiering the latest solo show from Joe Hernandez-Kolski (HBO's Def Poetry, Law & Order, Gilmore Girls). The show is developed and directed by Joe's longtime collaborator, Benjamin Byron Davis (Guardians of the Galaxy 3, Red Dead Redemption). The show promises to dive deep into the universal struggles that we've all been facing as we regain our footing in a post-pandemic world (or at least try to!) This show will premiere in October 2023 and it is not to be missed!
CAST & CREW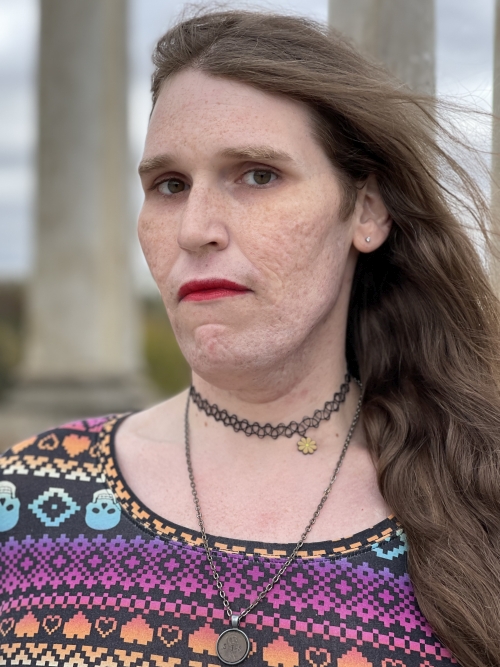 Natalie Nicole Dressel as Animal Control Detective Palmer (Retired) | Playwright
Natalie Nicole Dressel (she/her) is a transgender writer/actress currently living in North Hollywood, CA. In 2019 she attained her MFA in writing for the Stage and Screen from Point Park University in Pittsburgh, PA, and in 2013 she earned her BFA in Theater from Michigan State University. She is a graduate of the UCB LA improv program, and her play There is Evil in This House (that she wrote and performs in) was a Second Rounder at AFF and a 2019 O'Neill NPC finalist. She did various voices on the English language dub of Veneno and dubbed the lead on Todo Lo Otro (or Dafne and the Rest).
Her play Now and Never was adapted into a short film which won "BEST DARK FANTASY FILM" at Austin After Dark, and appeared in festivals like Chelsea, Chicago South Asian Film Festival, 4th Dimension Film Fest, DCSAFF, The Valley Film Festival and others. Recently wrapped a movie on the East Coast and had a grant show of her work put on and funded by the City of West Hollywood. Has written on-the-spot love poetry for strangers passing by at Pride in Los Angeles and Denver on an old fashioned typewriter.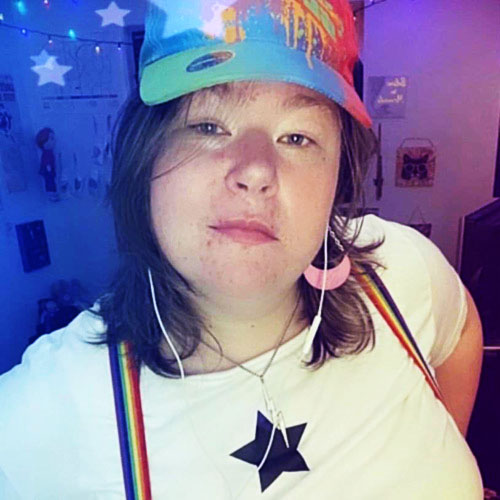 Jay Dutcher - Director
Jay Dutcher (she/him) is a queer theater-maker, visual artist and avid participant in L.A.'s independent theatre community, and has directed, produced and stage managed productions with Sacred Fools Theatre Company, LOFT Ensemble, Flat Tire Theatre Company, Skypilot Theatre Company, and more. As a multidisciplinary artist, she uses her variety of skills to assist in telling and elevating personal stories, encouraging vulnerable storytelling, and providing the freedom to play, heal, and connect with one another through art and performance. She is currently the Administrative Director for About...Productions (aboutpd.org). Previous Hollywood Fringe credits include CRINGEFest: An Uncomfortable Anthology (Flat Tire Theatre Company, 2017) and Jordan Maverick, History Teacher (Sacred Fools Theatre Company, 2019).
Marian Gonzalez as The Hand
HRH Marian Gonzalez (its/it) is a theater artist, puppeteer, and human encyclopedia born and raised in Los Angeles. You probably saw it doing something in late-night live theater, or at the Hollywood Fringe and have a big crush now. Past credits include Waiting for Waiting for Godot (Sacred Fools), Macbeth (Loft Ensemble), and a bunch of other Fringe shows (Crunch - Sacred Fools, Fifty Shades of Shrew - Broads Word).
Scott Leggett as Dr. Manos | Producer
Scott Leggett (he/him) appeared in the modern farce Tangerine Sunset at Sacred Fools. He performed multiple characters in Burglars of Hamm's critically acclaimed production of Resa Fantastiskt Mystisk, which won Top of Fringe at the Hollywood Fringe Festival. He was Monster in Cookie and the Monster at the Hollywood Fringe Festival '15, which won Best Ensemble. He earned praise playing Roscoe "Fatty" Arbuckle opposite French Stewart in the critically acclaimed Pasadena Playhouse production of Stoneface: The Rise and Fall and Rise of Buster Keaton. At Sacred Fools, he played the titular character in Watson: The Last Great Tale of the Legendary Sherlock Holmes as well as its sequel. Other shows include 43 Plays for 43 Presidents and The Swine Show in addition to numerous other productions. He studied theater at Penn State University and has appeared in several films, commercials and TV shows. Scott is also an accomplished director, having staged the hugely successful adaptation of Neil Gaiman's Neverwhere at Sacred Fools. He also directed The Poe Show, which won Best Comedy at the Hollywood Fringe Festival '15, and Skullduggery: The Musical Prequel to Hamlet. He has also served as Co-Artistic Director of Sacred Fools.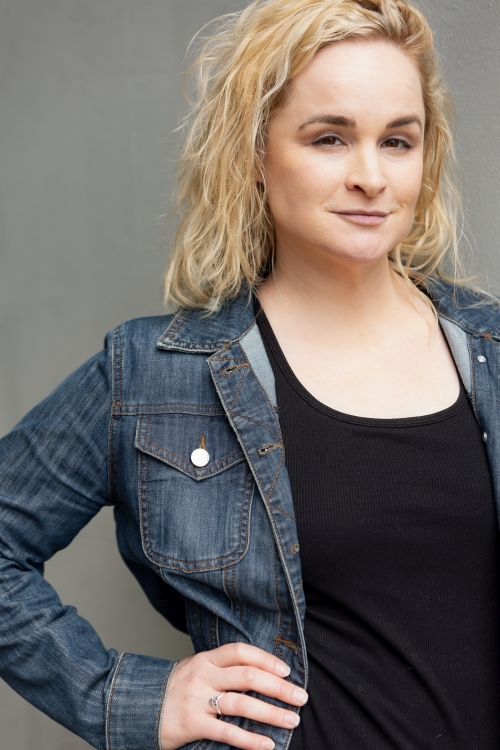 Cj Merriman as Private Investigator Shaker | Producer
Cj Merriman (she/her) got her BFA in acting from Webster University Conservatory for Theatre Arts (Go Gorloks!). After 16+ years in L.A., she also finds herself to be a producer (Sacred Fools' Serial Killers and Come Back!), choreographer (Lip Sync Sign, Loft Ensemble's Trainwreck and Winter Dance Party), director (Dracula's Taste Test in 2018 at HFF) and some times podcaster (check out Theatre Theater wherever you get your podcasts!). Absolute favorite shows: The Behavior of Broadus; Three Guys, One Groupon (at last year's HFF); The Poe Show; and Skullduggery. What she loves most of all is the Hollywood Fringe Festival. "MERRY SECOND CHRISTMAS, Y'ALL!"
Angela Oliver as Pinkie
Angela Oliver (she/her) is a Los Angeles newcomer and long-time Chicago based touring actor/multihypenate artist and Second City Mainstage Alum. She is a current member of M.i.'s Westside Comedy Theater's A West Side Comedy Story: An Improvised Musical. Angela's recent debut performance at Casa 0101 Theater in Masao and the Bronze Nightingale as Charlene (the titular Bronze Nightingale) garnered her high praise. Her performance in Sacred Fools' production of How We Got On as Luann was also very well praised. Angela is so thrilled to make her Hollywood Fringe Festival debut with Sacred Fools' production of RAISE YOUR HAND. Special shout-out goes out to her Chicago and L.A. theatre family for supporting her dreams and love for performance art through the years. www.anjee-o.com
*Represented by Ambassador Talent Chicago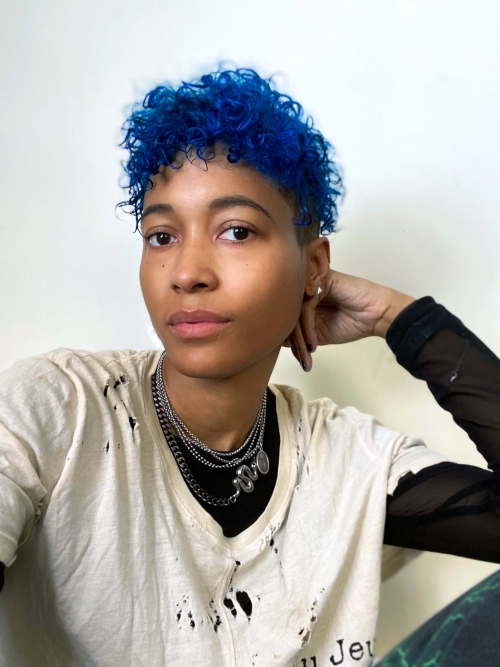 Tee Vaden as The Narrator
Tee Vaden (they/them) Curious, sincere, & immersive storytelling is Tee Vaden's goal with their work and any project they sign on to. They're a storyteller with a career rooted in filmmaking as director/writer & actor/model, represented by the incredible QueerUp Agency, and student of Emmy-nominated actress & award-winning filmmaker Rain Valdez.
They believe in the transformative power of joy and seek to collaborate with creatives/companies to lift up voices and stories that often get left out.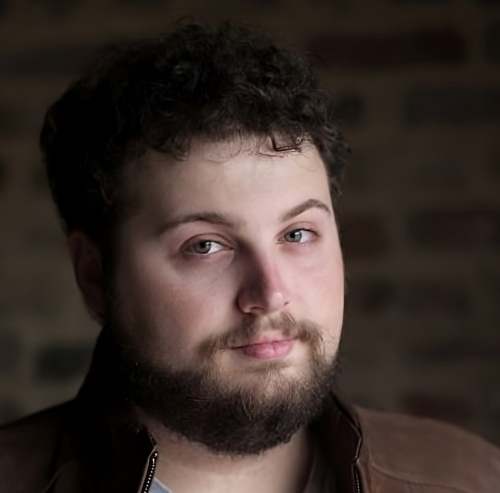 Ian Walker Price as Trip / Mr. Thumbson
Ian Walker Price (he/him) is an Actor/Voice-over Artist local to the L.A. area. He is a Veteran of the Hollywood Fringe Festival, having acted in 2017's Cringefest and 2019's Red Bar, as well as having produced two shows during the 2022 Hollywood Fringe Festival, 20th Century Art: An Anthology and This Remains Between Us, as well as Stuck in the 2023 Festival. He has been a member of Flat Tire Theatre Company since 2017. This is his first theatrical show post-pandemic, with his last role on stage being in the Serial Killers version of "Raise Your Hand... from the DEAD!!" He is thrilled to reprise his role, and finally help complete the story.
Sacred Fools Staff
Managing Director:
Padraic Duffy
Producing Director:
Scott Leggett
Technical Director:
Rebecca Schoenberg
Education/Business Manager:
Emily Kosloski
Publicity:
Paul Plunkett
Development:
Bruno Oliver
Webmaster:
Corey Klemow
Board of Directors:
David Baron
Padraic Duffy
Brian Finkelstein
Bruno Oliver
Detra Payne
Paul Plunkett
Ariadne Shaffer
John Sylvain