"Wickedly perverted... hilarious!" - L.A. Weekly (Pick of the Week!)
"Silly and fun... amusingly satiric!" - Blunt Review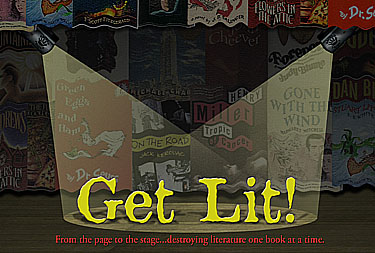 Saturdays @ 11pm
May 29 - June 26, 2004
Admission: $10
ONLINE TIX NOW SOLD OUT
FOR CLOSING PERFORMANCE!
CALL (310) 281-8337
FOR STANDBY LIST!
In the "LOVE HURTS" Cycle, we destroy...
.

May 29 & June 5:
VENUS IN FURS
by Leopold von Sacher-Masoch
adapted by Steve Tanner ("Billy Bonnet")
directed by Jacob Sidney Dietzman
sound design by Michael Rainey
featuring Linda Bailey Walsh,
Allen Liu & Philip Wofford

Whips, and furs, and emotional/psychological cruelty.
Late night gets nasty again.

Set in the 1870s, VENUS IN FURS tells the story of a man's first time (being whipped by the woman he lusts after). Amidst the innocence of the mid-1870s, Severin falls for Wanda. They fumble towards the ecstasy of setting up the parameters of a mistress and slave relationship, falling "deeply" in love along the way.

Pay-what-you-can Press Preview of "Venus in Furs"!
Wednesday, March 26 @ 8pm
June 12, 19 & 26:
FOREVER
by Judy Blume
loose adaptation & direction by Gerald McClanahan
featuring Analisa Brouet, Brandon Clark, Andy Corren, Stephanie Dees, Drew Droege, Lori Funk, Tabatha Hall, Linda Miller, Sarah Norton, Chase Sprague & Quinn Sullivan
Fondue, eight-tracks, and bell-bottoms!
Late night gets groovy again!

Set in 1975... FOREVER tells the story of a young woman's first time. Amidst the innocence of the mid-1970s, Katherine falls in love with Michael. They fumble towards the ecstasy of going all the way, falling "deeply" in love along the way. After giving themselves to each other... they promise to love each other... FOREVER.

Oh, and by the way, it's one of the filthiest, smuttiest, teen books ever written.


GET LIT! is a parody. The adaptations are in no way meant to
convey or imply the original authors' original intentions. Nothing to
see here but parody, folks! Keep moving along.
Produced by Gerald McClanahan
Associate Producer - Tom Chalmers
Lighting Designer - John Sylvain
Graphic Design - Marty Yu
REVIEWS!
L.A. Weekly (Pick of the Week!)
Adaptor-director Gerald McClanahan's parody of Judy Blume's controversial teen-romance novel Forever takes the story of puppy love to its logical, debauched-'70s conclusion. Published in 1975, the now-outdated pre-AIDS book was forever banned in many libraries nationwide because of Blume's candid descriptions of responsible sex between two high school seniors whose parents support them. Wouldn't those prudish librarians be shocked by McClanahan's wickedly perverted stage adaptation, in which Katherine's (Stephanie Dees) swinger parents (Drew Droege and Lori Funk) insist that she sleep around with other guys so she doesn't get too attached to her steady, Michael (Chase Sprague). With the exception of virginal prick-tease Katherine, everyone's horny in this play, not just the hormone-raging teens but their sleazy parents and teachers too. McClanahan's hilarious music soundtrack is sexually obsessed as well, with songs like Bread's "Make It With You" and Starland Vocal Band's "Afternoon Delight" enhancing the action. On opening night, the perfectly cast ensemble didn't miss a beat, and they made the incongruous Grand Canyon set from the evening's preceding play disappear.
-- Miriam Jacobson
©2004 L.A. Weekly
Blunt Review
Most Generation X-ers are very familiar with Judy Blume and her many popular novels depicting teenagers reveling in their overly dramatic angst and pain. The most supposedly controversial novel was "Forever," which described a young girl losing her virginity in a fairly explicit manner. Many high school students spent part of their study hall secretly reading the forbidden book. Perusing the book as an adult, however, one finds it rather more innocuous than anything in today's modern sexual world.
Producer/Director Gerald McClanahan must have come to the same conclusion and so created a parody of "Forever," a book just begging for gentle ridicule. Now playing at The Sacred Fools Theater and part of their "Get Lit!" series, this new production of "Forever" is silly and fun but still fondly reminiscent of the earnestness of the novel.
Beginning at a modern party in the 90's, the story is a flashback to the 70's, a time of wanton sexual openness. Katherine Danziger (the winsome Stephanie Dees) struggles with the overwhelming decision of whether or not to lose her virginity to Michael (Chase Sprague). She is egged on by her friends and family, who take turns topping each other with sexual outrageousness. Her promiscuous parents, Roger and Diana (Drew Droege and Lori Funk), grope each other and everyone else in sight and have an unhealthy interest in their children's sex lives. Classmate Artie (Andy Corren) struggles comically with latent homosexuality, while Jamie Danziger (Tabatha Hall) pines away for her sister's boyfriend Michael, who keeps calling her Julie in a very Jan Brady pathetic sort of way (watch "The Brady Bunch Movie").
Each scene is more outlandish than the next, exaggerating Judy Blume's already melodramatic style in an amusingly satiric manner. Those familiar with the novel will appreciate the play the most, laughing at inside jokes such as the name 'Ralph' and the highlighting of various character traits like Katherine constantly storming out in a teen tantrum. Even if you have not read the book, you will enjoy the 70's flashbacks, with the flamboyant costumes and dewily sentimental music. It would have been nice if the set and props reflected even more of the 70's kitsch (where were the lava lamps?) although the fondue pots were plentiful. The general set is composed of simple brown stripes on boulder-type blocks which is definitely 70's, yet perplexing in that it looks like a desert rather than someone's house.
The acting is a bit uneven in general and it might have been funnier had the director cajoled his actors into being even more over the top; however, the overall impression is entertaining. Still it is obvious that McClanahan is quite fond of the material and the production sincere. Having only three performances in which to perfect their comedic timing (never an easy feat under any circumstances), any actors flubbing lines are to be forgiven. A fun evening out, it is worth attending and those of us from a certain generation will especially delight in the campiness and consequence-free frivolity of an era rife with comedic fodder.
-- Kate West
©2004 Blunt Review