The Joe & Joshua Show
written & performed by Joe Hernandez-Kolski & Joshua Silverstein
Next: Friday, January 25 @ 10pm
Following the success of their fringe shows, Sacred Fools is now presenting a late-night residency of THE JOE & JOSHUA SHOW! Almost every last Friday of the month at 10pm, comedy duo Joe Hernandez-Kolski & Joshua Silverstein will tackle a new topic with their brazen sense of comedy.
Joe Hernandez-Kolski (Emmy Award-winning two-time HBO Def Poet) and Joshua Silverstein ("The Late Late Show with James Corden" and co-host/beatboxer for TBS' hit TV show "Drop The Mic") are a theatrical duo who combine comedy, hip-hop and spoken word poetry to create something fresh. Their material delves deep into issues of masculinity, relationships and what it means to come from a mixed background.
This month's theme is "New Me." Our guest is Rhys Langston. Rhys is a writer and multidisciplinary artist who is definitely the Poet Laureate of his living room. He is a graduate of Wesleyan University, where he cut his teeth compiling oxford comma lists of comedic triplets, while learning the ways and language of technocrats, neoliberalism, and performative outrage. Since returning to his native Los Angeles in 2016, he has released two musical projects (his six and seventh, notably), and cultivated a petite hullabaloo in the rap and electronic music scene. His live performances and recorded works are available in extra-high-definition and honesty (including verbose in select countries), and have earned the praises of LA Record Magazine, LA Weekly, and AFROPUNK. Unwavering, unpublished, and oft unintelligible, he is currently at work on a manuscript of indeterminate inflammability, a musical textbook, and various visual accouterments. Surely, he is on the rise (or run), and has a higher vertical leap than your favorite rapper.
"Raucous, raunchy, radical, relevant! Finally out of the box comedy and much more for the new century!" - Ric Salinas, Culture Clash
"Joe & Joshua are hilarious and outrageous, driven by provocative writing and strong performances. An amazing team!" - Stan Lathan, Co-Creator of Def Comedy Jam & Def Poetry
Performing in the Broadwater Studio
(Entrance at 1078 Lillian Way)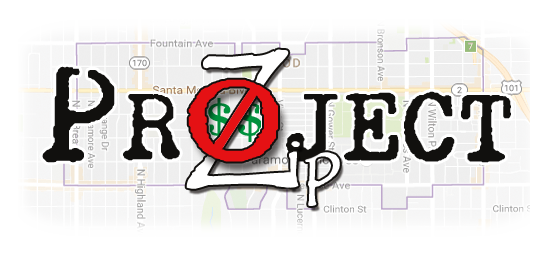 February 22: THE ZIP PROJECT. With the help of a DCA grant, Sacred Fools welcomes all of our neighbors to see our shows for free! From Friday, Feb. 22 through Sunday, Feb 24, if you live, work or study in our ZIP Code (90038), or are a stakeholder here in another capacity (a member of a religious, health, social, cultural, or artistic center), you pay zip! Reserve your free tickets online, or simply show up at the door! Please bring proof of evidence of your involvement in this community (drivers license, utility bill, student ID, employment ID, membership ID, etc.) to the box office to pick up your reserved ticket.
Upcoming Dates (all shows Fridays @ 10pm)
Jan. 25, 2019
Feb. 22, 2019
March 29, 2019
April 26, 2019
July 26, 2019
Aug. 23, 2019
Past Guests
Friday, 4/27/18: Ross Bryant
Friday, 8/21/18: In-Q
Friday, 9/28/18: Janine Hogan
Friday, 10/26/18: B.A.G. (Blimes and Gab)
Friday, 11/30/18: Dez Hope
Crew
Photo - Mario Garcia
Logo - Joshua Silverstein

- Sacred Fools Company Member