A Terribly Terrific Tale of Terror!

The Book and Lyrics by
Mr. Doug Johnson
The Musical Score by
Mr. John Acshenbrenner

Directed for the Stage by
Mdmes. Jessie Marion & Ruth Silveira

Produced in association
with the legendary
Chauncey DeVille
Enterprises Ltd.!


Musical Direction Extraordinaire by
Mr. Ron Snyder

On the Sacred Fools Mainstage...
September 26 - November 2, 2002
Thursday, Friday & Saturday @ 8pm
TWO ADDED PERFORMANCES!
Sundays 10/20 & 10/27 @ 8pm!
Tickets: $15

Buy tickets online
to both
DRACULA
and our
Dark Night Show,
BACKYARD FRUIT,
for only $20!
2-SHOW SPECIAL
ONLINE ONLY!

10/5, 10/12, 10/19, 10/25, 10/26, 10/27, 10/31, 11/1, 11/2 Performances
NOW SOLD OUT!!! STANDBY ONLY!!!
Come on by early for Waiting List, and we'll try to get everyone in!
Featuring the Dazzling Talents of...
Cindy Caddel, Dean Cameron, Drake Carrington,
Melinda Cowan, Chastity DeVille, Chauncey DeVille,
Henry Dittman, Brad Friedman, Hiro Goto,
Mary Hayes, Joe Jordan, Cara LaGreen,
Michael Lanahan, Andrea Odinov, Bruno Oliver,
Travis Poelle, Bashir Salahuddin, Ron Snyder,
Faith Stanwick, Tyler Tanner & Hope Winteres
Produced by
Chauncey DeVille & Adam Bitterman

Set & Light Design - Aaron Francis
Sound Design - J Warner
Costume Design - Tara Keenan
Hair & Make up - Sugano
Scenic Artist - Sheryl Lynn Davey
Choreography - Jessie Marion
Assistant Producer - Philip Wofford
Publicity Photographs - Desi Doyen
Stage Manager - Heatherlynn Lane
Assistant Stage Managers -
Lesley Fairman, Stephanie Dees, C.M. Gonzalez
REVIEWS!
L.A. WEEKLY - *PICK OF THE WEEK!!!*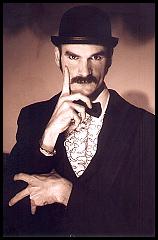 At 6-feet-7-inches, human skyscraper Joe Jordan may be the tallest Dracula ever; with his long cape, the skin-and-bones Jordan looks like he's on stilts, stooping to pass through doorways and sink his fangs into victims' necks. Jordan, who doubles as carny MC Chauncey DeVille in Doug Johnson and John Aschenbrenner's wicked 1973 vaudevillian musical, segues effortlessly between demonic vampire and endearing host. Dracula doesn't make his foggy entrance until the end of Act 1, which plays more like a burlesque show than horror story; Act 2 sticks to the Bram Stoker plotline, intermittently pausing for life-giving musical numbers. Chauncey appears with a vampy Andrews Sisters–esque backup trio (Cindy Caddel, Cara LaGreen and Mary Hayes), who transform into bloodthirsty vampirettes. Johnson, who wrote the book and lyrics, ingeniously tweaks some of the familiar characters: psychiatrist Dr. Seward (the sniveling Bruno Oliver) is a schizophrenic who constantly bickers with himself; his mentor, vampire hunter Dr. Van Helsing (brilliant physical comedian Brad Friedman), is a cowardly fool who mangles the English language with malapropisms like "put zee garlic around her nose"; and bug-eating lunatic Renfield (the wild-eyed Michael Lanahan) repeatedly escapes from the asylum to assist Dracula in ensnaring Lucy (Melinda Cowan) and Mina (Andrea Odinov). Though Jessie Marion and Ruth Silveira's expertly directed show lays on the camp, it gets deadly serious in parts, juggling the humor, horror and drama especially well at the bloody climax.
-- Miriam Jacobson
©2002 LAWeekly
L.A. TIMES
A Musical 'Dracula' Brims With Laughs and Shivers
The Sacred Fools version makes effective use of showy theatrical trappings of the 19th century.
The Sacred Fools presentation of "Dracula: A Musical Nightmare" is a Halloween haunt of a show that tickles the ribs one moment, then turns around and sends icy fingers up the spine.


The show is presented as a 19th century melodrama, with flourishes from the English music hall. Its master of ceremonies is one Chauncey, ahem, DeVille (Joe Jordan), who possesses more than a passing resemblance to the title character.

Eyebrows waggling like bats in flight, he sinks his teeth into his comic patter.

In keeping with period conventions, the performances are frankly theatrical and sometimes outright showy, as when Melinda Cowan preens through her performance as beautiful vampire-to-be Lucy.

Comic bits involve a nerdy Jonathan Harker (Henry Dittman), who scrupulously documents his misadventures ("These may be the last words I ever write. More later"); a lunatic asylum doctor, John Seward (Bruno Oliver), who seems a more likely candidate for confinement than the calm, deliciously droll Renfield (Michael Lanahan); and a Dr. Van Helsing (Brad Friedman) who's slow on the uptake.

Things turn spooky when Jordan steps in to replace the curiously indisposed actor who usually plays Dracula. Dressed in black evening wear and floor-length cape, he seems to glide out of the semidarkness. At 6 feet, 7 inches tall, he is at once scary and mesmerizing.

This show was a hit at the Zephyr Theatre in 1978. Its new staging is by Jessie Marion and Ruth Silveira, daughter and widow, respectively, of that production's director, Richard Marion.
-- Daryl H. Miller
©2002 LA Times
BACKSTAGE WEST - *CRITICS PICK!!!*
Bram Stoker's durable classic remains as undead as its blood-sucking protagonist. The thirsty Count from Transylvania could pop out of his coffin anywhere, if the sun is down and no garlic around. Here he is again, hypnotic headliner Chauncey DeVille, singing, dancing, charming Music Hall patrons out of their plasma in jolly old Victorian-era England. This intricately crafted musical (book and lyrics by Doug Johnson, musical score by John Aschenbrenner) interweaves Stoker's plot with bawdy music-hall vulgarity and tongue-in-cheek sentimental melodrama, and threads it through with chilling undercurrents--a blend with the kick of gin and bitters. Joe Jordan, the fulcrum from which the show swings, is tall, debonair Chauncey/Dracula--flashing his killer smile in toff's checkered jacket and bowler hat; he's later spiffy, sleek, and menacing in formal regalia as he coos, "Evil is not as bad as all that."

Jessie Marion (who also choreographed) and her mother, Ruth Silveira, co-directed a well-chosen ensemble. Lovely ill-fated heroines who get it in the neck and suffer the gruesome remedy are tellingly contrasted: The cameo delicacy of Melinda Cowan's high-trilling Lucy rivals French pastry confections for delicious looks, with her froth of strawberry blonde curls and petit-four pastel hues. Andrea Odinov's lushly alluring Mina, a full-lipped beauty with satiny dark hair in a Dolores del Rio chignon, is ever the noble gentlewoman.

The program lists an amusing but bewildering profusion of actor/character names and aliases that could give a reviewer a headache. As I see it, it's Bruno Oliver who's a joy and delight a la Groucho Marx, master of movement and specialist in falls as the lunatic asylum's Dr. Seward, whose solo drugged scene is a highlight, and whose tumbles are tops. Brad Friedman's endearing "specialist in rare and occult diseases" Dr. Van Helsing has a comic book Katzenjammer accent ("Never be letting her to being alone in the night!"). Henry Dittman's ingenuous "solicitor" Harker, so in love with Mina, is youthfully appealing. Michael Lanahan's Renfield eats flies, and he rolls his eyes like the elegant aesthete he would be were he not Dracula's loony slave. Lucy's Texas cowboy suitor Quincy is a breath of fresh Western air played by Drake Carrington.

Naughty girls posing as the music hall's chanteuse trio are bloodthirsty Brides of Dracula: zaftig redhead Cara La Green, brunette Mary Hayes, and tall blonde Cindy Cadell--who inexplicably replaces sturdy Bashir Salahuddin as Seward's eye-patch-wearing lackey, Chisholm.

Music director Ron Snyder presides at the piano, Hiro Goto at the violin. Aaron Francis designed the sets and spooky lighting. Especially fine are hair and wigs by peerless Sugano and great costumes by Tara Keenan. J Warner's sound is good, too.

Seek no further for where to go on Halloween. This is the place.
-- Polly Warfield
©2002 Backstage West
AOL DIGITAL CITY - *TOP PICK!!!*
Pop a garlic pill and raise your collar for a riotous 'Dracula' spoof at Sacred Fools Theatre.
Vampires that sing, dance and suck your blood.
As a dark and satirical musical adaptation of Bram Stoker's 'Dracula,' expect all of the familiar characters including Dracula, Renfield and vampire killer/expert Van Helsing to break into songs like 'I Must Remain Awake,' 'Nosferatu' and 'Blood Of My Blood.' The original Los Angeles production of this play was mounted at the Zephyr back in '78 by Richard Marion. Now, for the '02 revival, Marion's widow Ruth Silveira and daughter Jessie (also the choreographer) take over as co-directors. Past cast members are rumored to have mysteriously been stricken with anemia, and producer/cast member Chauncy DeVille divulges on his website that he was born in 1857, had a long-standing relationship with Stoker and claims he has never performed in a matinee. If you believe all that, perhaps it's prudent to pop a precautionary garlic pill prior to the performance. Yet, if you scoff at the vampiric threat, by all means go garlic-free.
-- Lydia Marcus
©2002 AOL Los Angeles Local Guide
BACKSTAGE WEST (again...)
Dracula Sings Again…
By Polly Warfield
All Hallow's E'en is upon us again this very night as I perceive by the date of this issue. Wanna celebrate? A singing, dancing, very tall (6-foot-7) Count Dracula awaits with open cloak and bared fangs. He'd be pleased to have you drop in for a bite and a sip or two at Sacred Fools Theater on this night of all nights. Dracula: A Musical Nightmare couldn't be a more appropriate Halloween option. However, it's possible the house may be sold out, for ever-diligent publicist Philip Sokoloff declares the eerily delicious musical is "the biggest box-office success in the entire history of the Sacred Fools Theater Company"—so popular that special Sunday evening performances were added.

Dracula is a day sleeper—that we know. His schedule rules out matinees. Come sundown, though, Drac's up and about, on the prowl for new blood. The Count's an undead killer, with a notorious bite worse than death, and we witness this once again in Bram Stoker's classic tale of terror retold in a wittily clever and surprisingly thrilling musical with book and lyrics by Doug Johnson and musical score by John Aschenbrenner. Sacred Fools has rescued the work from its long period of undeserved oblivion. First staged in the San Francisco Bay area by a group of U.C. Berkeley thespians on campus, then at Berkeley Rep, it got a great 1978 production in Hollywood at the Zephyr Theatre, where I saw it, and saw it again and again because it was such an unusual, unexpected overall delight. It also introduced me to one of my favorite actors ever since, the marvelous Joe Spano, who played the seductive vampire night-stalker disguised as jaunty Victorian music hall master of ceremonies Chauncey DeVille.

The late Richard Marion directed the show in Berkeley, where Spano created the role, and they both, along with most members of the original Bay Area collegiate company, came with the show to Hollywood. Marion's widow, Ruth Silveira, and their daughter, Jessie Marion, co-directed the current Sacred Fools production. Jessie, a Sacred Fools member and an accomplished choreographer, was 3 years old when Dracula's musical came to Hollywood and remembers it not at all. Her mother, though, remembers it well. Among fond memories of her husband's Zephyr venture, Silveira recalls the thrill of its success, that it was a lot of fun, and that composer Aschenbrenner was "temperamental." She found it especially satisfying to have Spano in the audience at a Sacred Fools performance the other night, and gratifying that he enjoyed this reprise of the show in which he made his local debut so long ago.

-- Polly Warfield's Random Sightings
©2002 Backstage West
KCRW
So it's Halloween, and if you just can't face another miniature super-hero demanding chocolate, try this on for size: Sacred Fools' "Dracula, a Musical Nightmare," by Doug Johnson with a score by John Aschenbrenner. This very British tongue-in-bloody-cheek re-telling gets its bite from a devilishly clever, shamelessly tawdry music-hall presentation, where songs end with a stake through the heart. Oh, this Dracula's also got the requisite insect-eating lunatic, beautiful innocents, hapless heroes and thickly-accented vampire experts - all of 'em played by terrific actors (some of whom can actually sing!). But under the direction of Jessie Marion and Ruth Silveira, this particular nightmare really belongs to Chauncy DeVille as the Master of Ceremonies, keeper of showgirls Faith, Hope . . . and Chastity. Of course Mr. DeVille should have this role down, he's been playing it for over 100 years. And doesn't look a day over 30. But then again, he also looks a lot like the company's own Joe Jordan. "Dracula" closes this weekend, so run - don't walk (whatever you do!) to the Sacred Fools Theatre in Hollywood.
-- Jennie Webb
©2002 KCRW's Theater Talk