NOMINATED FOR AN L.A. WEEKLY AWARD
FOR BEST ADAPTATION (John Wuchte)!
"GO... flawless choreography... spins into satire like a gyroscope
that just keeps whirling and humming with glee." - L.A. Weekly
"...brash, fearless, and playfully unconventional...
inventively stylish fun!" - L.A. Times
A new adaptation with music
of Friedrich Durrenmatt's THE VISIT
A desperate town. A billion dollars. A single choice.

Based on Durrenmatt's classic tale of revenge and redemption.
February 24 - MARCH 26, 2006
Fridays & Saturdays @ 8pm / Sundays @ 7pm
Pay-What-You-Can PREVIEW - Thurs, Feb. 23 @ 8pm
NO PERFORMANCE SUNDAY, MARCH 5

Tickets: $15
Reservations: (310) 281-8337
or Buy Tickets Online!



Map to the Theater
Adapted & Directed by John Wuchte
Produced by Brandon Clark & John Wuchte
Music by Maksim Velichkin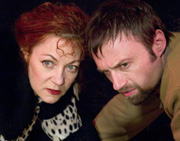 Singing eunuchs, bizarre butlers, drumming, chanting and much more!

The richest woman in the world returns to her hometown: an impoverished little village enduring an agonizing period of decline. She will open her purse and give her vast wealth to the town, restoring it to grandeur, on one condition: kill Alfred Schill, the man who wronged her years before.

Will they kill him? Absurd... but the town is desperate, and Claire can wait...

CLAIRE Z is a percussive-driven, movement based theater piece drawing from the work of Grotowski and Suzuki, featuring the music of Lou Reed, Simon & Garfunkel and much more.
CAST
Jaime Andrews, Taylor Baugh, Bryan Endress-Fox,
Mitchel Evans, Joe Hendrix, Stacey Jackson,
Kerri-Anne Lavin, Tracy Mulholland, Laura Napoli,
Eric Oleson, Mark Petrie, Terra Shelman & Scot Young

Pianist & Cellist - Maksim Velichkin / Guitar - Kerri-Anne Lavin & Tracy Mulholland
Stage Manager
Lighting Designer
Sound Designer
Scenic Designer
Costume Designer
Masks
Graphic Designer
Publicity Photos

C.M. Gonzalez
Douglas Gabrielle
Mark McClain Wilson
Miss Terri Velour
Janét Vincent Lee
Joe Seely
Adam Bitterman
Mitchel Evans
REVIEWS
L.A. Weekly ("GO")
Friedrich Durrenmatt's 1956 The Visit is a tale of revenge, malevolence, deadly intentions, a familiar image of the mephitic, cynical times of a morally bankrupt world. In this humorous adaptation by John Wuchte, there is no pretension of higher, humane values; the story involves a wealthy woman (played with venomous, seductive élan by Terra Shelman), who returns with a simple plan to the town she left 17 years ago, disgraced and impregnated by Alfred (Scot Young). She spreads around her wealth liberally in order to convince the avaricious townsfolk to kill Alfred — a plan that takes many twists and turns. Notwithstanding an ambiguous finale, Wuchte's fine production and excellent adaptation imbues a sardonic, comic coloring to this otherwise bleak tale of revenge by adding some flawless choreography. Gone is Durrenmatt's moral indignation, which Wuchte spins into satire like a gyroscope that just keeps whirling and humming with glee.
-- Lovell Estell III
©2006 L.A. Weekly
L.A. Times
The Sacred Fools rush in, as the saying goes, with a brash, fearless and playfully unconventional staging in "Claire Z.," a gesture-based adaptation of the 1956 Friedrich Durrenmatt chestnut, "The Visit."

Through a combination of interpretive movement and updated dialogue, creator-director John Wuchte mines inventively stylish fun from Durrenmatt's allegorical tale of a fabulously wealthy widow who returns to the now-impoverished hometown that once spurned her.

An energetic cast depicts the Hobson's choice facing the desperate — and greedy — villagers when Claire Zachanassian (imperious, flinty Terra Shelman) offers to bail them out of their financial straits. Naturally, there's a catch: Claire wants them to execute her former lover, Alfred (Scot Young), who got her pregnant and abandoned her.

Now an upstanding shopkeeper slated to become the town's next mayor, Alfred sinks into paranoia as his neighbors cycle through predictable levels of hypocrisy about Claire's offer.

Wuchte's staging flourishes include an eclectic original score (by Maksim Velichkin), which draws on '60s pop tunes, and bright, whimsical costumes by Janét Vincent Lee.

While the show sports some fine performances (particularly from Shelman and Young), Wuchte is working primarily with actors, not movement specialists, and the gesture work is inevitably less expressive and precise as a result.

The emphasis on physical storytelling also sacrifices some of the depth and complexity in the original dialogue. Along the way, the staging conceit runs out of steam before the play runs out of plot.
-- Philip Brandes
©2006 L.A. Times