PARTY

PHOTOS
From the Chainsaw Santa's Halloween/Christmas Party Fundraiser
Photos & captions by director Kiff Scholl
---
An improvisational dance broke out to Bowie's "Heroes," from the Moulin Rouge soundtrack at the November 1 'Chainsaw Santa' fundraiser, (left to right, front) with cast members Bill Robens, Kirsten Vangsness, Matthew Valle and Jaime Robledo, and (left to right back) Hiwa Bourne, Kelly Egan, Megan Crockett, and Stephen Simon.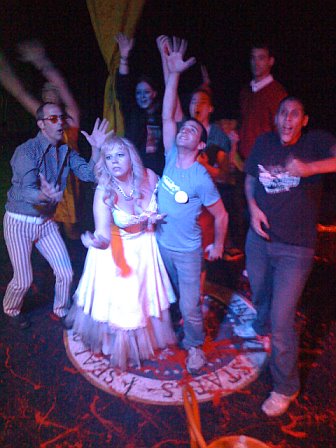 They can be heroes...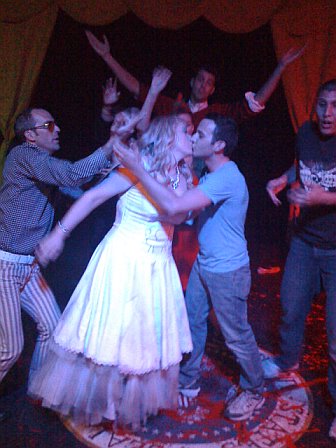 Just for one day...
---
Our fundraiser was blessed by a visit from our lord and savior. Merry Christmas indeed.
---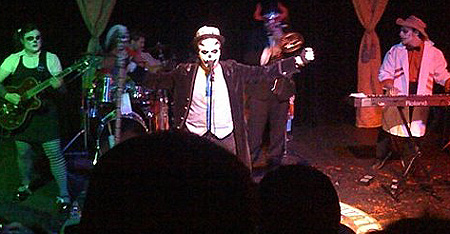 A suitably Halloween-y performance by monsters of rock Renfield put the chainsaw in our Chainsaw Santa fundraiser.
---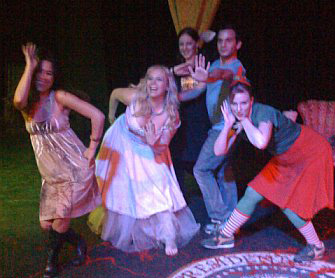 Hiwa Bourne, Kirsten Vangsness, Kelly Egan, Matt Valle and Megan Crockett Vogue-ing – Madonna-style...
---