REHEARSAL PHOTOS
Photos & captions by director Kiff Scholl * Script excerpts by Bill Robens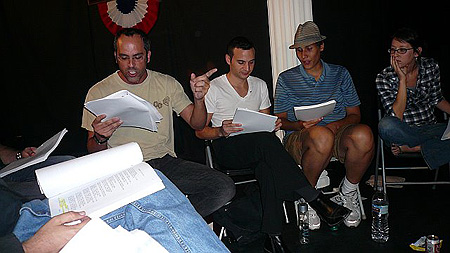 "Damn it, man! Don't you know in any moment of decision the best thing you can do is the right thing, the next best thing is the wrong thing, and the worst thing you can do is nothing? Bully!"
At the first table read, playwright Bill Robens (cast for the first time in his show this year) bares his teeth as Teddy Roosevelt.
---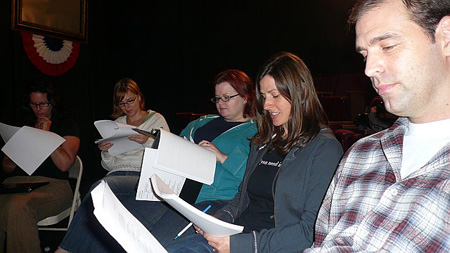 "The water's fine. But you're still so young. You may have a change of heart one day."
Alina Phelan's Lilly Mulholland experiences young love with Stephen Simon's Young Mulholland (right) at the table read.
---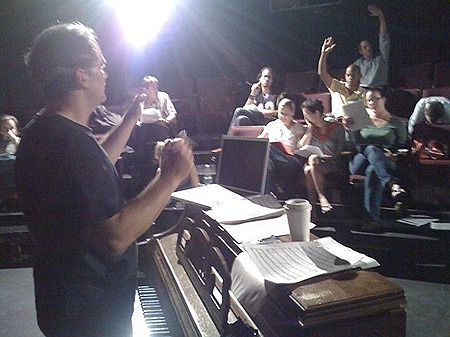 "Now who are my tenors?"
Bill Newlin (foreground) leads an early music rehearsal.
---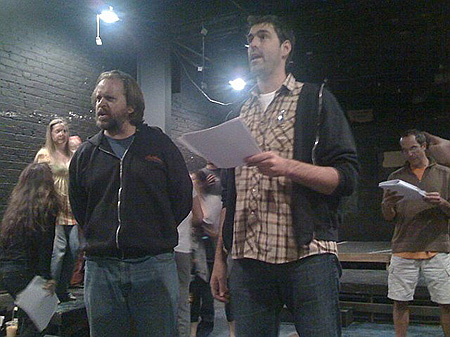 "I will bring the water to to you, L.A.!"
Michael Oosterom (Old Mulholland, left) and Stephen Simon (Young Mulholland) rehearse the end of "Land Grab" at Theatre of NOTE.
---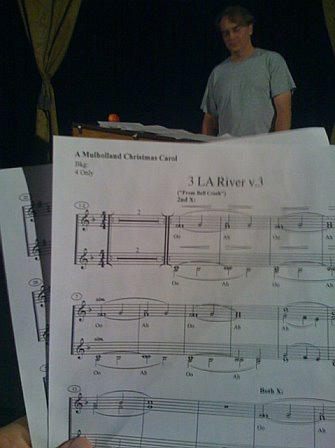 Cameraman Kiff looks over sheet music for "L.A. River" at an early music rehearsal. Bill Newlin plunks away in the background.
---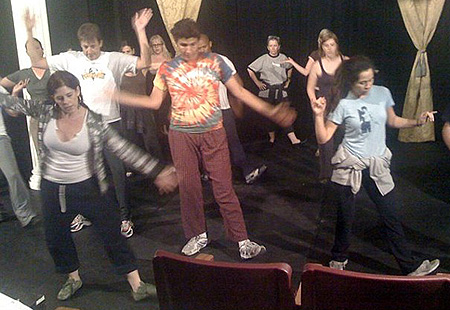 "

This dam will last forever. This dam will never fall.

"
Choreographer Lindsay Martin leads a colorful cast through an early rehearsal of "This Fine Dam."
---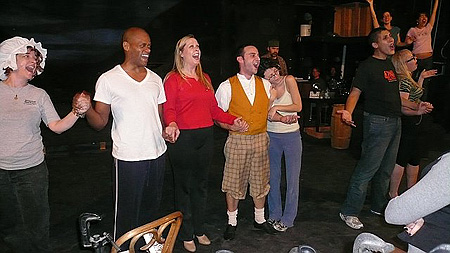 "AND HE'S WRITIN' DOWN NUMBERS AND TAKIN' DOWN NOTES
I ASK YOU NOW WHAT COULD GO WRONG
JUST HAPPY WE'RE SINGIN' OUR SONG"
We're getting closer... with bits of costume and wig pieces coming into place, the cast rounds the home stretch in a review rehearsal of "Our Owens Valley Song."
---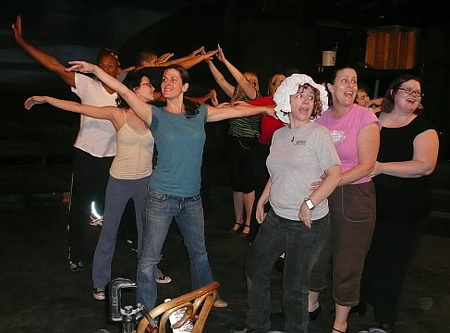 "BUREAU MAN FROM RECLAMATION
CAME HERE TO GIVE US A HAND.
HE'S IMPRESSED WITH HOW GOD'S BLESSED US.
HE'S GONNA BUILD US A DAM!"
A trio of Owens Valley ladies strut their stuff in this final rehearsal of "Our Owens Valley Song."
---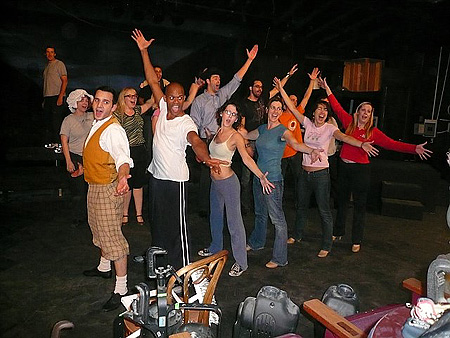 "NO NEED TO WORRY 'BOUT THIS WATER RISIN' OVERHEAD,
OR THE FAULT-LINE RUNNING THROUGH THE CANYON
LIKE A THREAD."
With lighting instruments still on the ground, and the set still a basic black, "This Fine Dam" is looking dam fine indeed.
---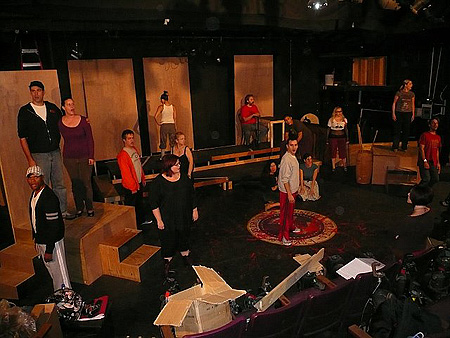 "TO RELIEVE A THIRSTY CITY
A DESERT HE WOULD TAME
HE'D ENGINEER AN AQUEDUCT
MULHOLLAND WAS HIS NAME"
The opening number is starting to take shape on the raw set, three weeks before opening.
---