L.A. WEEKLY Pick of the Week
Noises On
Cool Cats and Hot Actors

Act 1 of the Burglars of Hamm's hilarious and thought provoking comedy, Land of the Tigers, outlandishly crosses Cats with Planet of the Apes. In a whimsical world where felines walk upright and speak English (but thankfully don't caterwaul "Memory") a veritable Kingdom of Tigers prance around in feathered wigs and top coats, while debating important matters (to cats, anyway) in the Tigressional Congress. Amongst this group, the great warrior Sabertooth (Hugo Armstrong) goes into lustful cat heat for sultry she-tiger Sheba (Devin Sidell), which outrages Sheba's fierce brother Fang Stalkington (Tim Sheridan), who has already fathered several litters with the young beauty (remember, this is the Tiger World, we're talking about). Full of bizarre cat mating dances, and scenes in which characters shift instantly from conversing into snarling Tiger-style, the Burglars' comedy is staged by Matt Almos with acrobatic dexterity, a tongue-in-cheek tone, and perfect comic timing. The reasons for slight touches of campiness become evident in Act Two, however, which follows the cast of dimwitted and absurdly self important actors as they are increasingly brainwashed by their tyrannical, ego tripping director (a fabulous Dean Gregory, whose eyes glitter with madness). Although the concept possesses slight echoes of Noises Off, the Burglars cunningly explore a totally different avenue, elegantly satirizing the sense of collective delusion that frequently befalls performers in a mediocre show. The acting work is particularly sprightly, and it's delightful how the bumbling tiger actors of Act 1 are subsequently revealed as the optimistic, dedicated, yet benighted ensemble of Act 2. The end result, more than calculatedly dippy comedy about cats, is an often compelling meditation on the creation of theater itself, and how the audience will never glimpse the many dramas within a play's production.
--Paul Birchall
© 2009 L.A. Weekly
L.A. TIMES
What if tigers suddenly began walking on their hind legs, started speaking English and formed a democratic society? Small-minded realists might demand an explanation for such a premise, but the contrarian Burglars of Hamm blithely take it as a given from the outset in "Land of the Tigers" at Sacred Fools Theatre.
Subversively inventive and consistently entertaining, the troupe's latest collaborative creation is really two anti-plays in one, each balancing camp and artistry in Matt Almos' deft staging. The first, a hilariously ridiculous and pretentious allegorical drama built on the aforementioned conceit, presents a skillful parody of the kind of theatrical productions that result from the over-earnest pursuit of a conceptual misstep.
In this narrative love child of "Planet of the Apes" and "The Crucible," the heroic Sabertooth (Hugo Armstrong) finds himself torn between duty to his strictly regulated tiger society and his forbidden love for fertile feline Sheba (Devin Sidell). Forced to choose between "a civilized lie and a savage truth," Sabertooth's journey encompasses a full range of topical platitudes, including heavy-handed warnings about the perils of ignoring climate change and invoking terrorist hysteria.
Sporting "Cats"-like makeup and parading in tricornered hats, powdered wigs and frock coats, the performers wittily evoke this alternate universe with single-minded determination. Even when the material occasionally grows thin and repetitive, they deliver the most inane lines with Shakespearean gravitas. (Tim Sheridan's dastardly villain and Shelly Kurtz's bumbling professor are supporting standouts in this regard.)
The second act, an equally skillful parody of the creative process, travels back in time to trace the origins of the play we've just witnessed. The hilariously ridiculous and pretentious actors who portray the tigers discover their characters -- and some unwelcome truths about themselves -- under the tyranny of an egomaniacal director (pitch-perfect Dean Gregory). As their endless confessional workshop exercises increasingly exasperate the play's would-be author (Cody Henderson), the Burglars weave some unexpectedly poignant insights into the backstage dramas that drive even the most misguided efforts.
--Philip Brandes
© 2009 L.A. Times
BACKSTAGE Critic's Pick
Sure, some may call it the worst theatrical debacle to be written, staged, or even conceived. But the masses who will inevitably label Land of the Tigers as a Titanic-scale creative disaster are clearly shortsighted. And what is the sign of true genius but critical controversy? Well, that and the sight of bipedal tigers wearing wigs, celebrating newsletter content, and cowering from marauding hordes of swans.

The inspired members of Burglars of Hamm have pulled out all their visionary stops to tell the tale of a band of tigers whose civilization is torn apart by their self-made trappings. At the center of this inspired lesson for the ages is Sabertooth (a masterful Hugo Armstrong), a rebel who reconnects to his animal instincts after he meets the lovely Sheba (Devin Sidell) and clashes with her evil brother Fang Stalkington (Tim Sheridan). However, this is no mere cat-spray love story. The Burglars (Carolyn Almos, Matt Almos, Jon Beauregard, and Albert Dayan—four minds truly capable of high-stakes boggling) have laid out a mythical, metaphorical journey that leaves no cautionary stone unturned as the tigers touch upon each and every theme that could, maybe, possibly, be relevant. With a detailed, Chuck Mangione sensitivity, Matt Almos directs the ensemble (Larry Biederman, Corey Klemow, JJ Mayes, Ruth Silveira, Rebecca Metz, and Shelly Kurtz), each performer brilliantly inhabiting his or her colorful character. And when it comes to creating the distinctive world of Stripey McProwl, Salty Lickylegs, and Minx Furburger, a deep and graceful bow must go to costumer and makeup designer Ann Closs-Farley, as well as to set designer Donna Marquet and lighting designer Chris Wojcieszyn.

When Act 2 of Land of the Tigers takes us behind the scenes -- the making of a masterpiece, as it were -- audiences may feel momentarily betrayed. But as much as we want to hold on to the magic, what is revealed about the creative process and group dynamics gives us so much more. With the addition of cast members Cody Henderson and Dean Gregory, we finally get the clarity we didn't even know we were missing. Sure, there are those who may accuse the artists involved of pandering to the tyranny of storytelling. But with its very particular perspective, this production is able to reframe an onstage pander to perfection.
--Jennie Webb
© 2009 Backstage
L.A. Stage Watch
Tigers Tigers Burning Bright

The terrific Land of the Tigers first opened at Sacred Fools Theater last March 27. That same day, LA CityBeat folded without warning, ending the theater column I wrote for that newspaper and its web site. I saw Tigers the next day, but I had no place to publicly express my enthusiasm for it.

Problem solved. Land of the Tigers re-opened at the Lost Studio last Friday. And my new blog, LA Stage Watch, started this week.

Tigers, another cockeyed creation from the Burglars of Hamm (Carolyn Almos, Matt Almos, Jon Beauregard, Albert Dayan), has two very different but related acts.

The first act is a mock-stagy fable about romance and rivalries within a tribe of anthropomorphized tigers who are threatened by global cooling — a Metaphor for global warming. The second act depicts the process that supposedly created the first act, as the eager acolytes who belong to a small-theater ensemble try to find their inner tigers - in present-day Los Angeles.

Land of the Tigers could be Exhibit A in the argument I made a few days ago that all theater is local. This is a show that both honors and skewers L.A. theater artists - people who are much like the creators and performers of Tigers itself.

Its most specific target audience is almost identical to that of LAStageBlog. That's not to say that others won't like it - many people who aren't dedicated to theater would find it funny and even moving. But for anyone who's reading this, it's time to take the Tiger by the tail and get over to the Lost Studio.

You shouldn't miss Hugo Armstrong's Ovation Award-nominated, double-barreled performance, first as the dashing rebel Sabretooth, then as a doofus-like would-be actor. Cody Henderson and Dean Gregory nail the primary antagonists of the second act - the former as a would-be playwright and the latter as a lean, mean acting guru.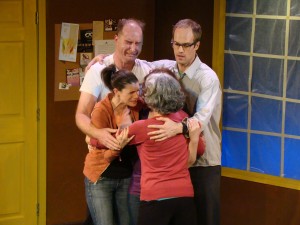 Maybe it helps that Henderson is indeed a playwright and that Gregory, according to his program bio, "dedicates his performance to the big cats at the Wildlife Waystation, whose power and beauty guide him to know who he is." An inside joke lurks inside that line, waiting to pounce when you see the play. Let's just say that Gregory, playing a man, is more like a tiger than are the first act's "tigers" who emulate human beings.

Matt Almos' staging is replete with such small ironies, as well as bigger laughs and surprisingly melancholic moments, especially in the second act. You might have to bear with a few moments of the first act until you figure out why it behaves the way it does, but the rewards are worth the momentary head-scratching.

With Tigers joining such previous Burglars productions as Resa Fantastiskt Mystisk, Easy Targets and Focus Today, the Hammsters are up there with the better-known Troubies and Culture Clash as L.A.'s masters of long-form theatrical satire.

The Burglars' topics might seem more insular than those of the other groups. But not always - in the first act of Tigers, the ho-hum reaction of the big cats' governing council to evidence of "global cooling" uncannily resembles the inaction of Senate Republicans who boycotted hearings on the global warming bill last week.

When these Burglars case the joint, hidden satirical gems virtually jump out of the safe.
--Don Shirley
© 2009 L.A. Stage Watch
A year and a half later, Don brought up "Tigers" again...
SPEAKING OF CTG's PLAY DEVELOPMENT PROGRAM, as I was a few paragraphs ago – CTG has commissioned a piece from LA's own Burglars of Hamm (whose most recent triumph was Land of the Tigers at Sacred Fools and then at the Lost Studio in 2009).

And, in an apparently unrelated piece of news, CTG also is presenting the Rude Mechanicals of Austin as part of the DouglasPlus series and the RADAR LA Festival, at the Douglas in June.

That June slot is an enviable gig, because it also will coincide with the Theatre Communications Group's national conference, here in LA. So a show at the Douglas might be attended by many of the bigwigs of American non-profit theater.

The Rude Mechanicals' LA-bound production, The Method Gun, is about an acting ensemble. For that matter, so was Land of the Tigers from the Burglars of Hamm.

Did anyone consider asking the Burglars to re-create their Land of the Tigers on the Douglas stage, possibly during that same June period of intense scrutiny of LA theater, possibly in addition to the Rude Mechanicals production? Although I haven't seen the Mechanicals' production, perhaps the two productions could bounce off each other beautifully, and with so many theater professionals in town, the audience would probably be theater-savvy enough to get the jokes.

In addition to providing potentially national exposure to one of LA small theater's best productions of recent years, inviting the Burglars to stage their already acclaimed Tigers could also revive CTG's seemingly dormant program of offering the Douglas stage to smaller LA groups.
--Don Shirley
© 2011 L.A. Stage Watch
StageSceneLA
WOW! Land Of The Tigers is a wildly original, deliciously silly comedy about the genesis of a (fictional) play also called Land Of The Tigers. Act One shows us the "finished product." Act Two reveals the "genius" behind the "masterpiece." The real Land Of The Tigers is a joint effort between the always original Sacred Fools and cult favorite Burglars Of Hamm. The play-within-a-play Land Of The Tigers is the kind of "serious drama" that gets unintentional laughs. The actual play, directed by Matt Almos for maximum laughter and absurdity, gets laughs that are entirely intentional, and there are many of them indeed. The entire cast does Grade A (or should that be T for Tiger?) work, clearly having a ball performing this off the wall material. Sacred Fools fans will be delighted to cheer this very entertaining collaboration with Burglars Of Hamm.
--Steven Stanley
© 2009 StageSceneLA