Linda Toliver & Gary Guidinger
in association with Sacred Fools present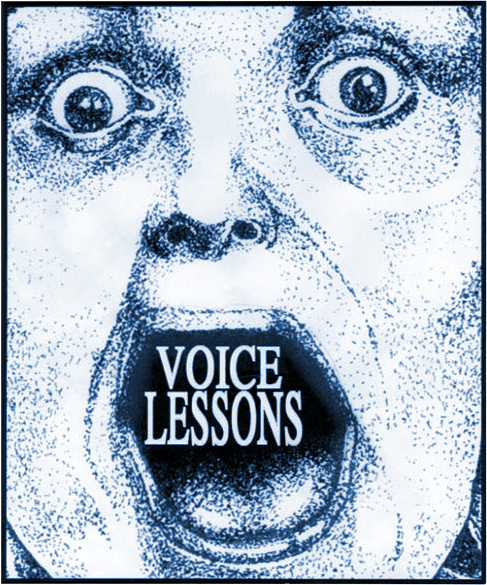 by JUSTIN TANNER
directed by BART DELORENZO
starring LAURIE METCALF,
FRENCH STEWART
& MAILE FLANAGAN
The hit comedy returns to L.A.
after a successful Off-Broadway run!
LIMITED ENGAGEMENT!
MAY 6 - 29, 2011
Fridays at 8pm
Saturdays at 7pm and 9pm
Sundays at 7pm
Tickets: $25
Call (310) 281-8337 or Buy Tickets Online!
Voice Lessons tells the story of the unlikely romance between a deluded community theater actress and the overeducated vocal coach she hires to make her a star.
WINNER OF AN OVATION AWARD!

LEAD ACTRESS IN A PLAY - Laurie Metcalf
plus three further Ovation Nominations:
BEST PLAY (Intimate Theatre)
ACTING ENSEMBLE FOR A PLAY -
Laurie Metcalf, French Stewart & Maile Flanagan
LEAD ACTOR IN A PLAY - French Stewart
CRITICAL PRAISE FOR VOICE LESSONS!

"...funny. Very funny." -L.A. Times (Critic's Choice)

"...uproarious and compelling..." -Variety

"A comic gem in every department..." -The Hollywood Reporter

GO! -L.A. Weekly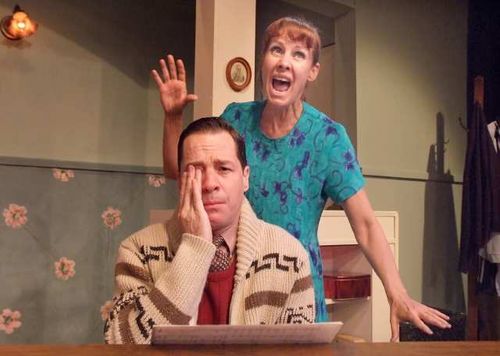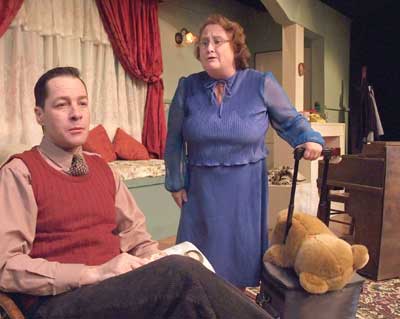 REVIEWS FROM THE SACRED FOOLS RUN
STAGE AND CINEMA
IT'S NOT THE SIZE OF THE PLAY THAT MATTERS

Say what you will about Voice Lessons, Justin Tanner's shockingly uproarious one-act play, now receiving an encore presentation at Sacred Fools Theatre, but you will never forget that you attended it. Still emblazoned in my hippocampus is Tanner's 1994 hit, Pot Mom, which remains one of the funniest and most original shows ever witnessed. (Although Pot Mom was also staged at Steppenwolf Theater in Chicago, it is criminal that it did not have a go in New York. Regardless, Angelenos are lucky to have him.)

Virginia (Laurie Metcalf) is an untalented, libidinous, poor-white-trash woman who talks penurious voice teacher Nate (French Stewart) into giving her lessons. He has heard her self-made CD and knows that it is unfeasible to make her a better singer, yet she makes him an offer he can't refuse. Big Gulp-drinking Virginia seems serious at first, but her ego interferes with anything Nate can offer her. Also challenging for Nate is his girlfriend Sheryl (Maile Flanagan) who had a previous professional relationship with "Ginny"

Directed by Bart DeLorenzo, Voice Lessons only runs 70 minutes, so two more sentences of plot would give the whole show away. It's significant to note that even though we are satisfied with all of the fascinating, quirky, and amusing banter between Ginny and Nate, the show screams for a second act. Certainly, things are wrapped up at the end, but we would love to see such original characters end up in another situation. It's as if we just saw the best television pilot ever made, but it wasn't picked up for a full season.

Whether these are very brave actors or they're just as happy as pigs in shit doesn't matter; the bottom line is that all three actors remain truthful as they run wild with their outlandish characters and outrageous dialogue. Ms. Metcalf has the chops to be a silent film star – her variety of facial expressions is so extraordinary that one would wonder if her flesh was made of silly putty. I'm rather certain that if you look up the word "droll" in the dictionary, you would see Mr. Stewart's mug; he is a clown of the highest order. Although Ms. Flanagan's role encompasses far less stage time, she truly has the most amazing moment of the night with just the bare necessities.

For far less of a price than an actual voice lesson, Voice Lessons is so hysterical that your uvula will have a great workout.
-Tony Frankel
© 2011 Stage and Cinema
L.A. THEATRE REVIEW
Voice Lessons by Justin Tanner follows the unlikely pairing of an uptight vocal teacher (French Stewart) and an off-the wall, tone-deaf, diva wanna-be (Laurie Metcalf). The humor of the set-up is clearly evident and Sacred Fools does a lovely job in its execution. Carried by two actors with incredible comic sensibilities, the show is a light and lovely character piece that, if the constant laughter of the audience last Sunday is any indication, is sure to entertain.

The odd couple pairing of this script is set up from the very beginning with Nate sitting poised and aloof in his condescending sweater as Ginny slurps a Big Gulp and attacks their conversation like a coked-out woodpecker (believe me, that is a compliment). Ginny has come to the renowned vocal coach to convince him to take her on as a pupil. She is sure that he is just the person to catapult her from the chorus roles of Monterey Community Theater to the life of a super star. He is not so convinced. I mean, this woman is a nut job, an extraordinarily amusing and hilarious nut job thanks to Ms. Mecalf's treatment, but certainly not a stable or enjoyable client. However, what Ginny may lack in social skills, she makes up for in her wallet and as Nate is in financial trouble (we'll learn how deep as the show goes on) he agrees to take her on at an inflated rate. We follow their relationship through the context of their weekly voice lessons as Nate tries to wrangle the abysmal train-wreck into something resembling a singer. It's the familiar run of opposite personalities coming together, a story we've heard before but done with such love and fun that I was smiling the whole way through.

The acting and dizzying wordplay in this production really elevated the ho-hum plot to something beyond its simple story. The joy and camaraderie in Metcalf and Stewart's acting shone through their performances and created an antagonistic energy that was the driving force of the play. There were many moments that were so connected and fresh that they seemed improvised, a feat, since Metcalf and French have been performing the show on and off since 2009.

Stewart played the straight man in this production with a timing and delivery to his facetious responses that got just as many laughs as his zany counterpart. His characterization was intelligent, nuanced and quite electric for what could have been a two dimensional role. For beneath his humor, he was able to develop a truthful and lovable character. As the play progressed, the audience got to see more and more of the imperfect man beneath the impeccable exterior and couldn't help but love him

It was truly a treat to watch an actress as skilled as Metcalf spin through the play like the hurricane she embodied. As outlandish, crazy and absurd as her character might have been, she approached it from an understanding of humanity and truth, making the laughs all that more meaningful. I loved the unpredictability of her role, and while we in the audience were guessing and laughing at her next move, she performed them with the finesse of a virtuoso.

Rounding out the cast was Maile Flanagan as Ginny's community theater rival and Nate's mismatched lover/benefactor. Arriving late in the game, she deftly twists the plot and brings a new exciting element to the play's energy. Here's another character who surprises you at every turn… must be something about those "theater people".

Bart DeLorenzo's directing must have been good because I hardly noticed it. That is to say that the elements of the play worked seamlessly, all equally supporting and serving an intimate story. The script informed the acting which informed the directing which went back to informing the script. The production elements also greatly helped in creating a cohesive environment. The showtune centered sound design gave us bursts of humor during the scene breaks and the costumes really identified the personalities of each character. Ginny's clothes in particular seemed to redefine her character in each new scene and surely got some laughs on their own. John Sylvian's lighting and Gary Guidinger's set played the straight man, creating the warm and stable environment of Nate's home in contrast his life.

I can't say that this play is life changing or revelatory, but it is definitely a fun evening of theater. Sometimes there doesn't need to be a bigger message than "enjoy yourself and the people you're with.".
-Erin Daley
© 2011 L.A. Theatre Review