The Coarse Acting Show
by Michael Green
Nov. 16 - Dec. 15, 2012
Fridays & Saturdays @ 8pm
plus Sunday, Dec. 2 @ 7pm
and Sunday, Dec. 9 @ 2pm & 7pm
TICKETS: $20
Buy Tickets Now or call (310) 281-8337
Acting is important and serious, so the hard-working participants of the Los Angeles Dramatic Series will demonstrate the pioneering and depth-defying acting techniques of Coarse Acting. Along with palpable and cumbersome performance demonstrations, acting will be used in short plays featuring actors. Let the art begin!
Additional introductions & demonstrations by Paul Plunkett
Find THE COARSE ACTING SHOW on Facebook!
"In the assured hands of director-adaptor Paul Plunkett and a deft ensemble, this knockabout skewering of amateur thespians and the plays they destroy is a riotous satiric romp." -BackStage
Photos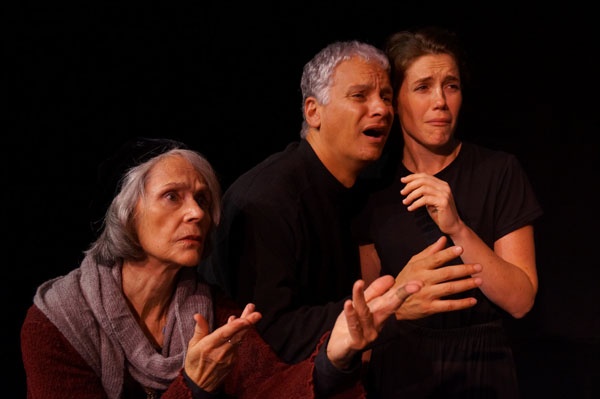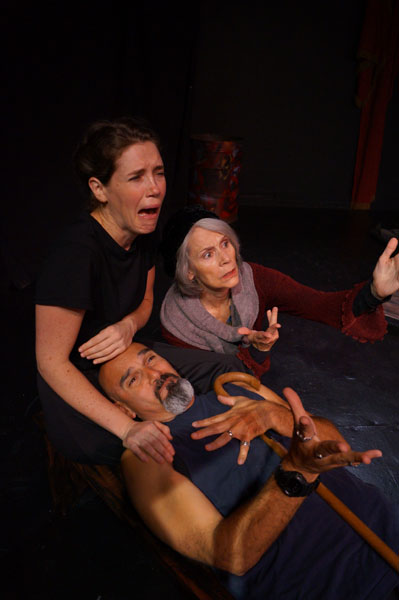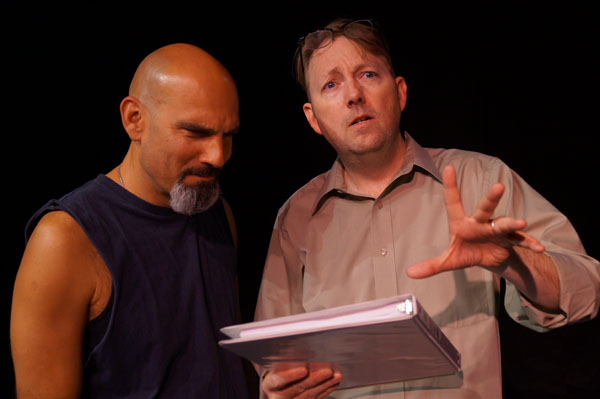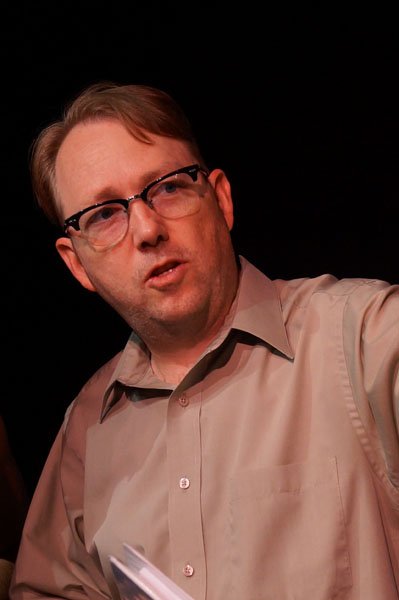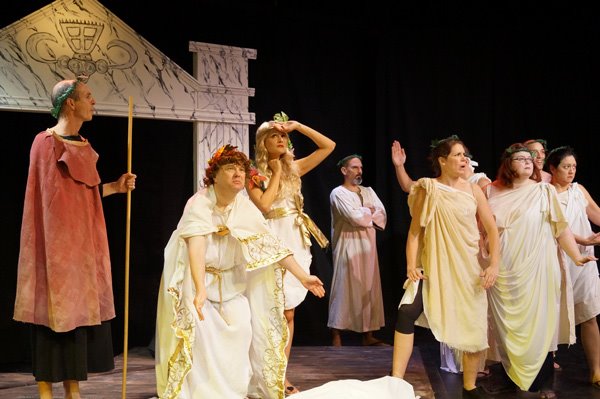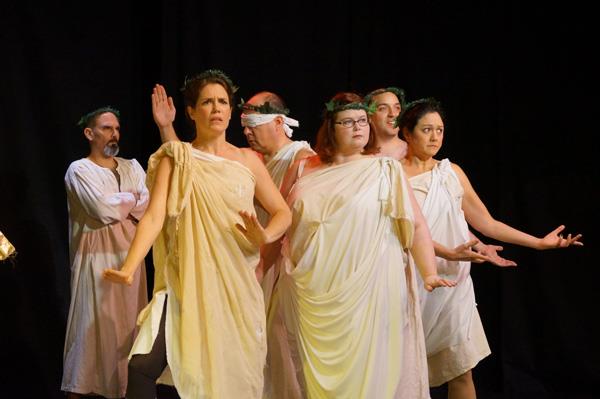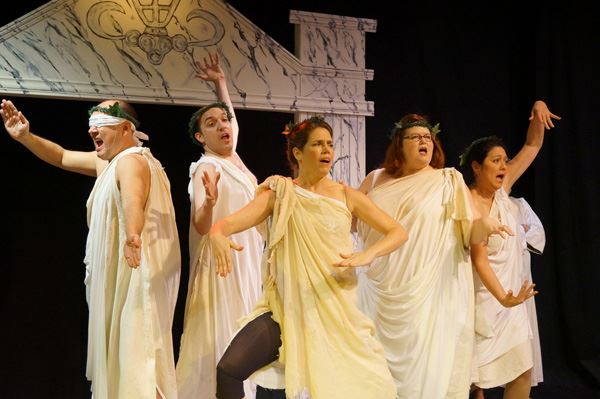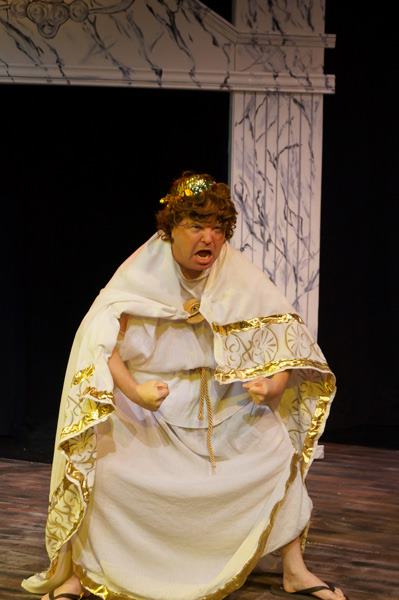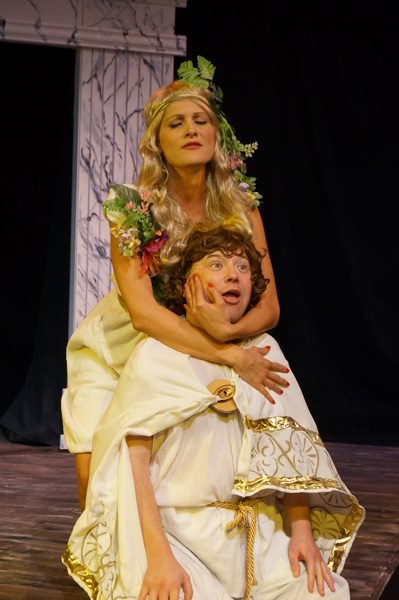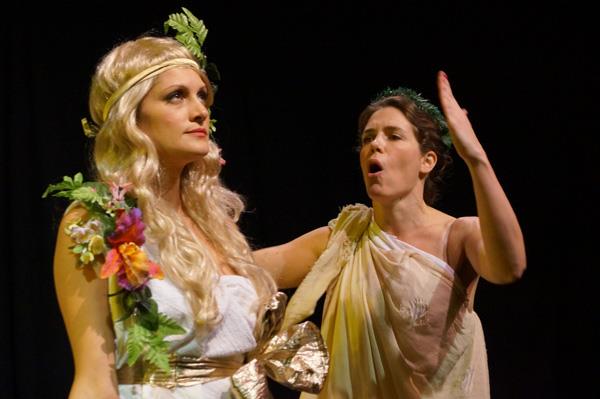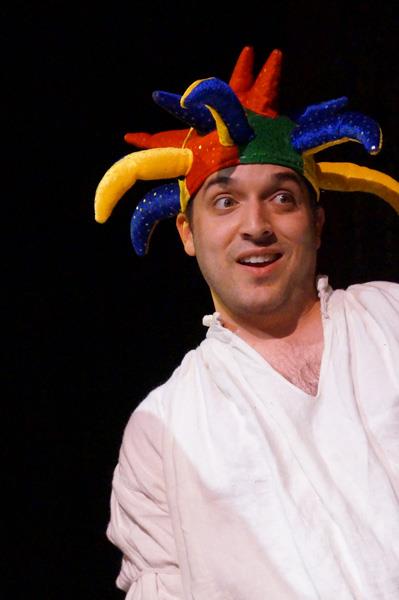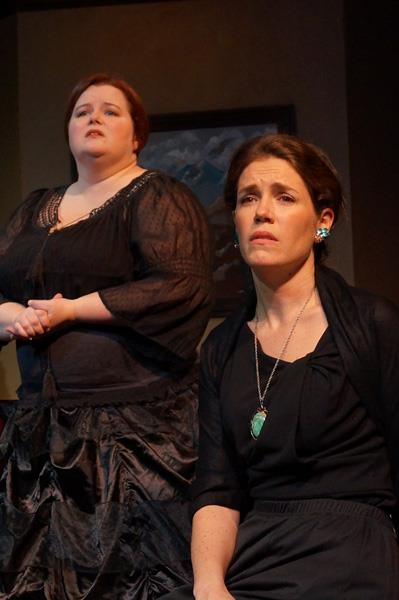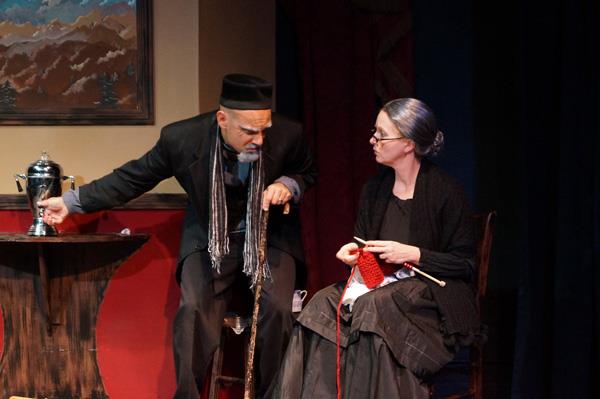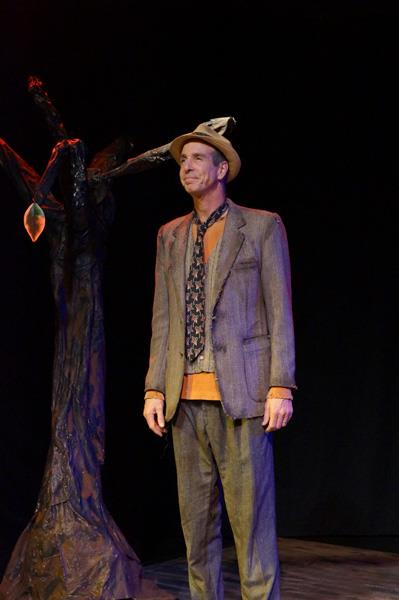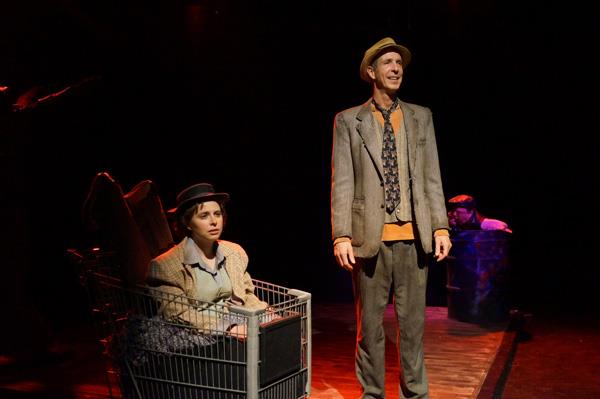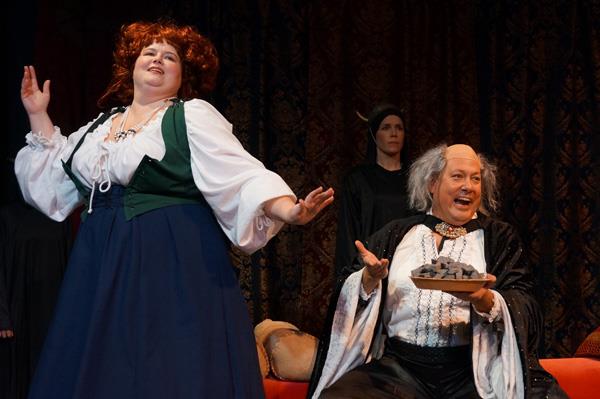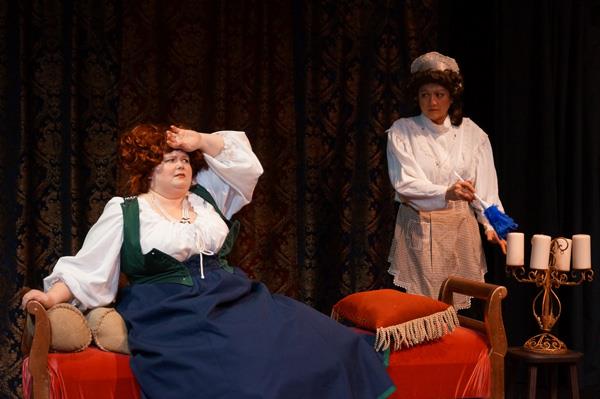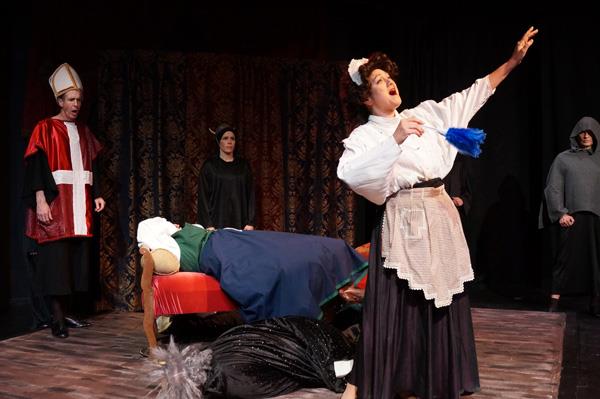 All photos by Pete Caslavka
Cast
Ruth Silveira as Shirley Severin, Founder and Chief Instructor at the Los Angeles Dramatic Series
Ensemble - Joseph Beck, Brendan Broms, Irina Costa, Perry Daniel, Julia Griswold, Kelley Hazen, Aaron Mendelson, Bruno Oliver, Jonathan Palmer, Alyssa Preston, Brian Wallis and Shelley Wenk
Understudy - Natalie Rose
Crew
Producer - Pete Caslavka
Associate Producers - Richard Levinson & Paul Plunkett
Assistant Director - Michael James Schneider
Music Director: "Il Fornicazione" - Richard Levinson
Stage Manager - Jay Bogdanowitsch
Scenic, Costume & Prop Design - Tifanie McQueen
Design Assistant - Natalie Rose
Lighting Design - John Sylvain
Sound Design - Johann McBugnuts
Graphic Design - Adam Bitterman


"Four Plays for Coarse Actors" is presented by
special arrangement with SAMUEL FRENCH, INC.
Reviews
BackStage
In his priceless 1964 volume "The Art of Coarse Acting," English journalist and humorist Michael Green typifies a coarse actor as "one who can remember his lines, but not the order in which they come." After more pointed examples, Green notes: "His problems? Everyone else connected with the production."
Exactly. And Green's subsequent stage spoofs are ruthlessly funny, as witnessed by "The Coarse Acting Show" at Sacred Fools Theater Company. In the assured hands of director-adaptor Paul Plunkett and a deft ensemble, this knockabout skewering of amateur thespians and the plays they destroy is a riotous satiric romp.
Welcome to the Los Angeles Dramatic Series, where, after cacophonous onstage warm-ups, founder and chief instructor Shirley Severin (an inspired Ruth Silveira), welcomes us to tonight's showcase for "actors in the act of acting." What follows repeatedly threatens our kidneys.
"Oedecles, King of Thebes" does to Sophocles what its title character does to Amnesia, the sister of late wife Queen Ovary. William Shakespeare's historic and sylvan plays take their hits in "'Tis Pity She's the Merry Wife of Henry VI (Part One)," while "The Cherry Sisters" decimates Anton Chekhov and Russian lugubriousness.
After intermission comes "Waiting for the King," an absurdist parody penned by Plunkett that crams various Samuel Beckett elements into a deadpan trash compactor by way of Graceland. And the operatic finale, "Il Fornicazione," must be heard to be disbelieved, thanks to its orchestra's failure to show up, save for the triangle player.
These parodies alternate with classroom demonstrations (also written by Plunkett), such as "Acting Characteristics Techniques" and "Ultimate Terror Vocal Eruption." Overseen by Shirley, whose howling non sequiturs, slurred consonants, and wine glass grow more pronounced with each scene, the demos redefine "over the top" with knee-slapping abandon.
So does the cast, starting with Silveira's soused theatrical doyenne, an object lesson in sustaining and building comedic specifics. Perry Daniel's lisping overachiever is a hoot, whether as Grecian spearhead Hysterectomy or passion-starved Veruka. Irina Costa brings dim-bulb precision to Amnesia and ingénue Basha, and Alyssa Preston is in her element as stoic Gnasha and the high-note shrieking Countess.
Jonathan Palmer gives the King of England droll control that approaches Eric Idle, and, in the Beckett send-up, his Perky and Julia Griswold's Dan convey supreme inanity against Joseph Beck's shrieking Trashy Prompter. Brendan Broms, as addled Piles the Butler and enervated Conductor, is an absolute stitch. But everyone is, with Aaron Mendelson, Brian Wallis, Bruno Oliver, Kelley Hazen, and Shelley Wenk completing a no-holds-barred roster.
Designs are purposely ham-fisted, with Tifanie McQueen's scenery, costumes, and props yielding goofy surprises, aided and/or impeded by John Sylvain's unpredictable lighting and Johann McBugnuts' cliché-ridden sound. It's hardly a subtle evening, resembling "Your Show of Shows" as rethought by Christopher Durang on LSD, and some jokes will sail over the heads of non-theater folk. All in all, though, it's a boffo laugh fest.
Critic's Score: A
--David C. Nichols
© 2012 BackStage
Feature Article
L.A. Stage Times
The Sacredness and the Foolishness of Coarse Acting
by Paul Plunkett
The word "pretentious" gets a bad rap. All art is based on the pretense that someone might want to look at something someone else made. Thus, every play I've ever been involved with or even seen has, at some level, a measure of pretentiousness attached to it.
It's only when the pretense goes beyond "My show might entertain or be of interest" and becomes "My show will make dumb people smart" or "My show will save the planet" or "My show will result in paying work" that we venture into dangerous "overly pretentious" territory.
As one of the remaining founding members of Sacred Fools still active with the company, I confess not being ecstatic about the name the 20 or so of us chose sitting in John Sylvain's living room back in 1997. I don't remember the other choices — just that "Sacred Fools" won out. My main concern was that it didn't seem like something that would set us apart from the masses of other theater companies out there, but after 15 years it hasn't killed us yet.
Those of us sitting in that living room didn't really know each other that well. Some folks had worked together previously in Seattle, some in Chicago, some had college ties from New York, and some had turned up without anyone else being really sure where they'd come from. But we all had expressed a desire to do theater again. We'd all come to Los Angeles pursuing non-theatrical dreams but were pining for the old days of doing a good play as its own reward, not as a stepping stone to film or television work. A foolish but sacred concept, hence the name.
In the years since then, we've produced scores of mainstage shows and hundreds of late-night shows, running the range from award-winning, crowd-pleasing, box-office monsters to cringe-inducing abominations that may have convinced a theatergoer or two to give up the medium entirely.
As the years have piled up, I've grown more and more comfortable with the company's name. And when picking projects to propose, one of my criteria is where said project lies on the scale from Foolish to Sacred.
Which brings us to The Coarse Acting Show, my latest endeavor at the Fools.
More than 20 years ago in my hometown of Albuquerque, New Mexico, I used to work in a small theater on Central Avenue called CenterStage. This small stage was run by the wonderful Paul Ford, who was kind enough to give college kids like me a place to experiment, fail, learn and try again — and also a place to meet girls, fail, learn, and try again. It was there that I was acting in a production of Dylan Thomas' Under Milk Wood and crushed on a super-cute young lady in the cast named Tifanie McQueen, who, when we met up again, more than a decade later here in Los Angeles, became my lovely wife! But that's a whole other story.
The Art of Coarse Acting by Michael Green is a nonfiction "textbook" of information and tips for the Coarse Actor (generally described as the kind of actor who knows all of his lines, but not the order in which they come or the cues for them). It spawned a series of festivals and collections of short "Coarse" plays with titles such as All's Well That Ends as You Like It, The Cherry Sisters and Oedecles, King of Thebes.
When we did the show in New Mexico, we didn't want to just perform the plays like a night of unrelated one-acts, so we created the Albuquerque Dramatic Series as a fictitious producing organization. Little did I know that years later I'd re-visit these short bits and flesh them out.
In returning to this concept for this production here in Los Angeles, I quickly decided not to make it the road company from Albuquerque (which would make it a show about out-of-towners in the big city) and also decided not to make it about industry-centric actors (which would make it a show about craven actors shoving headshots at agents and managers).
The Los Angeles Dramatic Series is about the work, even if its participants don't have much of a clue about what exactly the work is. Unconcerned with anything beyond doing these plays with a purity of purpose that defies logic, skill and reason, these people earnestly pander to the Theater Gods in hopes of gaining entry into Theater Heaven.
These folks are the sacredest of fools, and the show is for a theater audience that laughs, I hope, both at and with these noble idiots. This show is for people who simultaneously love and hate theater. Totally, absolutely pretentious.
Paul Plunkett is a playwright/director/actor/glutton for punishment who has served in many roles over the years at Sacred Fools, including artistic director, literary manager, sergeant-at-arms, membership committee and, currently, on the board.
© 2012 L.A. Stage Times