Absolutely Filthy
EXTENDED THROUGH MAR 10!
Thursdays-Saturdays @ 8pm
plus Sun, March 3 & 10 @ 7pm
(no performance Thurs, Feb. 28)

Valentine's Day Dinner & Show Special - just $60! Details ● Buy Now!
WORLD PREMIERE! In this unauthorized parody, a homeless man who lives in a perpetual cloud of dust and grime suddenly finds his life even more difficult to bear when he stumbles upon the funeral of his long-estranged best friend. But as he encounters his childhood friends for the first time in years, he finds he just may have a shot at redemption. Maybe. For Mature Audiences Only.
Adapted from the Serial Killers serial.
A revised version of the show was subsequently performed at South Coast Rep and the New York Fringe in 2014. For information on future productions of ABSOLUTELY FILTHY, visit www.AbsolutelyFilthy.com.
Reviews

PICK OF THE WEEK! "...darkly hilarious... clever writing, comic timing and use of understatement to tremendous effect allow Hunt to weave sociopolitical commentary, gross-out humor and insightful observations into engaging and entertaining rants... It seems that the Fools' late-night series Serial Killers, where this show originated, has once again yielded comedy gold." -L.A. Weekly
"...wit, bite and a dollop of earned sentiment... Hunt respects the integrity of Schulz's creations even as he makes vicious, and hilarious, sport with them." -The Hollywood Reporter
"This is one of the best Sacred Fools shows ever — and a play that truly seems appropriate for a company called Sacred Fools... unexpected epiphanies." -L.A. Stage Times
"...keep[s] the audience continuously laughing and efficiently delighted... the production is brimming with lively staging elements and unexpected surprises." - Stage and Cinema
"...an unexpected, unpredictable, dark comedy... And laughs you will have at the hands of Hunt..." -examiner.com
"Brendan Hunt's script delivers a non-stop spew of zingers... if you're a fan of 'Peanuts,' a cartoon aficionado, or just someone who likes their humor pitched fast and underhanded then this might be just up your alley." -Working Author
"...blares with heart-searing humanity and brazen, balls-a-swingin' humor... relentlessly smart and poignant..." -Flavorpill
"A worthwhile parody... Hunt has taken his views of the characters, expanded on them, and built something much more full from it." -The AAUGH Blog
Awards
WINNER OF THREE L.A. WEEKLY AWARDS!
Comedy Ensemble
Leading Male Performance - Brendan Hunt
Female Comedy Performance - Anna Douglas
PLUS FIVE L.A. WEEKLY AWARD NOMINATIONS!
Female Comedy Performance - Jaime Andrews
Female Comedy Performance - Rachel Germaine
Female Comedy Performance - Shannon Nelson
Male Comedy Performance - Brendan Hunt
Playwriting - Brendan Hunt
WINNER OF THREE HOLLYWOOD FRINGE AWARDS!
Top of the Fringe
Best in Comedy
Spirit of Fringe Best Performance (Male) - Brendan Hunt
Photos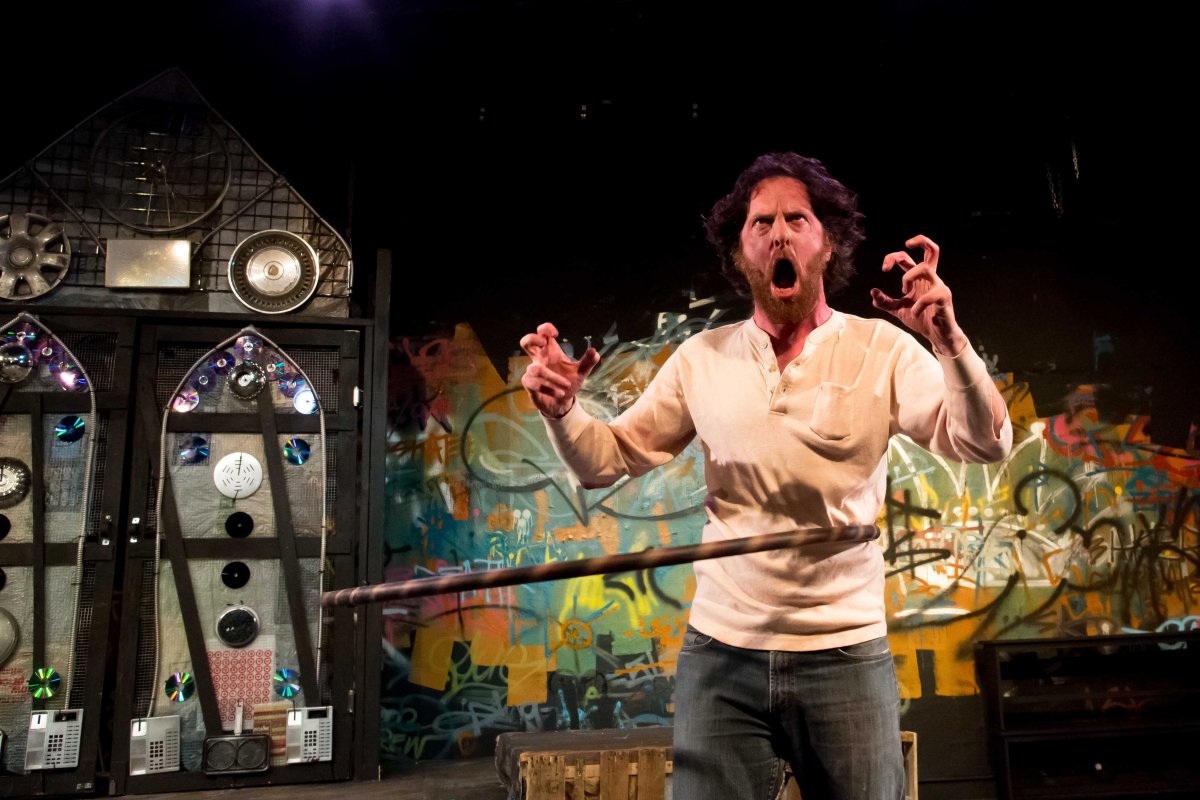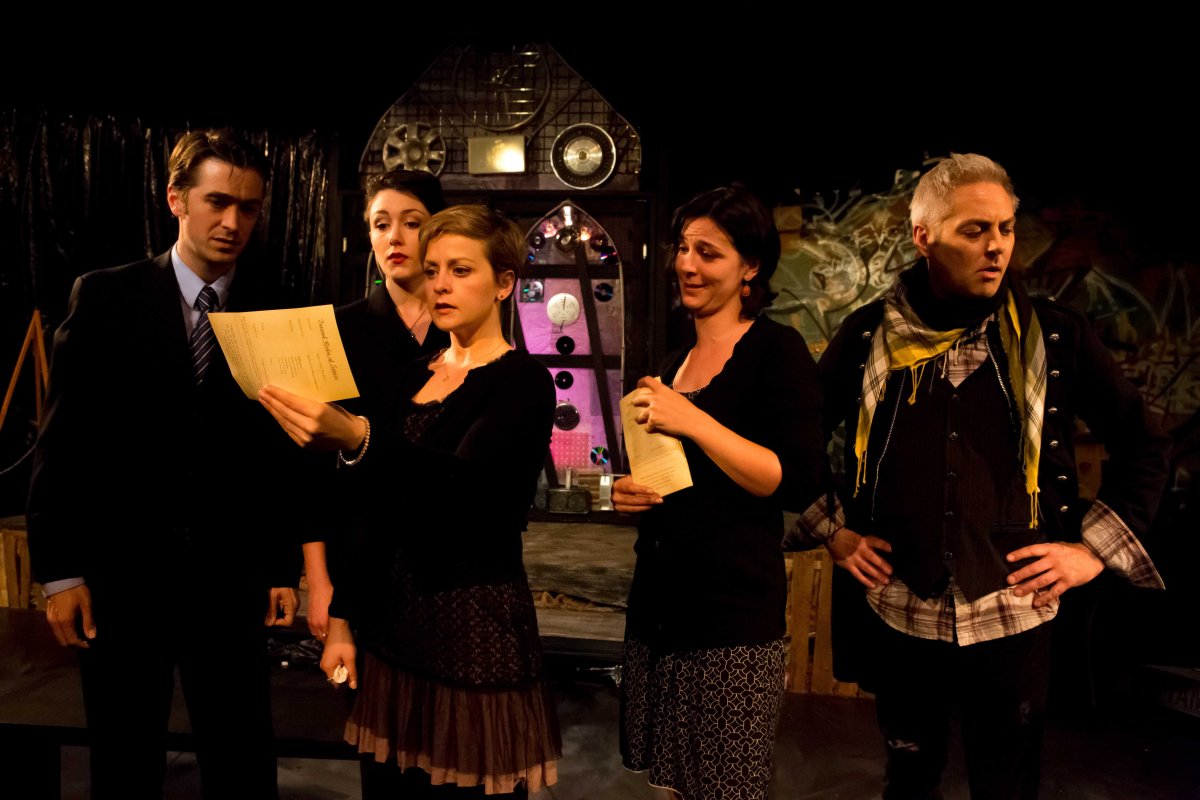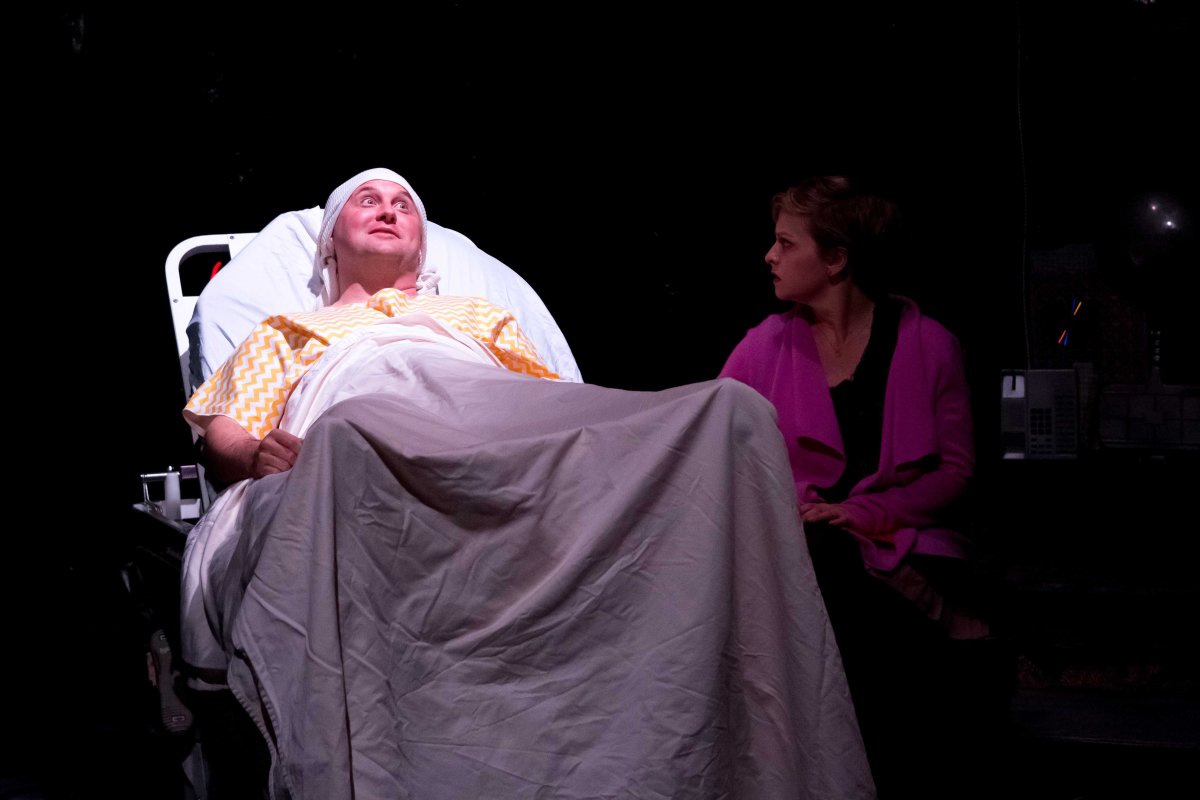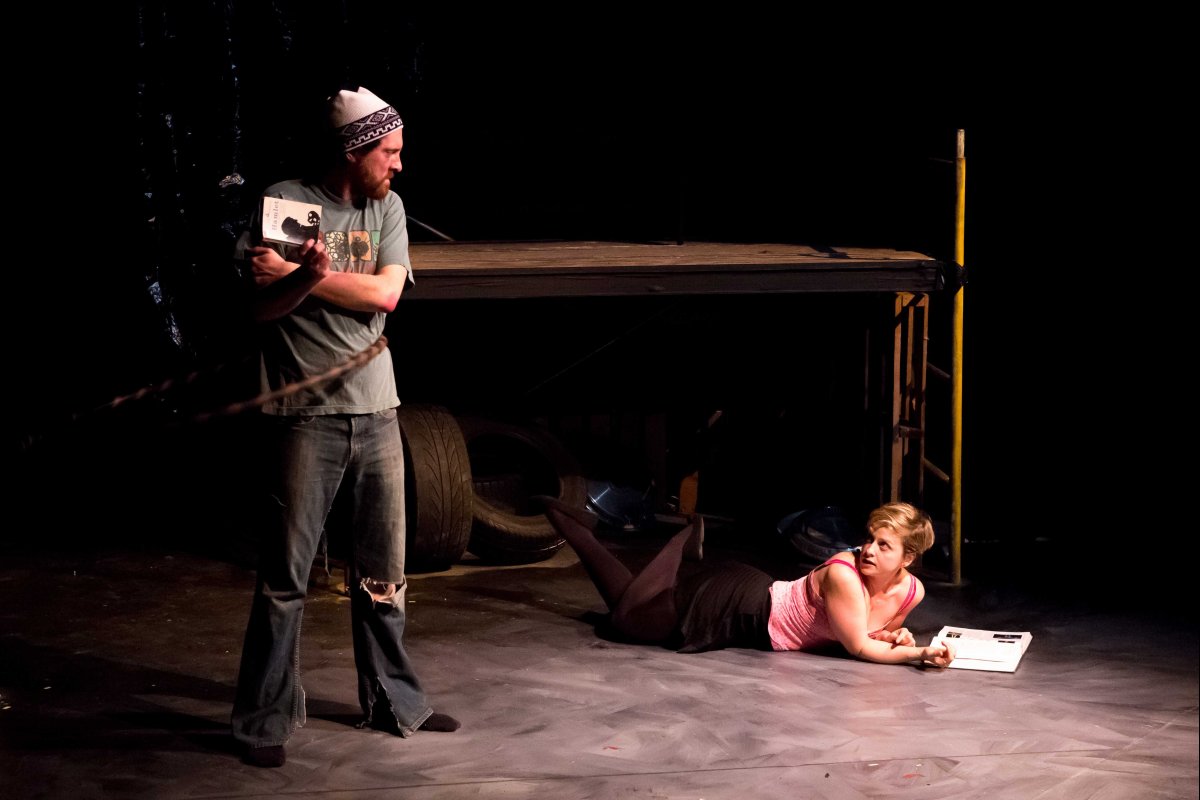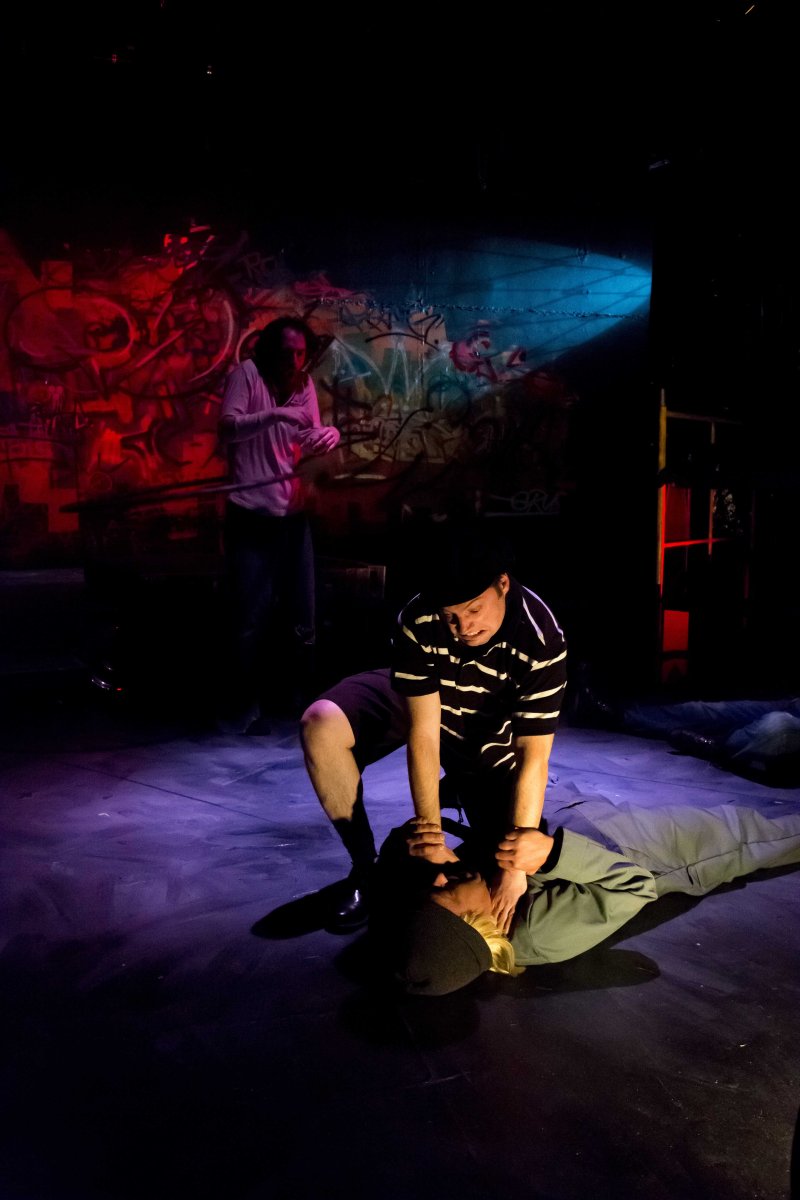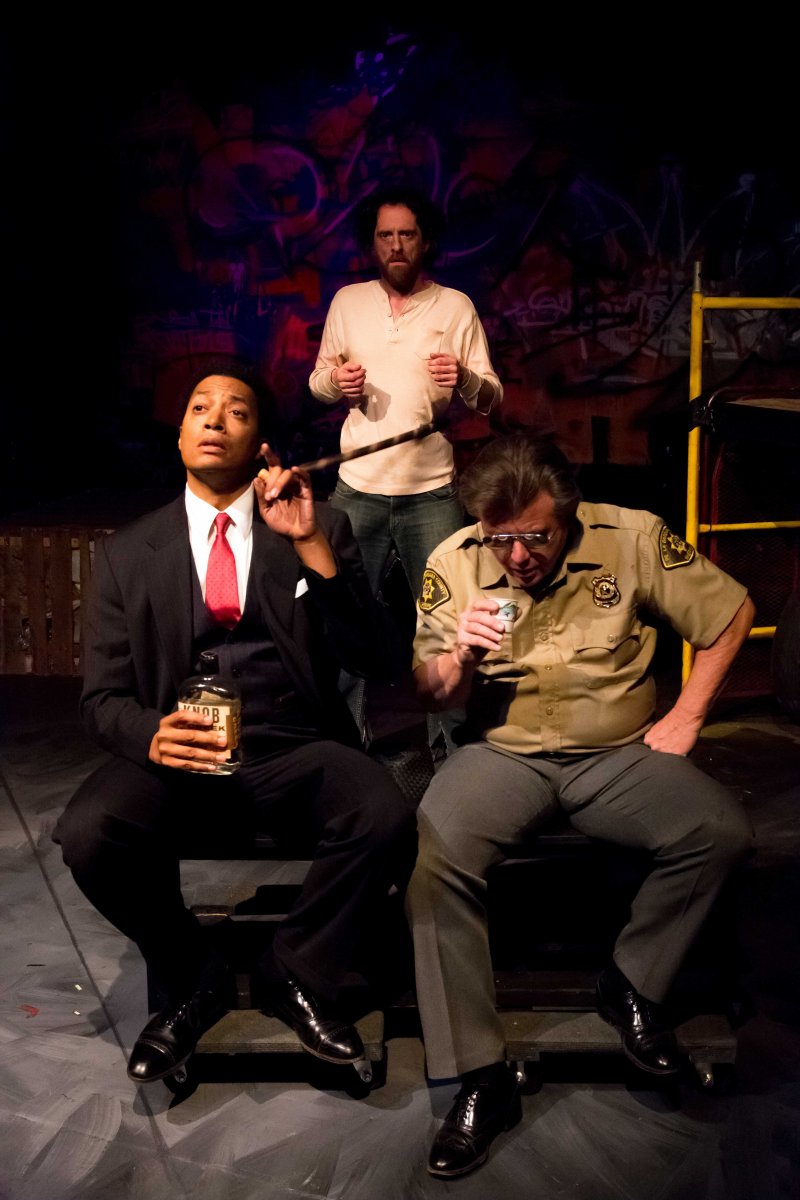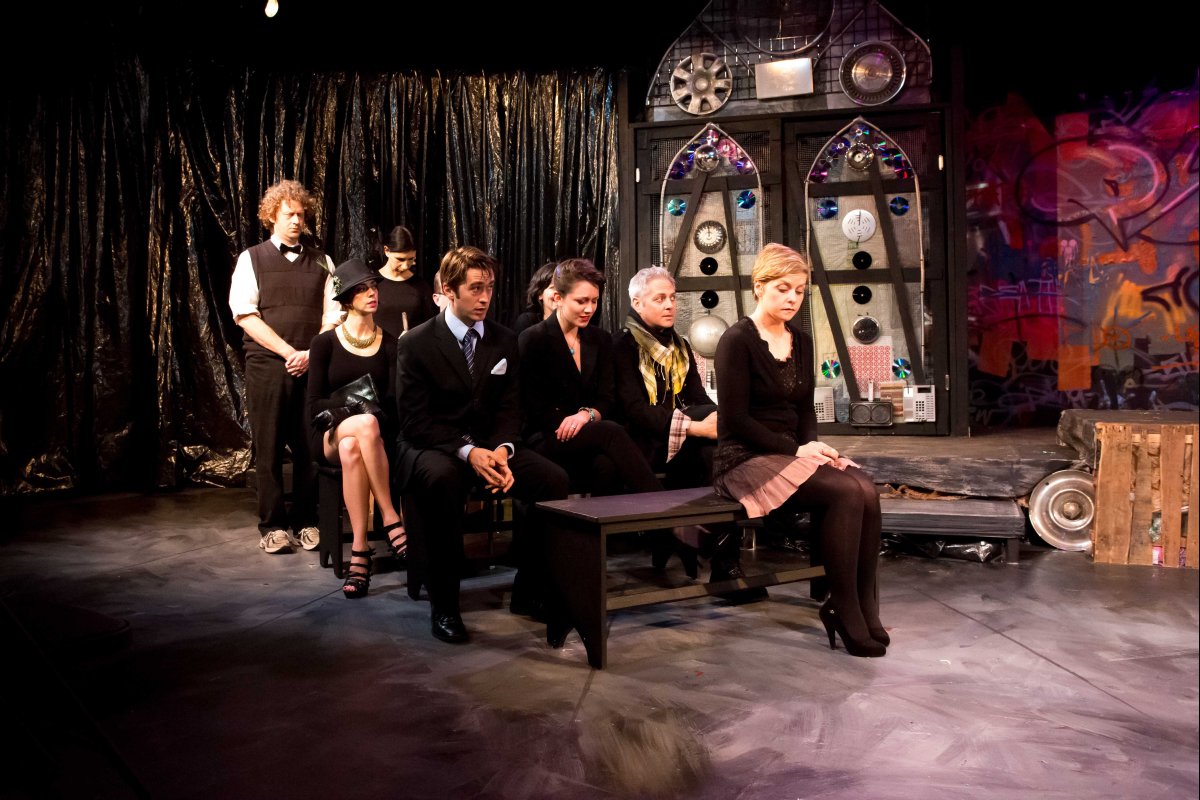 All photos by Shaela Cook Photography
Cast
Brendan Hunt as The Mess
Shannon Nelson as The Bereaved
Anna Douglas as The Big Sister
Robbie Winston as The Little Brother
Curt Bonnem as The Pop Star
Jaime Andrews as The Ophthalmologist
KJ Middlebrooks as His Honor
Rachel Germaine as The Designer
Scott Golden as The Deceased
Jessica Sherman as "Die Hundin"
Kiff Scholl as Father Macalester
Dennis Delsing as Officer Melendez / Ensemble
Addi Gaash as Cath / Ensemble
Amir Levi as Slug / Ensemble
Ed Goodman as Arch
Understudies
Brendan Broms as Father Macalester / Officer Melendez
Addi Gaash as The Ophthalmologist
Ed Goodman as Ensemble
Monica Greene as The Designer
Victor Isaac as His Honor
Corey Klemow as The Little Brother / The Deceased
Sarah McElligott as The Bereaved
Aviva Pressman as The Big Sister / Ensemble
Erika Salomon as "Die Hundin"
Crew
Producer - Brian Wallis
Associate Producers - Emily Donn, Jessicah Neufeld & Michael Teoli
Assistant Director - Ed Goodman
Casting Assistant - Jennifer Schwartz
Stage Manager - Angela Lingrosso
Set Designer - Stephanie Kerley Schwartz
Associate Set Designer - Hazel Kuang
Lighting Designer - Douglas Gabrielle
Costume Designer - Jaimie Froemming
Sound Design - Daniel Hoal
Props Designer - Emily Donn
Composer - Michael Teoli
Original Song "When I Look Back" - Brendan Hunt
Hula Hoop Construction - Aaron Francis
Hula Hoop Instruction - Carlita Penaherrera
Graphic Design - afKiff Design
Reviews
L.A. Weekly (Pick of the Week)
The Peanuts Characters Are All Grown Up at Sacred Fools
"Just 'cause I have a ton of dirt on me doesn't make me a monster," says The Mess (playwright Brendan Hunt), the adult incarnation of Pig Pen from the Peanuts comics, who is now a homeless man, in Absolutely Filthy. His desire to be more than an "accumulation of [his] sins" drives the story of a reunion of the old gang after the demise of Charlie Brown (played by Scott Golden, credited as The Deceased - the characters are given abstract names for legal reasons). Hunt's exploration of the dysfunction of these familiar characters all grown up is darkly hilarious. Through a series of flashbacks, prompted by their arrivals at the church to pay their respects, The Mess' journey to his present state is revealed.
While the cast is solid across the board, Hunt truly steals the show, and not just because he keeps his "cloud of dust," a Hula Hoop, in constant motion the entire time he's onstage (a feat in itself!). His clever writing, comic timing and use of understatement to tremendous effect allow Hunt to weave sociopolitical commentary, gross-out humor and insightful observations into engaging and entertaining rants.
Director Jeremy Aldridge deftly manages a massive cast, making great use of Stephanie Kerley Schwartz's set, itself an inventive homage to homeslessness with its junk-themed design. Standouts in the cast include an out-of-the-closet Schroeder (Curt Bonnem as The Pop Star), hard-ass sports agent Lucy (Anna Douglas as The Big Sister) and recovering alcoholic judge Franklin (KJ Middlebrooks as His Honor). It seems that the Fools' late-night series Serial Killers, where this show originated, has once again yielded comedy gold.
--Mayank Keshaviah
© 2013 L.A. Weekly
The Hollywood Reporter
The Bottom Line: Dystopian imagining of dysfunctional adult "Peanuts" characters surmounts its gimmick with wit, bite and a dollop of earned sentiment.
The "Peanuts" cast is reimagined as adults in this subversive ensemble dramedy directed by Jeremy Aldridge.
Charlie Brown is dead. Schroeder has sold out his talent for pop celebrity. Linus, suffering from PTSD after a short tour in Iraq, has transitioned from his blanket to a pocket hanky. And Pigpen has become homeless as well as Absolutely Filthy, incessantly spinning a Hula Hoop both to enclose himself in his own delusional sphere and to keep everyone else out. Like The Big Chill with the Peanuts gallery, the old gang, now thirty-something, reunites for a funeral radically changed and fundamentally not at all.
Although called by their Charles M. Schulz names within the play, in the program every character is designated as a euphemism. As a protagonist, "The Mess" (playwright Brendan Hunt) cuts a mordant tragic figure, part Hamlet (which he reads in flashback as an undergraduate, first as CliffsNotes and then in the original), and part raving Lear on the heath. "The Bereaved" sister, Sally Brown (Shannon Nelson), loved him back in college, but Pigpen, after being destructively seduced by Peppermint Patty, now a fashion designer with a fake French accent (Rachel Germaine), deserted her without a word to disappear into vagabondage. Tortured by inner demons – among them a hilarious hallucination of a conversation with a fey and eminently sensible Jesus – and rejected by his old pals, including sports-networking owner Lucy (Anna Douglas as "The Big Sister"), the ineffectual Linus (Robbie Winston as "The Little Brother"), Schroeder (Curt Bonnem as "The Pop Star"), Marcie (now "Marcia" and an ocular surgeon, Jaime Andrews) and even the black Franklin, whose name no one else can remember (KJ Middlebrooks as "His Honor"). Pigpen inappropriately strips himself naked outside the church and gets hauled away to jail, as his former friends drop a dime on him.
This may all sound like sophomoric parody but Hunt has fashioned a genuinely intense and compelling drama out of these elements, particularly in a harrowing, bilious first act. There's no reason the Peanuts characters can't be employed like archetypes out of Greek drama, since arguably the comic strip already fulfilled that function in our own time. There's a lot of bad-boy mocking on the surface, yet the character of the deranged Pigpen is conceived with true heroic stature, his mental illness meticulously elaborated and uncannily pertinent to the human condition. Hunt respects the integrity of Schulz's creations even as he makes vicious, and hilarious, sport with them. This is an ambitious play that seeks to replicate the original's universality with a raw contemporary sensibility, careening through flashbacks within flashbacks to create a persuasive panorama of up-to-the-moment anxiety and neurosis. No coincidence that Charlie Brown (Scott Golden as "The Deceased") had found great success as an empathetic child psychiatrist.
This many-layered text is grandly served by the consistently pitch-perfect ensemble and inspired, imaginative direction by Jeremy Aldridge. The piece was developed originally as part of Sacred Fools' continuing late-night series Serial Killers, yet it has greatly surpassed its sketch origins. The second act perhaps overextends development of some of the ideas beyond their optimal weight, while entropy tends to move the action more toward pathos and dramaturgical correctness than the cheeky and impassioned first hour. It does feature cameos from Archie Andrews, Cathy, Bil Keane and the little red-haired girl, so it may be churlish to complain. Which is perhaps part of the play's point.
--Myron Meisel
© 2013 The Hollywood Reporter
L.A. Stage Times
Von Bach and Absolutely Filthy — Parodies That Pop
One of the reasons satirists sometimes make sure their efforts are described as "parodies" is because the First Amendment allows parodies to proceed without requiring the satirists to obtain rights to the source material that's being parodied. Yet just to be safe, the makers of parodies sometimes take extra precautions.
And so, at Sacred Fools Theater, as the absolutely fascinating Absolutely Filthy takes characters clearly based on the Peanuts gang into adulthood, the names in the program disguise those origins. Still, the characters themselves call each other with their Peanuts names.
...in Absolutely Filthy at Sacred Fools, most of the adult Peanuts characters re-unite for the funeral of Charlie Brown. But one of them is conspicuously left out, at least at first — Pigpen, the character who was always surrounded by a cloud of dust. He's the central character in Absolutely Filthy — hence the title — and playwright Brendan Hunt plays him in a performance that is probably unlike any you've ever seen.
Unless, that is, you've seen an actor hula-hooping his way through nearly an entire play, sometimes while naked.
Yes, Hunt depicts Pigpen's cloud of dust by constantly spinning a grungy-looking hula hoop around his waist. And he keeps it spinning even during the part of the play when he takes off all his clothes. That disrobing is inspired by his feeling that if his childhood friends don't want to be seen with him because he isn't dressed appropriately for a funeral, why not take off his clothes?
Pigpen, you see, has never overcome his childhood stigma and is now homeless and dirtier than ever. His lot in life has been in stark contrast to those of most of his friends. Lucy (Anna Douglas), the girl who always pulled the football away from Charlie Brown (Scott Golden, in flashbacks) when he was trying to kick it, is a cutthroat TV sports interviewer. Her brother Linus (Robbie Winston) failed to complete a tour of duty in Iraq and remains a sensitive soul in the shadow of his sister.
Charlie's sister Sally (Shannon Nelson) was the one true love of Pigpen's life — they hooked up while in college, but he ruined that relationship with a casual fling with Patty, who's now a fashion designer in France. Patty's former friend Marcie (Jaime Andrews) is a glasses-free ocular surgeon after a traumatic incident. "The black guy" Franklin (KJ Middlebrooks) is a judge and a recovering alcoholic who gives Pigpen a hand. Schroeder (Curt Bonnem) transformed from a Beethoven devotee into a shallow pop star.
Snoopy (Jessica Sherman) died long ago, but he returns as a German-speaking female dog in a hallucination inside Pigpen's head. Another hallucination, befitting the theological inquiries of Peanuts, brings a somewhat irreverent Jesus Christ (Amir Levi) into Pigpen's brain. Several adult versions of characters from other comic strips make brief appearances.
Of course if you didn't grow up reading Peanuts or the other comics of that era, most of this might sound meaningless. As a Peanuts fan since childhood, I was caught up in all of it from beginning to end.
At one point in the play, a few of the characters refer to their younger selves as cartoons, as parodies, but Peanuts — although measured out in its little daily doses — was always deeper than mere parody. The children in the comic strip were already more sophisticated than most actual children — little adults. By dreaming up the later lives of these characters, Hunt honors that level of depth. At the same time, by making Pigpen his central character and embodying him so creatively and convincingly, Hunt challenges us to go beyond the point of view that Charles Schulz created in the original comic strip and consider a wider range of possibilities.
This is one of the best Sacred Fools shows ever — and a play that truly seems appropriate for a company called Sacred Fools. Jeremy Aldridge, the director, also staged the production that until now has been the company's biggest success — Louis and Keely Live at the Sahara. Absolutely Filthy, although very different, achieves the same level of unexpected epiphanies.
--Don Shirley
© 2013 L.A. Stage Times
Flavorpill
Absolutely Filthy blares with heart-searing humanity and brazen, balls-a-swingin' humor. Directed by Jeremy Aldridge, the play transforms beloved childhood cartoon icons into adult-age archetypes who must come to grips with the fairly awful creatures they've become. Brendan Hunt's bold writing is relentlessly smart and poignant, a relevant commentary on the coming-of-age crises we must all inevitably face, and how we have the power to change our own "characters." It's a bit marvelously perverse to watch cartoon friends navigate adulthood, and their experiences — fueled by strong performances — resonate with audiences in deeply personal ways.
--Kenneth Hughes
© 2013 Flavorpill
examiner.com
You're a Funny Man Charlie Brown
The music is playful, the mood - light, even the homeless guy seems chipper. You see, he's living on the streets, speaks like that of a college psych major and seems to know everyone who passes by. Turns out – he does. And that hula-hoop is not just a toy. In fact, it's not a toy at all. It's a hemisphere of filth ever present, keeping out strangers and friends alike. Meet Pig Pin. Pig Pin has the stories of a thousand men. Stories of travel, adventure, and even the circus. But it is his story about love that brings us center stage, on the front steps of a church. A good man has passed and one-by-one his childhood friends arrive to that very cathedral to pay their respects.
For any Sunday 'funnies' reader who has ever wondered what happens to their favorite characters after the page is turned, your answer is here. Did Hobbes go with Calvin to college? Does Cathy every find love? If you go to Absolutely Filthy, you'll find out. But it's not what you think – it's better. Absolutely Filthy is an unexpected, unpredictable, dark comedy that answers all wonder of 'Where Are They Now?' the Peanuts Edition.
Senior superlatives, yearbook branded or unofficial, can be an indicator of our classmates' future careers and life choices. Playwright Brendan Hunt graduated the Peanuts class of our memories, in line with their classic personas. Most Likely to be Famous: Schroeder, the piano-playing prodigy is now SCHROEDER, the pop star. Most Likely to Succeed: Lucy, the small business owner, self-proclaimed doctor, and football interceptor, is a man-eating TV exec. Most Intelligent: Marci, once a four eyed know-it-all, is an Ophthalmologist. Most Adorable: Linus, sweet imaginative Linus, is still an adorable genius, blanket-carrying little brother.
Costume Designer Jaimie Froemming brilliantly represents each of the characters iconic looks, using hints of color from the comic strip. Lucy's hair is highlighted with the royal blue of her ruffle-bottomed dress. Peppermint Patty adorns her French style with green bling. And each of Sally's costume changes has an element of powdery pink. The clothes in their wit and simplicity, add to the element of surprise. It takes a few moments to figure out who's who, which makes the audience feel like an interactive role. With the arrival of each Peanut, lines carry more punch as we wait eagerly to laugh again.
And laughs you will have at the hands of Hunt, who also stars in Absolutely Filthy. Hunt is used to providing humor, as the former head writer of Comedy Central's Netherlands. He's also an Ovation Award winner for his performance of Savin' Up for Saturday Night (Sacred Fools Theatre). "The very first herb of the kernel of the nut was actually from a friend's Facebook status - I get it. Pig Pen was a burner! - That lingered in my brain for a long time and that was the first pebble that fell down the hill" says, Hunt. With his subject at hand, Hunt tackled the task of a creating the trademark cloud of dust. His idea – a hula hoop. His theory - "People would probably get used to it and suspend disbelief long enough to believe it's a cloud of dirt."
Not only did people in the audience believe it, they loved it.
To see Brendan Hunt's hula hooping skills and the acting talents of the ensemble cast, click, call and run to the Sacred Fools Theatre for the next showing of Absolutely Filthy.
--Rebecca Raleigh
© 2013 examiner.com
Stage and Cinema
A RAUCHNY REUNION FOR THE PEANUTS GANG
Set at Charlie Brown's funeral in modern-day Los Angeles, Brendan Hunt's raunchy Peanuts parody, Absolutely Filthy, is an admirably smutty comedy which imagines a dysfunctional reunion of the Peanuts gang, now all grown-up, cocksure, and full of middle-age disgruntlement. Under the fluid and comedic direction of Jeremy Aldridge at Sacred Fools, Absolutely Filthy offers a few decent performances, clever staging elements, lots of hula hooping to dubstep, and a healthy dose of unabashed full-frontal nudity.
Peanuts ran as an internationally syndicated comic strip for fifty years. Both inked and written by Charles Schulz, it is lauded for transcending mainstream norms to present social commentary on issues such as racial segregation, feminism, war, and equality channeled through child-aged characters – an innocuously conceived concept designed to buttress 1950s consumers. Through daily newspaper appearances and stints on the stage and screen, Peanuts has undoubtedly imprinted itself on more than a half-century's worth of Americans, including Hunt. The playwright notes that he was inspired by Pig-Pen's brilliant final words in Schulz's iconic comic strip: "Well, when I left home this morning, I was pretty clean. Sort of…relatively… borderline…absolutely filthy."
Our glimpse into the grown-up lives of the Peanuts gang is through the eyes of Pig-Pen, who has grown up to be a dark humored, shamelessly unstable, and introspective homeless wanderer. Hunt's affection for the comic strip is evidenced not only in the fact that Absolutely Filthy is an homage, but in the carefully constructed empathy that he fosters for the characters. Pig-Pen's poverty could have been treated with less apathy, but Hunt tells a good story, cloaking dramatic, wholly sad plot twists in a palatable abundance of funny crassness.
The narrative jumps between present day at Charlie's funeral to flashbacks of Pig-Pen's college years to stream of consciousness conversations with a snarky rendering of Jesus Christ. Hunt smartly injects subtle postmodern discourse into his play by pitting pure hedonism against dour sentimentality. In the world of Absolutely Filthy, Snoopy makes a creatively licensed appearance as a sexy, German-speaking, flying ghost; while Pig-Pen, Charlie, Franklin, and Linus actively struggle to retain their humanity despite personal battles with mortality, mental illness, homelessness, and alcoholism. Lucy, Schroeder, Patty, and Marcie all grow up to be assholes (naturally) and as it turns out, Sally Brown has an unrequited love for dust-covered, constantly wiggling man-junk.
In addition to penning the script, Hunt leads the Absolutely Filthy cast as the central character, The Mess (Pig-Pen), which he plays with endearing humor and an undercurrent of subversive tort. The Mess's permanent dust cloud is cleverly conveyed by a sludge-colored hula hoop that Hunt impressively twirls around his waist (sometimes in nothing but tattered black socks) for 95 percent of the production.
...there are some supporting cast stand outs. KJ Middlebrooks takes a precise and unmitigated approach to the role of His Honor (Franklin) that decisively acts as a likeable and grounding force throughout the production. Audience favorite Amir Levi gives the funniest performance of the play as Jesus Christ. Levi's deliciously catty and memorable interpretation of deity literally draws spontaneous and well-deserved cheers from the crowd. Finally, as The Little Brother (Linus), Robbie Wilson's spot-on impression of Linus van Pelt is skillfully bolstered by refined emotive timing, genuine understanding, and delicate yearning.
Director Aldridge combs Absolutely Filthy into an unbroken stream of coherent shifts through time and place that keep the audience continuously laughing and efficiently delighted. Charlie's wake had a single groan-worthy cameo-character gimmick that we could have lived without, but otherwise, the production is brimming with lively staging elements and unexpected surprises. Aldridge impressively orchestrates scene changes that are just as entertaining as the actual narrative. Stephanie Kerley Schwartz gives an edgy, colorfully up-cycled tone to the set that is aesthetically magnetic.
Devoid of Schulz's signature innocence and simplicity, Absolutely Filthy is certainly not an authorized use of the Peanuts franchise, but I laughed enough to hope that the cease-and-desist letter demons stay far, far away for this Sacred Fools run.
--Mia Bonadonna
© 2013 Stage and Cinema
Working Author
My preference, when assigned a show to review, is to attend it "bare". This is not an admittance to being a card carrying member of the AANR*, but rather a declaration of intent to enter the production I'm meant to evaluate "bare" of any prior info and so hopefully without preconceived notions, expectations or personal prejudices.
Sometimes that works out, sometimes it don't.
"Absolutely Filthy" at the Scared Fools Theatre was one of those occasions where it not only worked out, but I also found myself scrambling for clues to unmask exactly what type of universe my Editor-in-Chief had plunged me into. Though I didn't recognize it as one, my first clue was a four panel comic strip by history's most successful cartoonist inconspicuously mounted in the foyer. In the strip's final frame, one of its iconic characters is featured delivering a two word punch line, "Absolutely filthy."
As the lights flared up at the onset of the evening's entertainment, the mis-en-scene confronting me was both perplexing and intriguing. A slapdash set that felt not so much "designed" as "discarded", dominated by an abstract, rough-hewed church exterior fashioned from hubcaps and Jell-o molds. Before it stood a begrimed, meth-mouthed street dweller (Brendan Hunt) spewing a scatological diatribe on the struggle of the "Urban homeless" (Homo demens cockroachus Americanus).
"Find a pigeon, break its neck, cook it over a lighter."
"Sometimes I s**t staples. I don't eat staples."
Okay, so far so good, but why the Hula Hoop? The Hula Hoop which the character – named as "The Mess" in the program – manages to gyrate continuously throughout his rant.
Clues began to add up as a group of former childhood friends, whom our babbling bum was once numbered among, slowly gather at the church for the funeral of Charles, recently succumbed to Encephalitis, who was the linchpin of the crowd, and apparently "The Mess'" dearest friend.
As the mourners ebb in, they all eventually recognize The Mess as their former playmate. There's The Pop Star (Curt Bonnem) who was once a classical pianist of great promise. Next is the neurotic insecure Iraqi vet suffering from PTSD (Robbie Winston) and his older crabby sister (Anna Douglas) who had once been the deceased's psychiatrist and who still carries a torch for The Pop Star in spite of his being openly gay. The Pop Star questions her presence at Charles' service, who as a child she tortured endlessly, by always pulling up the football right before he –
Great jumping Jehoshaphat! The dearly departed is Good ol' Charlie Brown, and the mourners the "Peanuts" gang! Schroeder, Linus, Lucy – all grown up and totally screwed up along the way! Now I get the Hula Hoop, "The Mess" is none other than the beloved Pigpen with the constantly twirling Hula Hoop filling in for the ubiquitous dirt cloud that travelled with him wherever he went.
This is an unquestionably unauthorized undertaking (Damn! I've been trying to go cold turkey on my alliteration addiction!) and no doubt has the corporate suits at MacPeanuts Worldwide, LLC throwing Grand Mal hissy fits.
The era of "Peanuts" extended from October 2, 1950 with the publishing of the first strip. The final Sunday strip appeared on February 13, 2000 the day after the death of creator Charles Schulz. During its fifty-year stint Peanuts would spread like a goose-stepping pandemic eventually obtaining a readership of 355 million and publication in over 20 languages.
There was no escaping its tentacles.
Even as I write this, two vintage Peanuts cloth banners are displayed on my office wall. It is indicative of its impact that, 13 years after Schulz's passing, reprints of the strips continue to appear in the nation's newspapers.
To MacPeanuts the 17,897 strips are hallowed text and those heathens at Sacred Fools are pissing in the holy water. "Good grief," sayeth Charlie Brown. Peppermint Patty is now a sexually aggressive fashion maven, and Marcie, her bookish hanger-on in the strip is just one of her former lovers among the group. Franklin, the strip's first black character, is an alcoholic judge. In a flashback, Snoopy descends from Dog heaven to comfort Charlie Brown on his death bed, and Snoopy is a babe who only speaks German!
Brendan Hunt who penned this profanity and Jeremy Aldridge who directed know their source material here and even weave in references to the numerous Peanuts TV specials with good results. And the sacrilege does not end with "Peanuts" either, as other beloved cartoon characters find themselves in the blasphemous crosshairs of satire and silliness; Cathy, Family Circle, Dennis the Menace, Jesus Christ.
Brendan Hunt's script delivers a non-stop spew of zingers and Aldridge's direction, while stretching out some gags a bit too long, is quite successful in keeping the show gushing along at a healthy pace. Stephanie Kerley Schwartz's set while not contributing overly to the concept of the material at least does not confound it.
Overall the cast is solid. Standouts are KJ Middlebrooks as Franklin (His Honor), Anna Douglas as Lucy (The Big Sister), Robbie Winston as Linus (The Little Brother), Scott Golden as good ol' dead Charlie Brown (The Deceased), and Amir Levi as good 'ol deader Jesus.
It is Hunt who provides the cherry atop the evening's fare in his pitch perfect performance playing the panhandling paranoid Pigpen. (Okay it's time to call my AA sponsor – that's right "Alliteration Anonymous"). Hunt seems more attune to his strengths than your average actor – Liam Neeson still doesn't understand why Spielberg didn't go with him for Lincoln – and his awareness has aided Hunt in penning a script which serves him as well as he serves it. He is to be commended first and foremost for never allowing the ruthless silliness of the show to bury the humanity of his character; and then there is that Hula Hoop. He keeps it going for the whole show, even as he strips down butt naked at the close of the first act he's still Hula-ing…or…Hooping. For a guy who has never once in his life gotten past the first looping of that plastic tube, which inevitably wound from my hips to the floor – I was impressed!
Now "Absolutely Filthy" is not a show for everyone. But if you're a fan of "Peanuts", a cartoon aficionado, or just someone who likes their humor pitched fast and underhanded then this might be just up your alley.
*The American Association for Nude Recreation, National Headquarters Kissimmee, Florida
--Ernest Kearney
© 2013 Working Author
blogcritics
Absolutely Filthy is good, clean, dirty fun. The characters talk a blue streak. And it takes the term "comic strip" literally, with funny full frontal nudity. Ultimately though, the show has a sweet take on tolerance that wouldn't be out of place in a Peanuts cartoon. That's no accident. Our hero is Pigpen (Brendan Hunt, also the playwright), a grown up version of the Charles Schulz character whose self-describing final words in the strip provide the play's title.
Homeless, 30, and off his meds, Pigpen's dunning for dollars outside a church where he keeps running into members of the old gang. This opening section leans heavily on "where are they now" for its humor and interest. Schroeder (Curt Bonnem) has become a mainstream sell-out. Lucy (Anna Douglas) is a hardball TV interviewer of sports celebs. While all the trajectories make sense, it's the little twists that satisfy. Marcie (Jaime Andrews) has ditched the glasses, gone temporarily blind, and become an oracular surgeon. Linus (Robbie Winston) is a war vet suffering from PTSD. He rubs his suit's pocket square for security.
They're all gathering at the church for Charlie Brown's funeral. That's right, Charlie (Scott Golden), who'd opened his own psychology shingle with a focus treating children, has died of encephalitis. Maybe it's Lucy's fault, from all those times she pulled the football away and he landed on his head. There's very little good grief as the gang tosses a lot of blame around.
They haven't even invited Pigpen to the service because his current state makes most of them uncomfortable. This is where Hunt first proves his ambitions extend beyond parody. When Schroeder and Lucy convince a church toady to shoo Pigpen from the church, he responds, "Which bible verse is that again, the one where Jesus decides he's flat-out tired of poor people?"
Hunt sides with the outsiders. He shows little inclination to get beneath the surface selfishness of winners Lucy, Schroeder, or famous fashion designer Patty (Rachel Germaine), who sports a fake French accent. Hunt gives some shading to Franklin (KJ Middlebrooks), whom Schroeder refers to as "that black guy whose name I can never remember," sweet Charlie (seen in flashback) and Sally Brown (Shannon Nelson), and the ever-vulnerable Linus. The ensemble cast does solid work but Hunt's Pigpen is the only one who speaks with a distinctive voice. Fortunately, he talks a lot.
Our hero takes decisive action by crashing the service. Calamity ensues, brightened by a special guest appearance from Jesus (Amir Levi). Pigpen blames his parents for giving him a nickname that sent him down his dark and dirty road. The messiah tops him with "It's hard, I know. My dad let me die... I don't want to sound like a martyr. Here's what you got to do, Pigpen. Get over it and get on with it."
Pigpen's effort to do just that dominates the second act. Hunt's attuned to the ways friends can help us either grow up or become cartoons of our old selves. Schroeder puts it best in a song: "Someday / When I look back / At everything that I ever did / I'm gonna feel like / I spent my whole life / Frozen in time as an eight year old kid /... I don't like what I see / 'cause I'm a parody." The song's cleverness is compounded by its meta-theatricality, since it doubles as a defense against any charge of copyright infringement.
Hunt's inventiveness abounds. He's solved the biggest challenge in presenting Pigpen: what to do about his ever-present dust cloud. Hunt impressively keeps a hula hoop gyrating around his hips for most of the show. Director Jeremy Aldridge creates entertaining bits of business for the times Pigpen sits and, in a pivotal moment of personal growth, showers. Set designer Stephanie Kerley Schwartz and prop designer Emily Donn deserve a share of the credit for moments like these which pop with giddy abandon...
In Hunt's estimation, Charlie Brown was the best kind of friend to Pigpen, giving him a wide berth to be himself. With its twisted humor and straightforward tenderness, Absolutely Filthy deserves the same kind of support. Yes, it kills off CB, but this unauthorized parody honors its pedigree. In the end Hunt makes sure the blockhead gets a valentine. The playwright/actor/hula-hooper deserves a quiver-full in return.
--Jon Magaril
© 2013 blogcritics
The AAUGH Blog
Absolutely Filthy, a worthwhile parody
Last night, I was an invited guest to see Absolutely Filthy, a full length play parodying Peanuts currently in its initial run being staged at the Sacred Fools Theater in Los Angeles. Built from material workshopped as part of the Sacred Fools's weekly late night "Serial Killers" project, this play takes a look at the Peanuts gang later in their lives, all grown up and with their character attributes being subjected to the more adult world. While that's definitely a style of Peanuts parody that has been done repeatedly and has gotten tiresome, this play doesn't stick solely or even primarily with the shock value to be had from doing so, but rather focuses on saying not only something larger about some of the characters, but to have its own message that derives from what it is saying.
The story focuses on Pig-Pen, listed in the cast list as "The Mess", which describes his character in more ways than one. Where most of the characters have grown to some form of success, Pig-Pen's path has gone the other way, leaving him a destitute and sanity-challenged street person. The role is filled quite ably by the playwright Brendan Hunt, who brings a full energy to the character… one which needs energy to be performed because Pig-Pen's dust cloud is indicated by a dirty hula-hoop being kept in constant motion, an effort which merely punctuates the characters pointed retorts to the other characters. (Also, I suspect, an effort which comes in handy for the actor in another way, as hooping throughout the two hour play each night probably keeps him physically tight… and most actors who have a nude scene, as this one does, like to make sure they're looking their best when they do.) The occasion is Charlie Brown's funeral, which is bringing Pig-Pen back into contact with his childhood chums for the first time since college, and the story comes from their reaction to him and from his counterreaction, all of which lend to the show's central question of acceptance and foregiveness.
Is the play's take on the Peanuts characters accurate? In some cases, I'd say "yes" (Schroeder (Curt Bonnem), who has taken his talents and become a successful popstar, for example); in other cases I'd say "no" (and that includes the central conceit, as Pig-Pen was always the character who was most comfortable with who he was), but part of that is just the nitpicking of a Schulz specialist and more importantly that doesn't matter. What matters is that Hunt has taken his views of the characters, expanded on them, and built something much more full from it. It may not be fully correct, but it is fully legitimate.
All that talk of a larger purpose may make it sound like this isn't filled with quick cheap little jokes about the characters, but it is of course, many of them quite funny. The actors working under director Jeremy Aldridge often do a fine job of capturing the kids as grown-ups. In some cases, that seems pretty easy – Lucy can be captured largely by being loud (although that is served quite well by Anna Douglas, who treats the character of the sort of type-A businesswoman that Catherine Zeta Jones might've played on film) – but is more impressive when Linus (Robbie Winston) is captured by how he is quiet. Sometimes there just isn't much inherent in the character to draw on; Schulz never really invested Franklin with the sort of fully fleshing out that other characters got, although KJ Middlebrooks certainly brings a full sense to the character as Hunt wrote him, and is a strong presence on the stage.
I tend to judge Peanuts-as-adults parodies quickly on one criterion: does it cast the Peppermint Patty and Marcie relationship as a lesbian one? And while the answer is yes, I will credit the show for making the situation there more complex than just that, more than just ha-ha, the tomboy and her friend were lezbos material that underlies most such takes.
The work is not flawless. It seems to lose focus and suffer most of the time that a character not derived from Peanuts is involved, whether that is the people of the neighborhood like a priest or a policemen, or whether it's parodies of characters from other strips (which also faced the problem of less audience recognition; in general, characters from Family Circus or Bud Blake's Tiger are less likely to be remembered by the general public, much less a crowd that specifically shows up for a Peanuts parody.) But these moments can be ridden out and do not derail the work as a whole.
The play is a strong success on its small theater scale; last night was a sell-out, the reviews from the Hollywood Reporter and other arts magazines have been strong, and the show's run has been extended, but only through March 10. If you're in the L.A. area and want to see it, I'd suggest you arrange for that soon. (Having said that, I suspect that this play will have a life beyond this initial run, much as the Peanuts-as-adults Dog Sees God has, so you may have chances to see it in other places, with other casts.) This play is not for the delicate of sensibilities, as it does include nudity and harsh language. It's not thematically aimed at your own little neurotic kids anyway, so don't bring them along.
--Nat Gertler
© 2013 The AAUGH Blog

Absolutely Filthy has not been authorized or approved in any manner by the Charles M. Schulz Estate or United Features Syndicate, which have no responsibility for its content.