Neverwhere
EXTENDED THROUGH MAY 25!
Thursdays, Fridays & Saturdays @ 8pm
Sundays @ 7pm
WEST COAST PREMIERE! When Richard Mayhew stops to care for an injured girl on the street, he is drawn into a nightmare shadow world beneath the city of London. To return to his normal life, Richard must brave countless trials, uncover the truth behind a dark conspiracy, and face the indomitable Great Beast. Journey to London Below with a rogues' gallery of liars, outcasts and assassins, on a treacherous voyage to awaken the hero within.
Read "In Between the Warp and Weft, or, A Sublime Monstrosity" - set designer Michael Schneider's series of blog posts about his inspirations for and work on the Neverwhere set.
● Part One
● Part Two
● Part Three (interview with adaptor Rob Kauzlaric)
● Part Four (in which author Neil Gaiman pays a visit)
Read more about Neil Gaiman's visit to Sacred Fools at ComicBook.com
Reviews
"Under the resourceful leadership of director Scott Leggett, utilizing every inventive trick the creative nutjobs who populate Scared Fools have to conjure, 'Neverwhere' goes everywhere the imagination can take it... Critic's Score: A" -BackStage
"...preserves the charm and magic of Neil Gaiman's novel." -LAist
"Noteworthy creativity accompanies 'Neverwhere' in its ambitious West Coast premiere at Sacred Fools." -L.A. Times
"Scott Leggett has pulled every element of this production together to create magical perfection... To juggle this many locations and characters with this much energy shows the work of a master... If you love Neil Gaiman, you'll love this show. If you love dark fantasy, you'll love this show. If you love the theater, you'll love this show. This production of Neverwhere should be performed everywhere, everyday, because it will not disappoint. Mind the gap. Overall grade: A+" -SciFiPulse.net
Cinemagraphs & Photos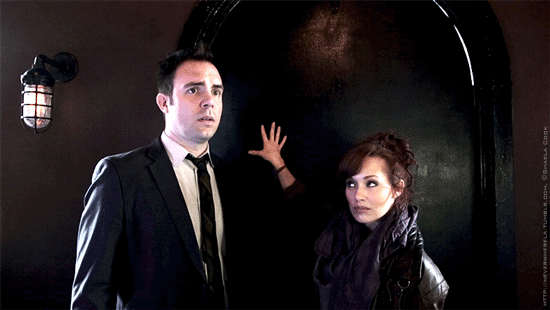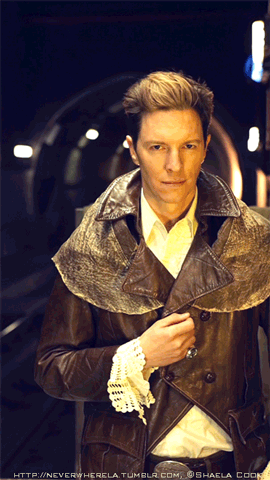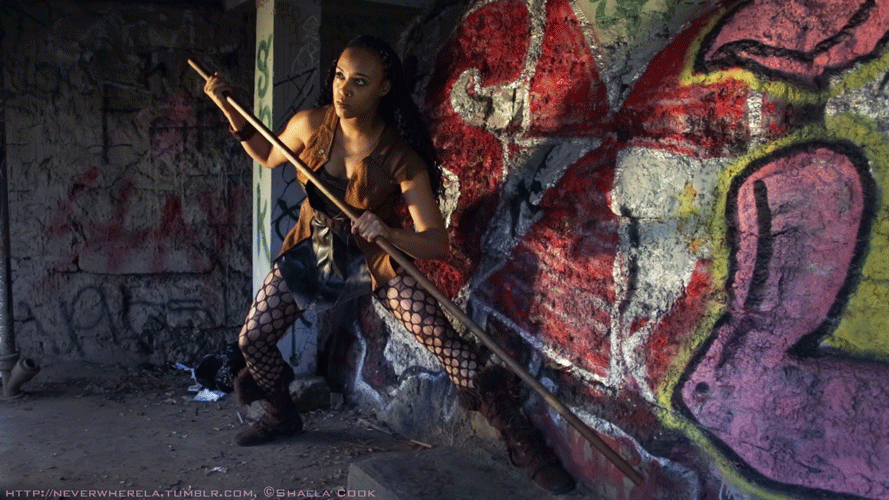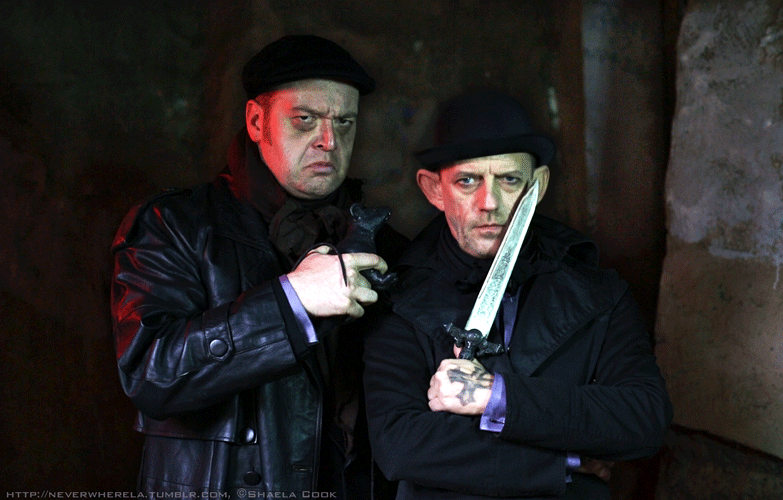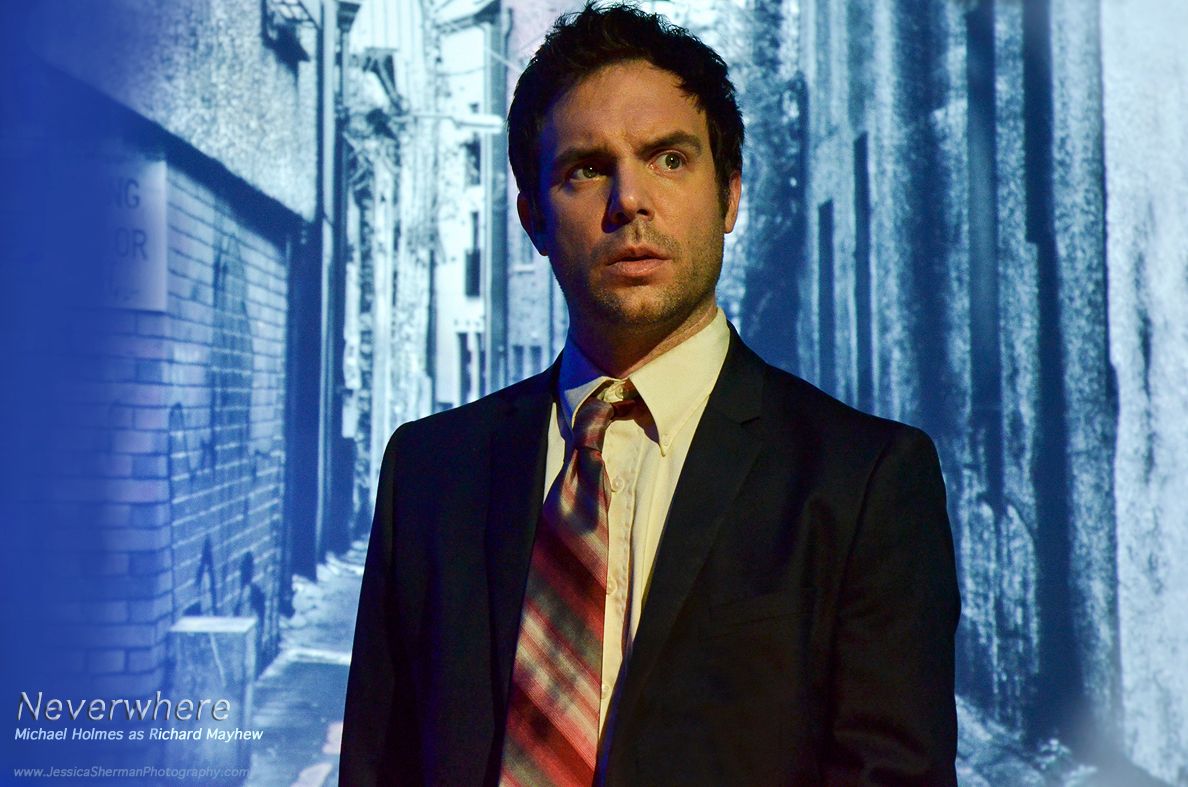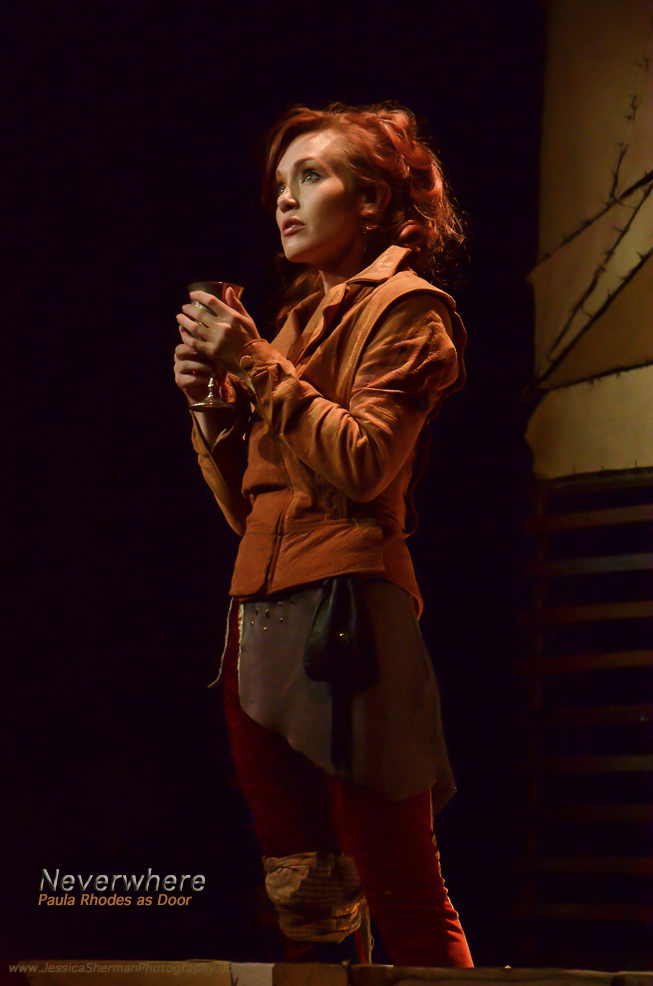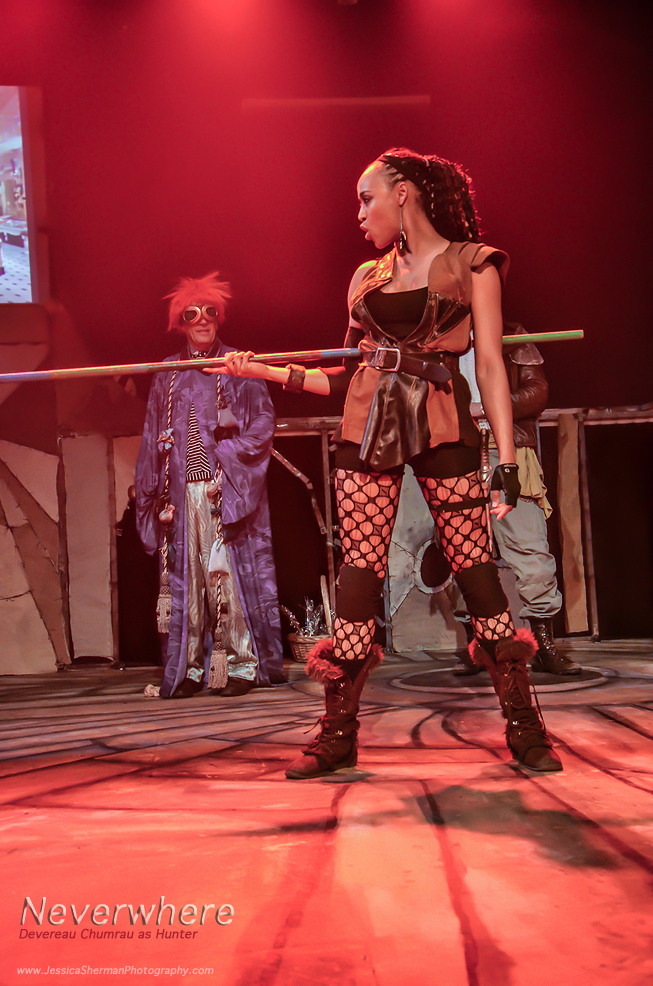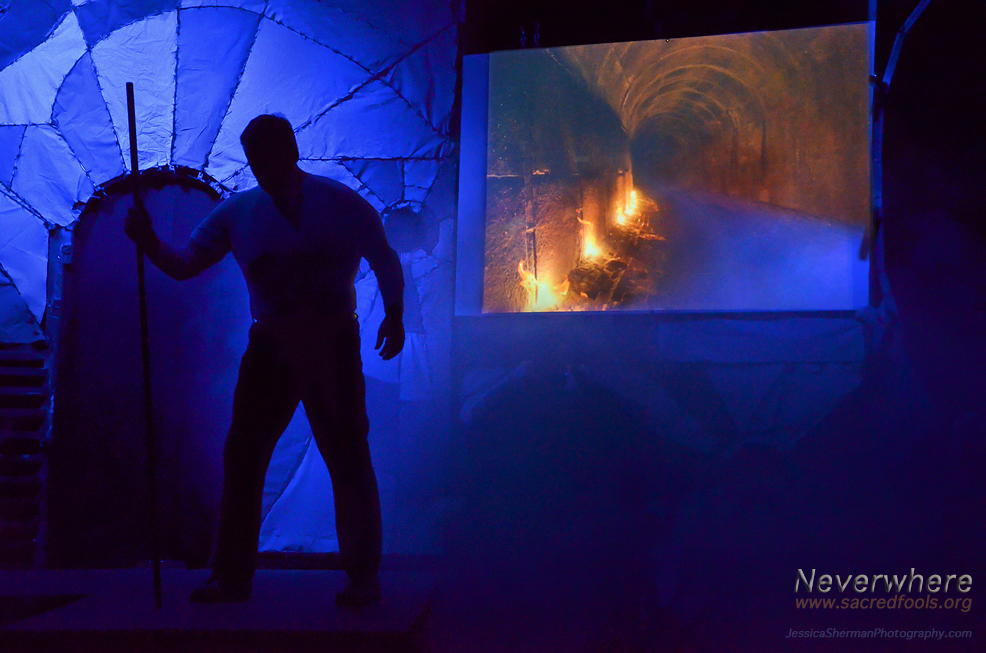 Cast & Crew Interview
Cast
Michael Holmes as Richard Mayhew
Paula Rhodes as Door
Ezra Buzzington as Croup
Bryan Krasner as Vandemar
Cassandra Vincent as Jessica
Marz Richards as Old Bailey/Earl
Jonathan Kells Phillips as Marquis de Carabas
Carlos Larkin as Islington
Devereau Chumrau as Hunter
Julia Griswold & Donnelle Fuller as Puppeteers/Ensemble
Understudies
Bryan Bellomo as Richard Mayhew
Alejandra Bursik-Cervantes as Door
Guy Picot as Croup
Scot Shamblin as Vandemar
Shaela Cook as Jessica
Mike Mahaffey as Old Bailey/Earl
Bob Simpson as Marquis de Carabas
Joshua Benton as Islington
Sondra Mayer as Hunter
Crew
Lead Producer - David Mayes
Producers - Henry Dittman, Gregory Guy Gorden, Monica Greene, Michael Holmes, Scott Leggett & Marz Richards
Assistant Director - Natasha Norman
Stage Manager - Suze Campagna
Composer - Ryan Johnson
Set Design - Michael James Schneider
Light Design - Matt Richter
Costume Design - Martin Morse
Assistant Costume Designer / Seamstress - Ruth Silveira
Sound Design - Mark McClain Wilson
Wig/Hair Design - Matt Valle
Master Builders - David Knutson & Mike Mahaffey
Projection/FX - Anthony Backman & Ben Rock
Puppet Design - Ted Blegen, Miles Taber, Rachel Applebaum & Aaron Francis
Prop Design - Kathy Bell Denton, Cari Kenny & Justina Sexton
Cinemagraph Photographer - Shaela Cook Photography
Show Photographer - Jessica Sherman Photography
Fight Choreographer - Andrew Amani
Logo Design - Kwasi Boyd-Bouldin
Reviews
BackStage
'Neverwhere' Conjures a Dank, Fantastical Netherworld
When blithely satisfied British office drone Richard Mayhew stops to help an injured girl named Door who is moaning on the pavement, his complacent world of job promotions and his engagement to the kind of woman he's expected to marry are dashed to smithereens. Robert Kauzlaric's epic adaptation of Neil Gaiman's 1996 fantasy novel "Neverwhere" travels with Mayhew and his rescued waif into a dank netherworld "between the cracks of ordinary perception" below the streets of London.
In a place populated by cheerfully dangerous assassins, dubious heroes, talking rats, and fantastical creatures waiting to be challenged, Mayhew's journey through the sewer ducts and frightening corners of Neverwhere becomes a quest to find a key that could unlock the mystery of why Door's family was murdered and return him home to London without once having to click ruby slippers together. Unlike in Dorothy Gale's classic adventure, however, the idea that "there's no place like home" comes into question as Mayhew's reluctance to participate turns into a gallant mission.
In the physically challenging role of Mayhew, understudy Bryan Bellomo, in for Michael Holmes, has a quiet, wide-eyed demeanor that helps the audience identify with Gaiman's classic Everyman. Bellomo is so convincing with the injuries that befall poor Richard during the three-hour running time that it was a surprise to find him well and not limping at the curtain call. At times even the color appeared to drain from his face, leaving one to wonder if he really had turned his ankle during one of Andrew Amani's many tightly choreographed fight sequences.
The supporting cast—featuring performers utilizing a variety of broad playing styles that somehow don't collide with one another—is fiercely committed to telling the exhausting tale. Paula Rhodes is a sufficiently traumatized Door, Jonathan Kells Phillips is drippingly over-the-top as the underworld's roguish royal Marquis de Carabas, and Devereau Chumrau is impressive as Hunter, the Amazon warrior along to protect our heroes. As a fiendish pair of cheerfully cartoony brutes, Mr. Croup and Mr. Vandemar, Ezra Buzzington and Bryan Krasner steal the show, contemplating devilishly evil murder plots with unmistakable glee. If they had suddenly launched into a chorus of "Brush Up Your Shakespeare," no one in attendance would have been even mildly surprised.
Under the resourceful leadership of director Scott Leggett, utilizing every inventive trick the creative nutjobs who populate Scared Fools have to conjure, "Neverwhere" goes everywhere the imagination can take it. On the wide and unwieldy stage, Michael James Schneider's game board of a set—featuring platforms, sewer ducts, and more secret passages than Aladdin had lamps—consists of roughhewn stitched-together pieces of fabric, resembling something conjured by Tim Burton. With Martin Morse's "Pee-wee's Playhouse" costumes created out of anything available and an incredible array of lighting effects by Matt Richter that defy the theater's limited arsenal of instruments, there's a fantastical bare-bones quality about "Neverwhere" that sweeps the viewer down into the sewers of London—if, of course, you're ready to let your mind make the crossing.
Critic's Score: A
--Travis Michael Holder
© 2013 BackStage
LAist
Neil Gaiman's 'Neverwhere' a Big-Canvas Fantasy With Charm at Sacred Fools
Over the years I've come to respect Sacred Fools Theater Company as one of the most adventurous theatre groups in town. Its history is full of big shows that seem too ambitious for the space and financial means, but time and again the company triumphs, from shows such as The Mystery of Edwin Drood and Gorey Stories in the past to Watson and Stoneface in the present. They've done it again with Neverwhere, a big-canvas fantasy that, while rough around the edges, still preserves the charm and magic of Neil Gaiman's novel.
Princess Door (Paula Rhodes) is on the run from the assassins Mr. Croup (Ezra Buzzington) and Mr. Vandemar (Bryan Krasner), men who've just murdered her family. She is helped by bored office drone Richard Mayhew (understudy Bryan Bellomo), who is quickly drawn in to her unusual life in the hidden world below the streets of London. Door is looking to get to the angel Islington (Carlos Larkin), who supposedly knows who had her family killed. To this end she acquires the help of bodyguard Hunter (Devereau Chumrau) and the well informed Marquis de Carabas (Jonathan Kells Phillips). In the midst of all these heroic characters, Richard is surprised to find he's much more brave than he ever imagined.
Bellomo brings energy and humor to what could be a fairly bland role, and Rhodes finds a good blend of charm and concern as the embattled Door. Buzzington is amusing if not quite threatening enough as Croup, but Krasner makes up for it with an appropriately big and hilarious performance as Vandemar (a man whose answer to "What does anyone want?" is "Dead things. More teeth."). Chumrau seems like a warrior archetype brought to kick-ass life as Hunter; she's fantastic in both meanings of the word.
Phillips, looking like John Barrowman and sounding like Richard E. Grant, is equally great as the sarcastic Marquis in an enigmatic gem of a performance. Larkin brings a wonderful intensity to Islington and a gleeful psychosis to the Lord Rat-Speaker, but also convinces as fellow office worker Gary in an impressive demonstration of acting range. Finally, Marz Richards is admirably dour as the Abbot and my only complaint with Cassandra Vincent's ice cool Lamia was that she was so good I wish she'd had more time in the show.
Director Scott Leggett stages the play creatively, using projections and video to create whatever locations he needs, and his pacing is swift (the three hour running time flies by). Robert Kauzlaric's adaptation does a professional job of taking something that might be better served by having the bigger budget of a film and making it work for the stage, retaining the best bits of Gaiman's novel. Martin Morse's costume design is the production MVP, with excellent work all around, from the Marquis' distressed leather duster to Hunter's battle attire.
--Terry Morgan
© 2013 LAist
L.A. Times
Noteworthy creativity accompanies "Neverwhere" in its ambitious West Coast premiere at Sacred Fools. Robert Kauzlaric's adaptation of Neil Gaiman's novel about a parallel world beneath London isn't flawless, but director Scott Leggett and his resourceful forces turn virtual handsprings to make it play.
Originally a 1996 BBC mini-series, "Neverwhere" echoes "Doctor Who," Terry Gilliam's "Brazil" and countless fantasy chronicles, not least "The Wizard of Oz." When office drone Richard Mayhew (Michael Holmes) encounters unconscious Door (Paula Rhodes) on the street, his Good Samaritan impulses upend his life.
Indicatively named Door is the sole survivor of a slaughtered noble family from London Below, which functions concurrently with our world. After joining Door's vengeance quest, Richard discovers he has ceased to exist in London Above. A labyrinthine allegory ensues.
Although designer Michael James Schneider's set tends toward serviceable, it allows for many atmospheric effects, with Matt Richter's prismatic lighting, Mark McClain Wilson's ominous sound and Martin Morse's eclectic costumes particularly evocative.
Faced with daunting technical and spatial challenges, director Leggett's avid cast spans the venue with aplomb. Holmes has an apt Everyman quality, though his dialect fluctuates (he's not alone there), and Rhodes is suitably spunky, if lacking in melancholy undertow. Standouts among their multi-parted colleagues include Jonathan Kells Phillips' flamboyant Marquis, Devereau Chumrau's fierce Hunter, Carlos Larkin's ambiguous Islington and the scene-stealing assassins of Ezra Buzzington and Bryan Krasner.
The impressive execution often counters Kauzlaric's schematic narrative, which is alternately witty, precious and obviated. Its near-three-hour running time mirrors the miniseries, yet arid patches surface throughout. Devotees of the property and this ever-fearless company may nonetheless be transported.
--David C. Nichols
© 2013 L.A. Times
SciFiPulse.net
The Press Release: "When Richard Mayhew stops to cared for an injured girl on the street, he is drawn into a nightmare world beneath the city of London. His journey to 'London Below' is fraught with a rogues' gallery of liars, outcasts and assassins. Richard must brave countless trials, uncover the truth behind a dark conspiracy, and face the indomitable Great Beast. Can Mayhew survive this treacherous voyage to awaken the hero within and return to his normal life?" This is a summary of an atypical urban fantasy. The novel was written by Neil Gaiman, who knows a thing or two about engaging stories, and as a live production my expectations were high at the premiere. Overall grade: A
The set: As you enter the lobby at Sacred Fools you find yourself in a tube entrance, complete with maps on the walls and warnings painted on the ground. Inside the theater you are greeted to the work of Michael James Schneider. The floor is a spiral mish-mash of wood. To the audience's right is a large column sitting atop a dias wide enough for an actor to walk upon. In the back center is a split platform with the bottom half being two small arched holes, as one would expect to find in a sewer, just big enough for someone to crawl through. The top of the platform is a large oval opening, where many scenes, such as the protagonist's office, can occur. To the left is a raised platform with stairs before and to the right of it. The platform is big enough to serve as an apartment, library or residence for a supernatural character. Between the oval opening and the "apartment" platform is a projection screen that enhances where the characters are, as well as animations to highlight emotional scenes. There is a ladder on the extreme left for one sequence where the characters go into the rafters. It is a perfect set for the many settings that this play contains. In additon to the brilliant layout is the selection of the design in the set: it is seemingly composed of yellow, tan and brown fabrics stitched together as if they were wood panels. It evoked artist, and frequent Gaiman collaborator, Dave McKean. I enjoyed soaking in the look of this set before the play began. That are also several doors that are hidden in the set due to the patterns. Mr. Schneider is to be congratulated for creating such a work of beauty. Overall grade: A+
Projection FX: Having enjoyed the set before the show even began, my eyes fell frighteningly upon the projection screen. I'm not a fan of film projections during a live performance, just never have been. When the performance began I was so pleased with what Anthony Backman and Ben Rock have done with their choices in visuals and just a few animations (my favorite being the "moment" in the library with no doors), that I'm going to have to consider my previous dislikes of projections during productions as wholly wrong. Both men's contributions significantly enhanced the production. Overall grade: A
The story: I will now commit blaspheme in this review: I've never read Neverwhere, nor have I seen the BBC production. I've read Gaiman's comics (for my pleasure) and his children's books (to my daughters), but I've never read one of his novels. I know, I know…But I'm coming into this production in the best way: it's all new to me–I have nothing to base it on. When I think of what I saw in this show, this had to have been a nightmare for Robert Kauzlaric to adapt. There were so many different settings, characters, action sequences, and there's even the Giant Beast under London that's essential to the story–and it's all in this play! You get drama, action, fantasy, and a wonderful sense of humor, often from characters Richard Mayhew or the Marquis de Carabas. Joining these men on stage were two of the strongest women you'll ever see, Door and Hunter. The two initial villains of the piece, Mr. Croup and Mr. Vandemar, were amazingly wicked, scary and fun. All of these characters would be amazing in a book, but to see their story before you was a marvel. Overall grade: A+
The costumes: You can't have a fantasy without some theatrical costumes, and does Martin Morse deliver the goods! The simplest was Richard's upworlder garb: slacks and a white shirt. I had assumed since this was set in the sewers its denizens would be in drab and dreary attire, but this was not so. Door is gorgeous in her bright, harlequin-ish costume befitting someone of her station. The Marquis was a rogue decked as a dandy in brown leather that evoked the look of a classical hero. Hunter was a strong woman in brown leather and stockings creating a look of any woman of power from Xena: Warrior Princess. And then there was Islington, whose Ziggy Stardust look demanded you focused on him–and you will never forget his eyes! And I would be terribly remiss if I didn't say how much I loved Richard's friend Gary who was dressed like Michael Caine! Every costume was unique and wonderful. Overall grade: A
The sounds: There was an original score accompanying this performance created by Ryan Johnson. It was the perfect match for the action, tension and hopes of those on stage. During the suspensful scenes, I found myself sinking into my seat when there was no score, much as you would in a horror movie knowing something bad was coming since the enjoyable music has been silenced. Mark McCain Wilson was the sound designer and he has been a very busy man. I now know that I should be afraid of the sounds of a subway and welcoming when I hear the squeak of a rat. Overall grade: A
The lighting: I find myself wary of the following, thanks to Matt Richter: the blinding light used in office cubicles, old cameras' flashbulbs and crossing Knight's Bridge. Richter's strobes are amazingly effective in the slow motion scenes (trust me, you'll understand this when you see the show). Overall grade: A+
The fight coreography: Wow–Was this unexpected! I've been to many plays featuring fighting, but when Hunter appeared on the stage the battles became amazing! A body flip in a bodyguard auditioning sequence was incredible! Major kuddos to Andrew Amani! Overall grade: A+
The puppets: I know! All that's missing from this production was the kitchen sink! Garbed in theater black, Donnelle Fuller and Julia Griswold brought bird and beast to life, but their crowning achievement was a rat, whose slow sarcastic turn made the audience roar. Overall grade: A
The actors: Bryan Bellomo was protagonist Richard Mayhew the night I went and he was spectacular. He captured the worried, lost look of a man who simply wants to go home and confronts many fears to do so. He was the perfect everyman, and I loved his comedic timing and asides. Paula Rhodes (whose picture accompanies this review) was the perfect reason for Richard to begin his adventures. Rhodes began her character as a fragile waif and blossoms into a strong woman. The Marquis de Cabaras was played by Jonathan Kells Phillips who was the type of rogue that any boy or man wishes he was. Every woman in the audience perked up when he appeared because he was so dashing and handsome, and I'll thank Mr. Phillips to stay away from my wife. Hunter was portrayed by Devereau Chumrau brought heroic strength and nobility to the play. When she is giving her monologue on her intentions, it's stunning. I believed every word she said. She was a powerhouse in this production. Jessica, Richard's fiancee, was played by Cassandra Vincent who effortlessly brings glamor and style to her role, with enough undercurrent of a type A personality to frighten every man in the theater, yet create compassion when she encounters Richard later in the play. Mr. Coop was played by Guy Picot at my showing and he made his character a classical wordsmith of a villain who wonderful words are only a precursor to the pain he will inflict. He was the type of charcter you longed to see more of, because he was so deliciously evil, but feared for you knew someone was going to get hurt. He was a highpoint of the show. Mr. Vandemar, Coop's associate, was another highlight thanks to actor Bryan Krasner. His strength his appropriately overwhelming and where Coop was a knife, Vandemar was a sledgehammer. His fight scenes were amazing! Islington was a scene stealer, played by Carlos Larkin. You could not look away as he stared into the audience. I hung on his every word. His voice was beautifully hypnotic. Incredible performance! Old Bailey was a fun beacon of information acted by Marz Richards, who obviously enjoys his character. He was also a humorous character on a train, and his final robed character rivals Islington for taking the stage, though he was much more humorous. Richards was just fun to watch. A perfect cast. Overall grade: A+
The director: A show can have minor successes and suffer in some ways: great cast, poor staging or great set, terrible lighting. Scott Leggett has pulled every element of this production together to create magical perfection. This was a quickly paced show, mirroring the characters' haste, and I felt pulled in with them in their races through the tunnels and sewers. To juggle this many locations and characters with this much energy shows the work of a master. Overall grade: A+
The final line: We should be thankful this has crossed the pond and opened its doors in California. If you love Neil Gaiman, you'll love this show. If you love dark fantasy, you'll love this show. If you love the theater, you'll love this show. This production of Neverwhere should be performed everywhere, everyday, because it will not disappoint. Mind the gap. Overall grade: A+
© 2013 SciFiPulse.net