Astro Boy and the God of Comics
EXTENDED THROUGH AUGUST 8!
Previews June 13-14 & 19
Fridays & Saturdays @ 8pm
Sundays @ 7pm
plus Thursday, July 2 @ 8pm
Tickets: $25 (Previews: $15)
Friday, June 26: Donate What You Can (see below)
(310) 281-8337 or Buy Tickets Online
WEST COAST PREMIERE! This multimedia performance art piece tells the story of famed Japanese animator Osamu Tezuka and Astro Boy, his most famous character. This West Coast Premiere features interactive video, live drawing and stylized movement. It's a whimsical, retro sci-fi visual extravaganza that examines post-WWII fascination with technology and destruction, and the relationship between creation and creator.
Please note that ASTRO BOY explores themes of war, illness and death, and may not be suitable for children under 10.
Awards
NOMINATED FOR AN OVATION AWARD!
Video/Projection Design - Anthony Backman & Jim Pierce
WINNER OF TWO LADCC AWARDS!
CGI/Video - Anthony Backman & Jim Pierce
Specialty (for Live Art Direction) - Aviva Pressman
NOMINATED FOR TWO OTHER LADCC AWARDS!
Direction - Jaime Robledo
Sound Design - Jaime Robledo
WINNER OF A STAGE RAW AWARD!
Video / Projection Design - Anthony Backman & Jim Pierce
NOMINATED FOR FOUR OTHER STAGE RAW AWARDS!
Production of the Year
Direction - Jaime Robledo
Costume Design - Linda Muggeridge
Lighting Design - Matt Richter

Friday, June 26: DONATE WHAT YOU CAN. It's "Pay What You Can" with a twist! Half of all proceeds for this performance will be donated to Heart of Los Angeles. In neighborhoods often overrun by poverty, crime and a feeling of hopelessness, Heart of Los Angeles invests in youth to build stronger communities. Heart of Los Angeles gives some of the city's most vulnerable youth a chance to succeed in life. From what started 25 years ago with just a handful of kids in a dilapidated gym, HOLA now serves over 2,300 youth ages 6-24, on a four-building campus in the Rampart District. HOLA has three core academic programs and offers a wide variety of enrichment activities, including a comprehensive music department, a robust visual arts program, premier sports leagues and activities, leadership and healthy living classes, and a cutting edge scientific arts program. Tickets that night may only be purchased at the door. Call (310) 281-8337 to make a reservation.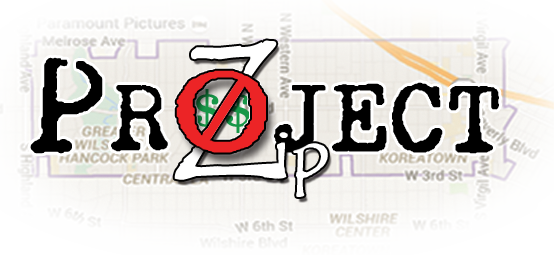 4th of July Weekend: THE ZIP PROJECT. With the help of a DCA grant, Sacred Fools welcomes all of our neighbors to see our shows for free! From Thursday July 2 through Sunday July 5th, if you live or study in our Zip code (90004), you pay zip! Reserve your free tickets online using code "90004," make a phone reservation by calling 310.281.8337, or simply show up at the door! Please bring proof of residence (drivers license, utility bill, student ID) to the box office to pick up your reserved ticket.
Special Sunday Anime Nights! Come see ASTRO BOY and then stay for our post-show round table / meet & greets with animators, directors, and voice actors from your favorite animated series. June 28: Robbie Daymond, Yuri Lowenthal, Tara Platt & Ezra Weisz; July 5th: special talkback with our own "Astro Boy" cast; July 12th: Carrie Keranen, Wendee Lee & Michael Sorich; July 19th: The cast of "Kill la Kill"; July 26: Matt Peters & David Vincent; August 2: Erin Fitzgerald, Abraham Benrubi, Dana Snyder, Brian Studler, Matt Peters (Disney animator)
Dr. Sketchy's Anti-Art School - Friday, July 10th: Dr. Sketchy's is the world's premier alternative drawing movement. Every month, over 3,500 artists gather in over a hundred cities to sketch glamorous, subcultural models in an atmosphere of artistic mayhem. But you don't need to be a professional to join in. Lots of people who have never drawn before attend Dr. Sketchy's. It's a fun, non-judgmental environment to try your hand at drawing. Special tickets must be purchased for this event - $25 tickets purchased via the Dr. Sketchy site includes Astro Boy at 8pm and the Dr. Sketchy event at 10pm; $12 for Dr. Sketchy only. 21 and over only.
Cosplay Night - Friday, July 17th: Come to the show in costume as your favorite anime, manga, comic book, cartoon, video game, or TV/film character and get $10 off the regular admission price. Advance reservations can be made by calling (310) 281-8337.
Reviews
"...a scintillating, invention-packed tour de force of visual wit, breathtaking acrobatic performance and sumptuous, seamlessly integrated, multimedia production design... poignantly whimsical and critically savvy... a kind of high-wire — and highly polished — vaudevillian pastiche. GO!" -Bill Raden, L.A. Weekly
"RECOMMENDED / TOP TEN / PICK OF THE WEEK ...spectacular... brilliantly creative... dazzling... delightful." -Terry Morgan, Stage Raw
"...approaches technical challenges with feverish innovation." -@ This Stage Magazine

"...tour-de-force... jaw-dropping... This intersection of cartoon and stage beautifully serves both and is a tribute to the art of possibilities and the possibilities of art. Time is running out. Don't miss it." -Backscatter
"...incredibly inventive... totally unique and truly spectacular... a matchless 70-minute thrill ride..." -Travis Michael Holder, Arts in L.A.
"...delightful... creative and inventive... a stellar cast and superbly talented artists... executed brilliantly... Funny at times, and heartfelt..." -AtsBeat L.A.
"...mind-boggling... certain to be one of the summer's most gigantic hits... You can expect to see lines around the corner for weeks and weeks to come as theater buffs, graphic novel lovers, manga fanatics, and Astro Boy fans far and near await this most thrilling of summer theatrical treats." -Steven Stanley, StageSceneLA
Previous productions:
"...ingenious... You don't have to be a manga maniac or a devotee of anime to enjoy Astro Boy and the God of Comics... What Power has done with this little show is tell the unique yet universal story of an artist and his obsession by yanking you into his work and his world, using every theatrical trick in the book. What a way to travel." - Jane Horwitz, The Washingtonian
"...wildly inventive... the material was so sophisticated and, at times, hard-hitting that it can be enjoyed by audiences of all ages." - Alex Lonati, BWW Reviews
"...part sci-fi parable and part cockeyed valentine to creativity — a value that this multimedia treat itself embodies." - Don Aucoin, The Boston Globe
Photos
Cast
Heather Schmidt

as Astro Boy
West Liang as Osamu Tezuka
Ensemble:
Zach Brown, Megumi Kabe, Anthony Li, Mandi Moss

, Jaime Puckett

& Marz Richards

Understudies
Erin Sanzo as Astro Boy
Scot Shamblin

as Osamu Tezuka
Ensemble:
Gregory Guy Gorden

, Lisa Anne Nicolai

& Aviva Pressman

Crew
Lead Producer / Technical Supervisor - Brian W. Wallis


Live Art Director - Aviva Pressman


Assistant Director - Rebecca Larsen


Associate Producer (Design/Tech) - Shaunessy Quinn


Associate Producer (Casting/Outreach) - Seamus Sullivan


Marketing Coordinator - Carrie Keranen


Stage Manager - Heatherlynn Gonzalez


Assistant Stage Manager - Suze Campagna


Scenic Design - DeAnne Millais


Lighting Design - Matt Richter


Costume Design - Linda Muggeridge


Prop Design - Brandon Clark


Puppet Design - Natsu Onoda Power
Sound Design - Jaime Robledo


Original Music - Ryan Johnson
Stunt/Fight Choreography - Mike Mahaffey


Suzuki Trainer - Joe Fria
Projection Video Design - Anthony Backman
Projection Animation Design - Jim Pierce
Animation Painter - Danielle Heitmuller
Stage Crew - Bo Powell

& Alyson Schultz


Production Intern - Sophie Pietrkowski
Performance Photography - Jessica Sherman Photography
Key Art - Christopher Komuro

- Sacred Fools Company Member
This performance is made possible in part by a grant from the City of Los Angeles, Department of Cultural Affairs.
Reviews
L.A. Weekly
A Multimedia Spectacle About the Japanese Walt Disney
GO! At this stage in his career, showman-director Jaime Robledo (Stoneface) could probably stage the phonebook and come away with a scintillating, invention-packed tour de force of visual wit, breathtaking acrobatic performance and sumptuous, seamlessly integrated, multimedia production design.
So it's almost beside the point that Robledo's latest production, Natsu Onoda Power's play Astro Boy and the God of Comics, is also a poignantly whimsical and critically savvy documentary homage to the man many consider to be the Japanese Walt Disney — manga master and anime pioneer Osamu Tezuka (played by West Liang).
Though Tezuka may be less than a household name in the U.S., the DNA of his most recognizable creation, the dough-faced, half-pint robot superhero Astro Boy (perkily brought to wide-eyed life by Heather Schmidt), can be found in anime ranging from low-budget cartoon schlock like Speed Racer and Pokémon to the cyberpunk auteurism of 1998's Serial Experiments Lain.
Power's script counts down in reverse chronology as 12, anime-like episodes that work their way back from the final Astro Boy TV installment, through Tezuka's origins as a manga artist, and ending on the searing national trauma of Nagasaki and Hiroshima.
In-between, Robledo, an ensemble of Sacred Fools all-stars (with standouts Mandi Moss and Marz Richards) and a crack production design (including DeAnne Millais' set, Matt Richter's lights, Anthony Backman's projections and Jim Pierce's animation) — pump up Power's text into a kind of high-wire — and highly polished — vaudevillian pastiche.
--Bill Raden
© 2015 L.A. Weekly
Stage Raw
Recommended / Top Ten / Pick of the Week
One of the beauties of Natsu Onoda Power's play is that it's just as enjoyable for neophytes to "manga" (Japanese comics) as it would be for cognoscenti. The main reason to see this new show at Sacred Fools, however, is the spectacular production. Jaime Robledo's direction is brilliantly creative, pushing the technical capabilities of that theatre space about as far as they can go, resulting in a dazzling display.
The play combines two stories: that of the fictional, robotic Astro Boy (Heather Schmidt) and that of his real-life creator Osamu Tezuka (West Liang). Astro Boy was created to replace a scientist's dead son, but was abandoned because he couldn't grow up like a real child. Taken in by a kindly government official, Astro Boy is eventually tasked with sacrificing his life to save the human race. Tezuka was an influential manga creator and animator, gone so much that his children would thank him for visiting on the occasions he ventured home.
Schmidt gives a wonderfully stylized performance, playing all of the "Oh, boy! Gee whiz!" dialogue perfectly straight, the lack of modern irony ultimately lending a melancholy resonance to the tragic hero. Liang is good as Tezuka, though the writing makes the character more of a narrator than a participant in the drama. Zach Brown, Megumi Kabe, Anthony Li, Mandi Moss, Jaime Puckett and Marz Richards do superb ensemble work, playing multiple roles with great energy and humor.
Robledo has already demonstrated his skill with innovative staging and actors in the Watson plays, and he successfully explored digital projections and CG video in Do Androids Dream of Electric Sheep, but he puts it all together here to impressive effect. A simple yet effective scene of the cast riding a car and then a boat demonstrates his mastery of physical theatre, and a scene in which an oddly shaped drawing becomes the backdrop for a projected mushroom cloud, followed by gently floating ash falling upon the suddenly prone cast, may be the best single moment he's ever directed.
Aviva Pressman's live art design, where the cast quickly draws pictures on a huge white paper backdrop, is amazingly good, particularly considering how little time the actors have to create the art. Anthony Backman's projection video design and Jim Pierce's projection animation design add enormously to the show, using the tools of film and CG to expand the theatrical experience. If Powers's play were a college course, it would be an introductory one. That's fine, however, because in this instance, the medium is the message, and this medium is delightful.
--Terry Morgan
© 2015 Stage Raw
David C. Nichols (L.A. Times & LADCC critic, via Facebook)
Just to clarify the previous post, which again found FB mobile-device algorithms doing their own thing, am not attending the "Astro Boy" closing -- attended its penultimate performance Friday. The only regret is that current logistic and circumstantial conflicts prohibited seeing it earlier, so we could spread the word (and don't get us started on the failure of a certain publication to deem it coverage-worthy, but we digress). Truly, one of the best things Sacred Fools Theater Company has yet done, which is saying something, but seriously, it is. Director Jaime Robledo, a mind-boggling creative team and the most disciplined, thoughtful/wacky cast this side of the "El Grande Circus de Coca-Cola" lunatics over at the Skylight give Natsu Onoda Power's idiomatic, imaginative, unclassifiable script about legendary Japanese cartoonist/animator Osamu Tezuka and his celebrated atomic-powered robot child the kind of detail and production values that the big venues can only dream about. Particularly loved the copious projections, which sustained a depth of field, cinematic fluidity and narrative interplay that wouldn't shame Dreamworks or Pixar; the wonderful way the ensemble found humor in darkness and vice-versa; and the playwright's marvelous notion of telling the tale in reverse-chronological order, i.e., beginning with the end of Astro Boy and moving forward-backward to the beginning of Tezuka, with the final metaphoric image utterly inspired. All the attributes of manga (comic books) cited in the delicious pre-show titles and trivia questions -- which are worth admission by themselves - from whimsy to pathos to irreverence and back, are on display, and you'd have to go through the entire program credits to locate standouts -- indeed, a superlative group effort. It's going to be packed to the rafters tonight, and so it should be. Burabō, dōmo arigatō, omedetōgozaimasu.
© 2015 David C. Nichols
Arts in L.A.
It's a lovely thing when theater educates the somnambulant, nurtures the soul, expands the mind; sometimes, however, it's great just to be entertained by some world-class clowns and knocked out by refreshingly imaginative and unbounded creativity. Although throughout Astro Boy and the God of Comics playwright-creator Natsu Onoda Power enlightens, recounting the life and celebrating the career of famed post–World War II Japanese animator Osamu Tezuka, what's really happening is that we're being entertained. Bigtime.
With incredibly inventive use of interactive video and huge intricate drawings created live on enormous disposable paper backdrops by the delightfully over-the-top actors, what director Jamie Robledo and the fools at Sacred Fools have fashioned here is totally unique and truly spectacular. In a series of numbered episodes, which begin at the end as the world is dying and then unfold in reverse to the original manufacturing of that adorably intrepid child robot (Heather Schmidt), Astro Boy returns periodically to the real world of Tezuka who, despite his recognition, never lost his humility and never forgot the destruction he encountered as America dumped atomic bombs on his country.
As Tezuka's notoriety grew and his most famous creation exhibited his valiant fictional efforts to save the human race, the legend of Astro Boy expanded from the pages of Japanese manga (comic books) to television and eventually film. Soon something special and unexpected also emerged: an all-new definition of a culture where, as Marshall McLuhan noted, the medium was the message. As Power shows us, Tezuka's personal message was clearly influenced by much, from mushroom clouds to traditional Japanese ethos to John Ford movies.
Under Robledo's excellent direction and with his stage awash in a nonstop array of colorful projections by Anthony Backman and animations by Jim Pierce, the seemingly limitless boundaries of artistic and technical innovation developed in LA's currently maligned 99-Seat theater community is once again on parade. Supporting the hilarious posturing, "gee willikers"–spouting title character brilliantly assayed by Schmidt, the supporting cast is strikingly unrestrained yet obviously choreographed in its every moment, moving collectively as though born to bring Tezuka's cartoon heroes and villains to life.
Zach Brown, Megumi Kabe, Anthony Li, Jaime Puckett, and the Jim Carey-esque Marz Richards—who, if he doesn't have a career in voiceover, should—move and shout their lines as though they were lifted directly from a Saturday morning kids cartoon TV series in the early '80s, each doing a masterful job jumping around from one eccentric character to the next. From their talented ranks, the fuchsia-haired Mandi Moss is a particular standout as the lonely scientist who manufactures Astro Boy in the image of his dead son.
When West Liang graces the stage as Tezuka, commenting from the cartoonist's own perspective with grace and an effective dollop of humility, it breaks from the caricaturized performances and exaggerated silliness, which feels out of place at first, as though signaling a pledge drive break on PBS. Yet what holds everything together are those ingenious moments when the entire cast rushes onstage, the actors crawling and reaching high over one another to create their wonderful images on those massive paper backdrops, under the guidance of Aviva Pressman. It's amazing all of them can render their accomplished cartoons right before our astonished eyes with such incredible speed. By bunching his triumphs together into a matchless 70-minute thrill ride, it honors what the illustrious Tezuka tried to accomplish in his life.
--Travis Michael Holder
© 2015 Arts in L.A.
ArtsBeat L.A.
Exit Review:
Print Review:
Natsu Onoda Power's delightful play, Astro Boy and the God of Comics, is making its West Coast debut at Sacred Fools in Hollywood. Producer Brian W. Wallis and director Jaime Robledo have gone to great lengths to stage this charming multimedia performance-art piece in the most creative and inventive way possible, enlisting a stellar cast and superbly talented artists to bring this work to life.
Power's one-act, episodic play unfolds in reverse, which creates a mounting poignancy to the tale. It begins with an adventure starring the heroic Japanese boy robot Astro Boy, expressively played by Heather Schmidt with the perfect balance of simple robotic gestures and physicality paired with wide-eyed and adorable appeal.
The story then delves into the creation of this beloved character which originated in Japanese comic books — aka manga. With echoes of the tale of Pinocchio and Gepetto catapulted into a sci-fi realm, Astro Boy went on to be a popular TV series for kids that was shown all over the world. As the play progresses, the story begins to focus on the life of Astro Boy's creator — the man that many consider to be the Japanese equivalent of Walt Disney; manga master and anime pioneer Osamu Tezuka (played beautifully by West Liang).
Various visual techniques are employed throughout, such as projected animation sequences, interactive video, projected slides, film, and even live drawing and live sound effects executed brilliantly by a team of six 'animators.' There's even puppetry! At one stage a toy doll on a rod is held aloft as Astro Boy flies through an animated cityscape and into space. All these elements cleverly complement the story and performances. Ryan Johnson's original music and Robledo's spot-on sound design adds another layer of expertise.
Funny at times, and heartfelt by the sweet story's end, Astro Boy and the God of Comics is a "retro-sci-fi visual extravaganza examines post-WWII fascination with technology and destruction, and the relationship between creation and creator."
--Pauline Adamek
© 2015 ArtsBeat L.A.
Backscatter
Art of the Possible
It's a marvel that the current West Coast Premiere at The Fools takes on so many issues so successfully in the space of seventy minutes. On its surface, 'Astro Boy and the God of Comics' is a retrosynthetic look at Japanese animator Osamu Tezuka, legendary within a circle, but poorly known outside of it. Natsu Onoda Power has crafted twelve tight vignettes starting with a cartoon character flying off to save the world and working backward to the early years of the man who created him. The steps in between make us ask where exactly the lines between culture and sub-culture, high art and pop art, and science and society are drawn – pun intended. Director Jaime Robledo and an exceptional cast and crew pull it off much like they did with 'When Androids Dream of Electric Sheep' a couple of years ago.
This is a tech-heavy show blending live performers, puppets, projections, and real-time art. It is all required – this artist's life can't be told without his creations and those creations have to move. Tezuka came from a happy childhood, lived through World War II, and watched his art take off into commerce thereafter. His success in comics fueled an animation empire that generated the beloved Astro Boy cartoon but that ultimately couldn't sustain itself.
The preshow visuals warmup the neophyte, hinting at why the man was and is such a big deal. Small projectors discreetly hidden in the light grid shine on two gauzy screens and the back wall as needed. It's 'Dry Cleaning' quality work with the added complexities of a large cast living in this half-real, half-animated world. Matt Richter and Anthony Backman transform a small physical space into a city, a world, a solar-system with tricks of perspective, light, and shadow all without being overtly clever about it.
In an evening of tech done right, it's live art that vaults 'Astro Boy' into tour-de-force. Performers in Los Angeles are adept at some combination of acting, dancing, singing, and backstage work. Art Director Aviva Pressman has her ensemble drawing the scenery in jaw-dropping synch with the rest of the business. It's no gimmick, its not mere doodling, and must have presented substantial headscratching in casting. The actors draw characters and scenery in pens, ink, and charcoal onto large tearaway sheets on the back wall. The choreography is mesmerizing especially in the Guernica-for-Hiroshima roughly halfway through the work. Each sheet is ripped down at the end of a scene, crumpled, and hauled off stage. It's a damn shame – they'd make fine auction pieces for a theatre in the midst of a capital campaign. West Liang and Heather Schmidt nimbly represent Tezuka and Astro Boy although the short span of the play doesn't and can't fully explore their Gepetto Pinocchio relationship. There are allusions to Clarke, Dick, and Asimov as the rights, roles, and responsibilities of superhumans bump up against the anxieties of their human creators. Liang and Schmidt manage to imbue their re-enactions of cartoon scenes with surprising tenderness. Among the uniformly excellent ensemble, Megumi Kabe stands out with a wistful portrayal, in Japanese, of Tezuka's utterly loyal but shamefully neglected wife.
Graphic novels, anime, manga – call them what you will. At their best, they can take us into worlds orthogonal to more common forms of storytelling. This intersection of cartoon and stage beautifully serves both and is a tribute to the art of possibilities and the possibilities of art. Time is running out. Don't miss it.
--Ravi Narasimhan
© 2015 Backscatter
StageSceneLA
WOW! The words "You've never seen anything like this before" may sound cliché, but trust me, you have never seen anything like Sacred Fools' West Coast Premiere of Natsu Onoda Power's Astro Boy And The God Of Comics, a mind-boggling blend of fact and fantasy that weaves together human performers and live action with still-&-animated video projections, puppets, and most exciting of all, live cartooning by some skilled actors/pen-&-ink artists—all of which adds up to what is certain to be one of the summer's most gigantic hits.
The play's title suggests its reverse chronology. We first get to know the exploits of the boy known in Japan as 鉄腕アトム, or Tetsuwan Atomu, or Mighty Atom, before being introduced to Astro Boy's creator about halfway through.
Astro Boy And The God Of Comics' main title opening sequence is our first hint at the magic ahead, combining FX video and actors-with-Sharpies for a feat of live cartooning that not only earns oohs and aahs, it sets the fantastical tone of what's ahead.
Then comes the first of Astro Boy's dozen backwards-heading episodes, each told in its own unique style, with a live TV anchorwoman announcing our plucky young hero's latest—and quite possibly last—exploit, one that has Tetsuwan Atom (Heather Schmidt) flying sunward to prevent Earth's destruction, even if it means meeting his own.
We then head back in time to witness Astro Boy's live-action laboratory birth, other sequences combining a dazzling a display of video techniques before Astro Boy creator Osamu Tezuka (West Liang) takes centerstage and we get to know the man behind the cartoon from death to birth.
Tezuka may be best known for his trademark beret, but under it stood a man deeply scarred by the WWII bombings he witnessed as a child. (A scene in which actors live-sketch a huge Guernica-like charcoal mural only to have it destroyed by a projected nuclear explosion is a stunner).
Regardless of the inspiration behind Astro Boy, Tezuka's creation has gone on to inspire generation after generation of children with his battle against the forces of evil, whether in comic book form or as the star of his own animated TV series back in the 1960s.
Theater doesn't get any more collaborative than Sacred Fools' Astro Boy And The God Of Comics, from its brilliantly inspired director Jaime Robledo to live art director Aviva Pressman to scenic designer DeAnne Millais to lighting designer Matt Richter to costume designer Linda Muggeridge to sound designer Robledo to original music composer Ryan Johnson to prop designer Brandon Clark to projection animation designer Jim Pierce to stunt/fight choreographer Mike Mahaffey to suzuki trainer Joe Fria to projection video designer Anthony Backman to playwright Power's own puppet design. (Can you say "It takes a village" … or in this case a village of Sacred Fools?)
And speaking of Sacred Fools, ensembles don't get any more multitalented than actor-artists Zach Brown, Megumi Kabe, Anthony Li, Mandi Moss, Jaime Puckett, and Marz Richards, who not only bring to life a multitude of roles and but display high-speed sketch artistry that must be seen to be believed.
Leading man Liang adds an authentic, human face to the evening's madcap magic and an equally terrific Schmidt delights as Tezuka's spunky, evil-battling boy hero.
Additional program credits go to lead producer-technical supervisor Brian W. Wallis, assistant director Rebecca Larsen, and associate producers Shaunessy Quinn and Seamus Sullivan, and to understudies Gregory Guy Gorden, Lisa Anne Nicolai, Pressman, Erin Sanzo, and Scot Shamblin.
Heatherlynn Gonzalez is stage manager and Suze Campagna assistant stage manager.
Astro Boy And The God Of Comics brings to a close a banner year for Sacred Fools following their recent Stage Raw Awards-sweeping hits Taste and The Behavior Of Broadus.
You can expect to see lines around the corner for weeks and weeks to come as theater buffs, graphic novel lovers, manga fanatics, and Astro Boy fans far and near await this most thrilling of summer theatrical treats.
--Steven Stanley
© 2015 StageSceneLA
Observations Along the Road
A Unique Visual Conception

Sometimes, things just work out. For a while, it was looking like I wasn't going to see any theatre this weekend. First, my Sunday evening show (which I had on my calendar for Saturday), "The History Boys" at the Stella Adler Theatre, cancelled on me; luckily, I was able to replace that with another show for Sunday night (based on a recommendation from a Facebook group). Then the show I thought was on Sunday, but which I now realize was Saturday, "Green Grow The Lilacs" at Theatricum Botanicum, cancelled due to the rain. However, in the end, I ended up seeing one of the most inventive, creative, and entertaining shows I have ever seen. Further, after telling my wife about the show, I'm going to be seeing it again next weekend (creating a triple header)… and yes, I checked the dates.
The show, Astro Boy and the God of Comics at Sacred Fools Theatre Company, is about the father of what has come to be known as Anime or Manga, and his greatest creation, Astro Boy. Now, I grew up watching some Manga when I was little — yes, I remember the afternoons of Speed Racer and Kimba: The White Lion on UHF Channel 52. But who knew it as Manga back then — it was just dubbed cartoons. I also have loads of friends into Manga, and relatives that love drawing the stuff. But that was about the extent of my knowledge of the subject. I really never got into it, although I recognized the style.
The first inclination that this production is going to be different than anything you have seen begins before the show starts. The stage is covered by a see-through scrim, upon which loads of facts and factoids about anime in general, and Osamu Tezuka in particular, are projected. Suddenly, an animated sign saying "Curtain Announcements" is projected, and you get the typical announcements. During this, you are told that the show will be presented in 13 episodes, and they will be presented in reverse chronological order. An artist walks out, assesses the setup, and opens the scrim. At that point, the title of the first episode is projected and the fun begins.
When I first heard "reverse chronological", two shows came to mind: Sondheim's Merrily We Roll Along and Jason Robert Brown's The Last 5 Years. Both of these use a reverse chronological mechanism, and both are hard to initially get into because of it. This is the first show I've seen where the mechanism works: we start with the end of Astro Boy, and work our way back to his origins, and then move from the latter days of his creator to the very beginning.
The execution of the show itself is unique. If you go to theatre a lot, you have a certain expectations. Actors playing characters, in a somewhat naturalistic set piece. If you see talents other than acting, it might be singing and dance. This show perhaps is best described as manic energy, punctuated with touching meaning. The energy comes at the start, and comes from the actors, the projections, and the drawing.
Yes, I said drawing and projections. Look at the two publicity photos I selected at the right. The show starts with actors in coveralls seeing various images projected on what appears to be a white screen on the back of the stage. Suddenly, they start drawing on the screen. And drawing. And tracing. And when they are done — it is a drawing of Astro Boy. Suddenly, they are running and ripping down what they have just drawn, and the episode begins.
This is how the show continues. There is interaction with projections. There is constant drawing on the back, on paper, on pages. There are clever puppets (which made me think of the recent Entropy at Theatre of Note). There is Heather Schmidt as a perfect energetic and innocent Astro Boy. There is manga style. There is manga energy. It is just a remarkable imaginative staging you really have to see to believe.
Lets get some of the credit for this out of the way: The show was written by Natsu Onoda Power, and directed by Jaime Robledo. I'll cover the production staff in detail later, including the various assistants; suffice it to say this show would not be what it is without them. This is one of the first shows where I have seen projections be more than a backdrop — they became an additional actor. It is just a remarkable concept and conception.
There are just so many scenes from this show that left remarkable impressions. There was the episode where we learn of Astro Boy's final mission. There was the robot auction. There was the assembly of Astro Boy. There was the wonderful introduction to Osamu Tezuka and his unique personality, told by his assistants, interns, and wife — with each drawing something that ended up being a self portrait of Osamu. There was the haunting episode about Japan during the war. There were scenes that were entirely silent — evoking silent movies to a great extent — and there was a fair amount of plain silliness. It was just so memorable and creative.
The actors for this show didn't come across as your traditional stage actors: they had a role and a script and played a character. In fact, the only two real characters were Heather Schmidt as Astro Boy and West Liang as Osamu Tezuka (and even then they occasionally joined the ensemble in other roles). Schmidt was.. was… was…. perky and cute and hyper and joyful and… embodied Astro Boy in both performance and telegraphed attitude. Liang was more serious as Tezuka, but even he got into the fun occasionally. He made you believe he was Tezuka … and that's a great compliment.
The remainder of the ensemble became particular characters at times, but were more themselves in coveralls, portraying the story by frantic drawing, movement, pantomime, performance, and craziness. The ensemble consisted of Zach Brown, Megumi Kabe, Anthony Li, Mandi Moss, Jaime Puckett, and Marz Richards. You've heard of triple threat actors. I don't know about their singing, but these guys are a different type of triple threat: actors, dancers (for what else would you call that closely choreographed movement on stage), and graphic artists. It is hard single any of them out for they each played great roles — I particularly remember Kabe's portrayal of Osamu's wife, Li as the head of the robot academy, Richards selling robots, Moss and her fuschia hair as an assistant, … well you get the idea. All are great.
Then there are the folks you only see briefly (or don't see at all, but are there in spirit). There is a video of Osamu when he was young that I actually thought was real video … then I discovered they also shot that for the show with Scot Shamblin [Tezuka's father], Jane Kim [Tezuka's Mother], and Sebastian and Percival Africa [Young Tezuka]. Understudies were Erin Sanzo [Astro Boy], Scot Shamblin [Osamu Tezuka], Gregory Guy Gorden [Ensemble], Lisa Anne Nicolai [Ensemble], and Aviva Pressman [Ensemble].
I said at the beginning it was the production and technical staff that made this really special, so let's start naming some names. It is really hard to single out one particular production aspects from another in this show — they blend together that well. The lighting (I noticed some quite effective use of movers and LEDs), the sound effects and music, the projections, the props, the puppets, the costumes, the overall set design that brought everything together. They made a seamless whole (with the possible exception of near the end, where I kept getting some odd flashes as if the projection went down for a split second and came back). The production team consisted of: Brian W. Wallis [Lead Producer / Technical Supervisor], Aviva Pressman [Live Art Director (I'm guessing this is the "Live Art" equivalent of Dance Captain :-) ], Rebecca Larsen [Assistant Director], Shaunessy Quinn [Associate Producer (Design/Tech)], Seamus Sullivan/FB [Associate Producer (Casting/Outreach)], Carrie Keranen [Marketing Coordinator], Heatherlynn Gonzalez [Stage Manager], Suze Campagna [Assistant Stage Manager], DeAnne Millais [Scenic Design], Matt Richter [Lighting Design], Linda Muggeridge/FB [Costume Design], Brandon Clark/FB [Prop Design], Natsu Onoda Power [Puppet Design], Jaime Robledo [Sound Design], Ryan Johnson/FB [Original Music], Mike Mahaffey [Stunt/Fight Choreography], Joe Fria [Suzuki Trainer], Anthony Backman [Production Video Design], Jim Pierce [Projection Animation Design], Danielle Heitmuller [Animation Painter], and many more.
Lucky for you, Astro Boy and the God of Comics has been extended through August 8. Go see it. I liked it so much, I'm willing to see it again with the same cast — which I rarely do. Tickets are available through Sacred Fools, and may be available through Goldstar and LA Stage Tix.
--CaHwyGuy
© 2015 Observations Along the Road
Theatre Ghost
100 WAYS TO TELL A STORY: SACRED FOOLS' "ASTRO BOY"
Comics haven't been around long — maybe 200 years (unless you count Ancient Egypt's hieroglyphics), while theatre reaches back into prehistoric times.
But that doesn't mean we playmakers can't learn from our much younger siblings. Take Sacred Fools' current creation, Astro Boy and the God of Comics.
Natsu Onoda Power's play introduces us to Osamu Tezuka, the first great genius of Japanese comic art, or manga. What better way than through his most famous character, and in his storytelling style?
Astro Boy is the Mickey Mouse of Japanese cartoons. His stories are told in a sequence of dramatic panels, with readers often having to imagine the moments between. The panels often burst with energy, and the story moves through them speedily.
So Onoda Power gives us a dozen scenes, some many years apart … and just for the fun of it, presents them in reverse order, ending with Tezuka's birth. She also puts most of the actors to work as illustrators, swiftly drawing images (usually on a giant paper tablet that doubles as a cyclorama) as each scene unfolds. And — perhaps reflecting the fact that Astro Boy, like Mickey, is a superstar in movies — filmed projections are an ever-present part of the mix.
All of this sets a massive challenge before the directing-design team. Jaime Robledo and stage manager Heatherlynn Gonzalez display a sure hand at herding kittens, keeping the story's flow smooth, clear and real. (Robledo also contributes a lively, at times moving, sound design.) Aviva Pressman — with the unusual title, "Live Art Director" — turns actors into cartoonists, while Jim Pierce and Danielle Heilmuller give us Tezuka's style in a panoply of projections.
The actors, for their part, never let a line — spoken or drawn — get lost. Heather Schmidt uses a piping voice and patterned movement to embody a thoroughly engaging Astro Boy, and West Liang diffidently delivers the gentle, obsessed Tezuka. When not busy making miracles with their pens, the ensemble creates everyone else, from Tezuka's assistants and publishers to his wife (a fine turn by Megumi Kabe). Marz Richards narrates several scenes with a nice blend of salesman brass and a slight, hidden embarrassment.
In a fast-moving "comic" tale, I do not expect to brought to tears — but I was, twice. The first time was for a mechanical puppet. The second was for a scene from Tezuka's youth: When he was a teen, Hiroshima and Nagasaki were obliterated by atomic bombs. Astro Boy (whose name in Japan is "Mighty Atom") arose from the ashes — a robot who uses his superpowers only for the good of humanity.
Astro Boy and the God of Comics tells an interesting, moving story with amazing energy and cleverness. But more than this, it's a remarkable achievement — a feast of the senses that greatly widens our awareness of how theatre can tell stories. Just as (my seatmate pointed out) comics added a visual dimension to literature.
Astro Boy isn't just a festival for fans, though manga lovers will surely be entranced. It's an invaluable experience for anyone who loves — or makes — theatre.
© 2015 Theatre Ghost
Gia on the Move
...this early Japanese manga sci-fi cartoon character, now rendered for stage is pure fanciful entertainment: sweet, empathetic and visually captivating... Astro Boy indeed reels in audiences with a heartstring-pulling nostalgia that is sad for his inevitable demise yet hopeful of humanity for the future.
Read the full review at the link below.
--Tracey Paleo
© 2015 Gia on the Move
@ This Stage Magazine (Feature Article)
Astro Boy and the God of Comics Brings Live-Action Drawing to the Stage
How many pages make a play? In the case of Natsu Onoda Power's Astro Boy and the God of Comics, the answer is eight. When Sacred Fools set out to produce the Astro Boy West Coast premiere, director Jaime Robledo armed himself with eight pages, a few visual aids from the premiere production, and an Avengers-style production team.
"We did a read-through of the script during our first rehearsal," Robledo remembers, "and my explanation of the mechanics of the play took longer than reading the script itself."
In twelve retrogressive "episodes," Astro Boy explores the life and career of cartoonist and animator Osamu Tezuka (1928-89), whose prolific and innovative work was so influential it earned him the title of "Godfather of Manga." With its exaggerated mid-century set, Astro Boy drops audiences head first into the world of the titular character, Astro Boy — one of Tezuka's most famous — and eventually navigates into the non-fiction universe for glimpses into Tezuka's biography, ultimately resisting distinction between the human story and its cartoon backdrop.
Astro Boy approaches technical challenges with feverish innovation. How do you bring a two-dimensional character to life? Actors collaborate to draw Astro Boy in a mural. One actor embodies him in full costume. The ensemble forms a "human machine" to construct Astro Boy from metal ducting (in a 3/4-time sequence that took three entire rehearsal days to choreograph). They puppeteer an Astro Boy doll against an animated cityscape projected on the back wall, to give the illusion that he's flying. In bringing this character to life in so many ways, the production seems to celebrate the relationship between creator and creation with a loving, Pinocchio-like spirit. It has its Peter Pan moments, too, because while Astro Boy never grows up and never dies, Tezuka's own mortality — from his battle-born youth to his secret struggle with cancer — strikes solemn notes throughout.
Astro Boy is also jam-packed with live-action drawing sequences, wherein actors render works of art on blank canvases right before the audience's eyes, often while delivering lines or performing some other physical act (Robledo prioritized multitasking in the audition process). Each drawing sequence promises a moment of reveal, but the execution is the real surprise, as Astro Boy insists on reinventing its own techniques. In one sequence, actors form a sort of relay team to draw a single picture. In another, they draw on pieces of a portrait on disparate tiles and assemble them like puzzle pieces. Astro Boy's drawing sequences aren't effortless; they're effortful. In their frenzied yet methodical way, they reveal the nuances of Tezuka's lifelong, obsessive work.
Astro Boy is such a visual play that its translation from page to stage raised questions. "I knew what the play should be," Robledo says, "But not exactly how to get there." The show's live-art director Aviva Pressman had understudied the original production, and she was able to offer insight in places, but Robledo wanted to avoid simply recreating the original, and thus enlisted his own imagination and the imagination of his brain trust. For example, parts of Power's script read like poetry:
People draw on the paper wall.
A loud bombing sound.
Image of a mushroom cloud.
The embodiment of this moment on stage adheres to the stage directions, but also transcends them. Actors labor rapidly to draw a wartime mural — the first drawing in the show to abandon Tezuka's style in favor of a more lifelike image — while sound effects and projections of blood spatter mimic gunfire. The tempo hastens and the tone grows urgent and ominous as the play explores Tezuka's origin story and enters into the historical realm. Says Robledo: "Natsu laid out a wonderful template, a skeleton, that both focused me on the play's intent and left a lot of room for interpretation."
Robledo and his team not only colored in the world of the play — they blew the world all the way out, using four projectors, a scrim, a wall-turned-sketchbook, custom video animation, and countless other techniques. "We had to use the technology to tell this story," says Robledo, because Tezuka's work itself was so technical and visual. But Robledo felt an equal draw to the bones of the story, to Tezuka himself.
"I love a good spectacle," he says, "but if there is no point to it, why bother? …The last thing I want is to create something beautiful, but ultimately hollow."
--Hayley Huntley
© 2015 @ This Stage Magazine