Waiting for Waiting for Godot
by Dave Hanson
directed by Jacob Sidney
EXTENDED THROUGH DECEMBER 21!
FIVE ADDED PERFORMANCES:
Sun, Dec. 15 @ 5pm
Mon, Dec. 16 @ 8pm
Thurs-Sat, Dec. 19, 20 & 21 @ 8pm
FULL SCHEDULE:
Fridays & Saturdays @ 8pm
Sundays, Nov. 17, Dec. 1, 8 & 15 @ 5pm
Mondays, Nov. 18 & Dec. 16 @ 8pm
Thursday, December 19 @ 8pm
WEST COAST PREMIERE! It is probably not their night. Ester and Val are understudies for a production of Waiting for Godot. They are committed to art, and frustrated by anonymity. They understand their purpose, but not the reasons they stay. They accept their fate, but question each other's motives, all while waiting for "him" to appear...
A "gleefully absurd" (Time Out New York) backstage farce packed with profound insight, existential dread, and shameless punchlines, Waiting for Waiting for Godot is the Beckett companion you didn't know you needed.
Performing on the Broadwater Second Stage (Entrance at 6320 Santa Monica Blvd.)
"...witty... raw and revealing... an acid-etched valentine to actors, those intrepid aspirants who forgo an easy path for the strenuous and oft thankless service of art." -F. Kathleen Foley, L.A. Times
"...inspired... extraordinary comedic actors... There is genius at work here." -Paul Myrvold's Theatre Notes
"Brilliant... Playwright Dave Hanson's script has captured the essence of the original Godot... Banter and hijinx prevail without a hitch... WFWFGodot is a must see." -On Stage Los Angeles
"...shrewdly comic... hilarious... outrageously spot-on humor... one of the best and most memorable things to play here in El Lay this year." -TicketHoldersLA.com
"It's a fun, interesting evening at the theatre that gets to the heart of what it means to wake up every morning and need to create." -The SoCal Review
"Full of stellar physical humor, entertaining wisecracking riffs, and philosophical discussions..." -Stage Raw
"...a Must Watch for Any Theater Enthusiast... The team for this production is a list of all-stars... it felt as close to perfection as theater demands." -Front Row Reviewers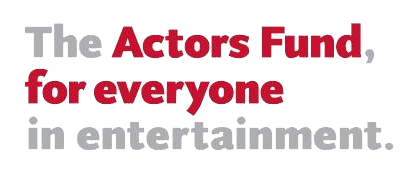 Friday, November 15: DONATE WHAT YOU CAN. It's "Pay What You Can" with a twist! Half of all proceeds for this performance will be donated to The Actors Fund. The Actors Fund fosters stability and resiliency, and provides a safety net for performing arts and entertainment professionals over their lifespan. Purchase tickets now!
Video
Photos
Cast
Bruno Oliver

as Ester
Joe Hernandez-Kolski

as Val
Julie Marchiano as Laura
Understudies
Steve N. Bradford as Ester
Zach Smith as Val
Marian Gonzalez

as Laura
Crew
Produced for Sacred Fools by Travis Snyder-Eaton


Stage Manager - Rachel Manheimer
Associate Producer - Jessie Bias


Assistant Director - Marisa O'Brien


Scenic Designer - Aaron Francis


Prop Designer - Joyce Hutter


Lighting Designer - Kaitlin Chang
Sound Designer - Adriana Colón


Fight Director - Edgar Landa
Physical Comedy Consultant - Stephen Simon
Key Art - FLuX

- Sacred Fools Company Member
Reviews
L.A. Times
The tribulations of actors, center stage, in 'Waiting for Waiting for Godot'
After watching "Waiting for Waiting for Godot," now in its West Coast premiere at Sacred Fools, one will easily deduce that playwright Dave Hanson has worked as an actor - and that's even before reading his program bio.
His play, a witty hommage to Beckett's classic, is a raw and revealing glimpse into the actor's existential dilemma, the helplessness that derives from being an interpreter, forever reliant on any number of random factors before plying one's chosen craft.
For Ester (Bruno Oliver) and Val (Joe Hernandez-Kolski), understudies in a performance of "Waiting for Godot," it seems that opportunity will never come. Languishing in their shabby backstage dressing room, neatly evoked in Aaron Francis' claustrophobically cluttered scenic design, the two hopefuls swap dreams of fame and greatness while waiting for their ever-elusive director to arrive on the scene and make their lives comprehensible and worthy at last.
The action opens on an belabored routine as burly Ester struggles to don a vest several sizes too small for him. Fortunately, director Jacob Sidney eventually tightens Hanson's sprawling mélange into a compactly rendered vehicle that careens, amusingly, between vaudevillian slapstick and metaphysical absurdism.
Antithetical physical types, Oliver and Hernandez-Kolski are well matched when it comes to sheer comic deftness. Both prove capable of handling the demands of their roles, from thoughtful monologues to straight burlesque. (Later in the play, a sterling bit revolving around that aforementioned vest could have come straight out of an old Laurel and Hardy one-reeler.)
Marian Gonzalez (appropriately, the understudy for regular cast member Julie Marchiano), neatly rounds out the cast as an assistant stage manager who happens by and neatly punctures Ester's self-importance, setting the stage for Val's defection into the wider world - in this case, the theater's lobby, which is out of bounds to these backstage denizens.
Hanson's play is a tribute to Beckett, but above all else it's an acid-etched valentine to actors, those intrepid aspirants who forgo an easy path for the strenuous and oft thankless service of art.
--F. Kathleen Foley
Ⓒ 2019 L.A. Times
Paul Myrvold's Theatre Notes
Just thinking about Samuel Beckett's Waiting for Godot makes me smile. I have seen a few productions. I even auditioned for the role of Lucky decades ago at the Oregon Shakespeare Festival. A friend saw the audition and judged it "dynamite." The director wasn't so enthusiastic. Soon thereafter, we packed our bags and headed for New York where I had better luck. But about the play. A look in Wikipedia shows all kinds of interpretations as to the meaning of the show with sages weighing in with all sorts of interpretations - Freudian, Jungian, existential, religious, on and on - smarty pants of all sorts trying to make some kind of sense of it. When asked what it is all about, Beckett has been recorded as saying, "It's all symbiosis... it's symbiosis."
Playwright David Hanson's Waiting for Waiting for Godot is its own inspired tragi-comedy nestled into a backstage dressing room where two understudies wait to be called to the stage to perform their roles of Vladimir and Estragon in Waiting for Godot in the event of an emergency. Hanson's play tilts rather a bit more on the scale towards comedy than tragedy and it soon becomes clear that the two schmucks, Ester (Bruno Oliver) and Val (Joe Hernandez-Kolski) will never get to set foot in front of an audience. The title says it all.
This production is blessed with two extraordinary comedic actors. It doesn't take long to see that, under the inspired direction of Jacob Sidney, the production owes a lot to Laurel and Hardy. Ester is a big man who tries endlessly to fit into a vest that he resolutely maintains is his. The first hilarious ten minutes or so of the play is taken up with his futile efforts to button that vest. Val enters with two cups of coffee and immediately begins comic business with sugar packets. Mr. Hernandez-Kolski is short and slim with a face, I swear, that calls to mind Stan Laurel.
As the play progresses, there is a lot of talk about acting with Ester taking the role of mentor to Val. Energetic physical and verbal comedy abounds that had this audience member chortling, giggling and guffawing throughout. It would take pages to describe the show's inspired physical comedy, but suffice it say that a conflict over Ester's beloved, ill-fitting vest devolves into an intricately fought war of willful physical entanglement that went on and on. And Mr. Oliver's turn as an out of control ape taking on the characters of classic movie heroes would be futile to describe. There is genius at work here.
Throughout the play, indistinct, muffled talking can be heard from far off as Waiting for Godot is performed on the real stage. At intermission, a harried assistant stage manager (Julie Marchiano) enters looking for a vest. It seems that the onstage Estragon has a vest that is two sizes too big for him. Hmmm, I wonder? Ms. Marchiano has a weary, no-nonsense affect that contrasts beautifully with the cloud-cuckoo world of Ester and Val.
Waiting for Waiting for Godot is handsomely mounted with a spot on scenic design by Aaron Francis, lighting by Kaitlin Chang, and a superbly cluttered prop design by Joyce Hutter. Sound design is by Adriana Colón; fight choreography by Edgar Landa; and physical comedy consulting by Stephen Simon. Rachel Manheimer manages the stage with palpable expertise.
--Paul Myrvold
Ⓒ 2019 Paul Myrvold's Theatre Notes
On Stage Los Angeles
Tonight I had the great good fortune to see old friends, Jenny O'Hara and her husband, Nick Ullett. Jenny is the first recipient of the coveted though never before awarded Sheehan Prize for her outstanding work as an actor in the recent Fountain Theatre production of "Daniel's Husband" as well as creating the role of the loopy lady in Stephen Sachs' "Bakersfield Mist." Seeing the Ulletts was just a bonus to seeing this terrific show at the Broadwater. Jenny is up for some Ovation Awards, so I decided to just scoop them and laud her first! Congratulations, Jenny O'Hara!
Having reviewed Bill Irwin's "On Beckett" at the Kirk Douglas recently and being a fan of Waiting for Godot, I arrived ready to be entertained. Just the premise made me smile. Understudies on hand, in costume (more or less) andwaiting for their opportunity to shine.
Playwright, Dave Hanson's script, has captured the essence of the original Godot. (Irwin pronounces it "God O"). The understudies Bruno Oliver as Ester and Joe Hernandez-Kolski as Val present pretty much as Laurel and Hardy and then chew the scenery in various ways, moving their essence of Godot along with similar angst. These actors await The Director to show up to tell them it's their turn to go on. Val's Aunt Mary has come to every performance to support him and Val so wants to make her proud. The actors wait. They don't go on. They should go. They stay.
Banter and hijinx prevail without a hitch including some Buster Keaton moves with a way too small vest that vexs Ester throughout the show.
We are taken to school by the intrusion of ASM (assistant stage manager) Laura (deliberately low key Julie Marcino) who basically declares that actors are simply "deaf puppets" who become tools to the wonderfulness of what she does: calling the show! To demonstrate how easy 'acting' is, Laura reads light cues to bring home the fact that backstage is equally important to those on the stage who strut and bellow.
To demonstrate how an "actor prepares", Ester first becomes a gorilla: declaring that Brando may have prepared in a similar way, emerging as Kowalski. then On the Waterfront, romping through the gamut of not only many of Brando's roles, but famous lines from every movie you have ever seen in your life and then some. Brilliant.
I have a special place in my heart for store front theatre. The mostly grubby "Theatre Row" area on Santa Monica west of Vine hosts speeding drivers laying rubber; honking impatiently from time to time. But!... inside: the temple: the exposed brick wall. The set by Aaron Francis, I was told, is the actual dressing room from the original Heliotrope Theatre that Sacred Fools used when founding the company. Director Jacob Sidney has this essentially two hander well under control as it bustles a pace. This tight full length one act will charm fans of Samuel Beckett with familiar references and might introduce Godot to folks who may not have heard the good news.
WFWFGodot is a must see. Parking is tough. The corner of Lillian and Santa Monica may have a number of productions going on at the same time, so plan to go early. The fancy bar on the corner looks terrific.
--Sheehan
Ⓒ 2019 On Stage Los Angeles
TicketHoldersLA.com
In a suitably dismal and claustrophobic theatre dressing room, complete with racks of oddly eclectic costuming from past productions and a high wooden shelf holding ancient sound equipment squawking muffled dialogue from the performance going on upstairs, Aaron Francis' set for Waiting for Waiting for Godot could have been lifted directly from the actual dressing room at the Broadwater where the Sacred Fools Theater Company now holds court.
Veteran Fools Bruno Oliver and Joe Hernandez-Kolski play Ester and Val, two hapless and frustrated understudies hoping for sudden injury or illness so they finally can have a chance to go on as Estragon and Vladimir in Samuel Beckett's game-changing 1950s classic.
As they wait not-so patiently for a nod to spring into action from a mysterious unseen director - so unknown to them they're not even sure at this point if their mentor is male or female - the parallels between Dave Hanson's shrewdly comic play and the original absurdist masterwork are clear.
Understudying is by nature a bizarre trial for any actor, sitting in a musty, cluttered little space constantly staring at yourself in the omnipresent harshly lit makeup mirrors and wondering if you still remember the lines and blocking if indeed you do have the opportunity to go on. This sad state is often accompanied by grumbling to yourself about how much better you could be in the role than the person you're covering and, ultimately, questioning what the living fuck you're doing with your life.
With tongue firmly implanted in cheek, Hanson gets it, his hilarious little gem of a play perfectly capturing any artist's age-old dilemma - and so do director Jacob Sidney and his exemplary pair of veteran physical comedians who collectively breathe life into a piece that could easily be a total disaster in less talented hands.
In a play that could be deadly to some audiences as well, not only if they're not privy to the signature work of ol' Sam (as my friend and quintessential Beckett scholar-performer Alan Mandell casually refers to him) but who have never been part of any acting class or workshop, the best thing Sidney did here was cast Oliver and Hernandez-Kolski, who instantly recall Stan and Ollie pushing that doomed piano up that infamous Silverlake outdoor staircase.
They say all art is imitation and, even though Oliver (Bruno not Hardy, now) could be playing Robert in David Mamet's equally hysterical and insightful A Life in the Theatre - written back in 1977 when the guy could still write - his poor discouraged Ester could not be more on the money, especially as he tries to convince his costar to study his craft with him since, as he points out, the less experienced Val is not much of an actor.
He quotes his training from Juilliard, admitting that although he's not a grad, he took a workshop there once, and then proceeds to give Val a lesson in the Miserly Technique, the pair standing staring at one another repeating the same sentence over and over again. When Val doubts the validity of the exercise, Ester explains, "I'm being miserly with my talent so you can be better with yours."
Hernandez-Kolski is Oliver's perfect comedic foil, from simple yet painfully funny things such as trying to open a difficult sugar packet to performing a wonderfully silly balls-out rendition of "There's No Business Like Show Business." And when he and Oliver periodically go into pretzel-like contortions fighting over the wearing of a brilliantly ubiquitous vest or fight over the nature of the art or acting - with kudos here to physical comedy consultant Stephen Simon and fight director Edgar Landa - lucky folks in attendance could not be more delighted.
There's also a too-brief turn here from Julie Marchiano as the boys' resident Mae Busch, here embodied as the troupe's frustrated assistant stage manager continuously astounded by the understudies' stupidity and arrogance. She is particularly watchable as she looks on in amazement as Ester and Val join together to demonstrate to her just how difficult it is to be an actor - something she sees, possibly with some accuracy, I'm afraid, as a relatively easy job compared to her own.
Just below Hanson's outrageously spot-on humor is his respectful homage to Beckett himself and the original oft-debated themes of Godot which permeate everything he wrote: the loneliness of our existence on this silly planet, our inborn yammy-yammies about whether anything we do in our lives is of value, the questions about why we're here and what the heck we're all waiting for as we barrel on toward obsolescence.
Soon Val also begins to wonder what he's still hanging around practicing his monologue from Hamlet to wow their director if he or she ever shows up - something he is pleased to point out to his know-it-all cohort is not from Shakespeare but he's actually quoting from The Big Book of Great Classic Monologues for Actors. And truly, it might be hard to disagree with him about what he's doing with his life, for anyone not compelled to create art at any level offered, regardless of the degree of their personal success, continually try to determine their own definition of those accomplishments and grasp for some recognition as artists in a society that basically could care less.
In a current end-of-the-year season absolutely bursting with exceptional productions in our often parched Los Angeles theatre season as the holidays approach, I hope this less dazzling or well-appointed but highly recommended little production doesn't, like poor unappreciated Ester and Val, get lost in the shuffle - especially for anyone who has ever been dumb enough to decide to be an actor or has been around anyone who is.
Without throwing shade on any of those other highly worthwhile and obviously better funded productions gracing our local stages currently, Dave Hanson's Waiting for Waiting for Godot is a true diamond in the rough and, without a recognized star, crashing skylight, or CTG-sized budget, it should be recognized as one of the best and most memorable things to play here in El Lay this year.
--Travis Michael Holder
Ⓒ 2019 TicketHoldersLA.com
The SoCal Review
Written by Dave Hanson and directed by Jacob Sidney, Waiting for Waiting for Godot is about two actors, Ester (Bruno Oliver) and Val (Joe Hernandez-Kolski), who are understudies for a production of Waiting for Godot.
Prior to viewing the show, I got a drink with a friend at The Broadwater Plunge next door. The man who checked our IDs told us that the set we were about to witness was based on what the Broadwater backstage used to look like. It did not disappoint - a haphazard dressing room with racks and racks of clothing that could only ever act as costumes, cheap mirrors, a muffled speaker whispering to those occupying backstage what's currently taking place in the spotlight, vintage show posters littering the walls. Anyone who's ever spent a good amount of time in a theatre, I'm sure, feels right at home in the audience of Waiting for Waiting for Godot.
The show began with some clown work. Ester, for the life of him, could not get his suddenly-too-small vest to contain his chest. It set the mood for the evening: silly.
Clowning and Beckett always did go hand in hand.
Val enters with coffee and the two discuss whether The Director will appear tonight to alert the artists to their going on stage. As the evening progresses the two talk about what it means to be an actor - from mastering technique to the all-too-frequent longing for stability to the various reasons for pursuing the craft (fame, artistry, to be remembered...)
The actors in the audience laughed at the inside jokes just for them - the emotional rollercoaster of each Meisner repetition, how they all end in a soft sob. They nodded in affirmation as Ester and Val were tempted by such things as owning a house and starting a family.
Oliver and Hernandez-Kolski were wonderfully cast. Oliver filled Ester with artistic bravado. Hernandez-Kolski gave Val that unmistakeable wide-eyed, new-actor-appreciation for the art that Angelinos see from actors fresh off the plane from their hometowns, ready to storm whatever acting classes and improv workshops they can get their hands on. Julie Marchiano played Laura the assistant stage manager so convincingly, with no-nonsense, I'd be surprised to learn she's never been an ASM before.
At its core, Waiting for Waiting for Godot is a play for actors. It's a fun, interesting evening at the theatre that gets to the heart of what it means to wake up every morning and need to create. Artists will wait as long as they need to - to perform, to share - because they have no other choice.
Ⓒ 2019 The SoCal Review
Stage Raw
What could be more absurd than parodying an absurdist play? Dave Hanson's Waiting for Waiting for Godot pays homage to Samuel Beckett by exploring the underlying themes in his famous tragicomedy about two men perpetually anticipating an event that never comes to pass. Full of stellar physical humor, entertaining wisecracking riffs, and philosophical discussions, the production is a string of wonderful ideas that would have better served the play had the concepts resonated a bit more consistently throughout the course of the evening.
Ester (Bruno Oliver) and Val (Joe Hernandez-Kolski) are the understudies for Estragon and Vladimir in Waiting for Godot. As they stand by backstage for instructions as to whether or not they will go on, they (not unlike the characters they're named after) begin discussing their situation: Is tonight their night? What's wrong with their costumes? Should they even keep acting? Unlike Beckett's work however, these questions are punctuated with strong bouts of physical comedy that sees the two leads performing an impromptu song-and-dance number, amateur acting exercises, and a variety of different schticks that carry on throughout the play.
Physicality is where the play shines. Despite the original Godot having been written in the late '40s, the characters' boulder hats (props designed by Joyce Hutter) suggest an earlier Charlie Chaplin-like look to their appearance, setting the stage for slapstick from the very beginning. Steady overall direction (Jacob Sidney), particularly in fighting (Edgar Landa), ensure that every bit of the scenic design (Aaron Francis) is put to good use, without the purposely crowded-looking space ever dwarfing the performers.
Ester and Val's antics, which include flips, using a hatstand to try to open a sugar packet, and wrestling with a vest both attempt to wear at the same time, are clear tributes to Laurel and Hardy-type silliness. The actors even bear a corporal resemblance to the two comedians, and in part match their personalities to them as well. Hernandez-Kolski is spot-on as the wide-eyed innocent, with solid moments of clarity and wisdom that pepper an otherwise clueless fog of gullibility. Oliver fully embodies the know-it-all doofus whose rationale stirs straight into insanity. Julie Marchiano who plays Laura - an assistant stage manager with whom the duo have a few key interactions - is the ultimate foil. Her presence brings a necessary balance to the show at its zaniest...
Although each of the skits echo Ester and Val's shifting self esteem, some work better than others. Exceptionally powerful are their dialogue and speeches about the acting profession, which have the ability to strike a chord with most of the theater community.
Throughout the viewer is left asking themselves if the understudies' dreams will actually come to fruition. Although anyone familiar with the original Godot can guess the ending, Hanson's work still leaves one wondering what madness may come next, especially as the plot twists and turns toward the very end. A little tightening and fine tuning would make this play absolutely exceptional.
--Lara J. Altunian
Ⓒ 2019 Stage Raw
Front Row Reviewers
Sacred Fools Theater Company's Waiting for Waiting for Godot in LA is a Must Watch for Any Theater Enthusiast
No that's not a typo, Waiting for Waiting for Godot in Los Angeles, California is based off of the 1953 play Waiting for Godot by Samuel Beckett. However, in Waiting for Waiting for Godot, the characters Ester and Val are the understudies of a production of the original, mirroring the same questions posed within the previous work but with a fresh and digestible answer to life's meaning of patience. Written by Dave Hanson and directed by Jacob Sidney, you can tell that these two men understood the meaning of the original but together, they play with and intermingle new themes to elevate the material.
Bruno Oliver plays the character of Ester, that stereotypical, old-fashioned, local community theater actor. However, what you immediately notice about Oliver is the richness of his voice, a beautiful bass tone undercurrent. This voice hints that Oliver is about to take our misconceptions of what a dejected, presumptuous actor is and explore a deeper layer. Oliver roams within Ester to show that true skill is not laughing at the role, but the vulnerability that slowly reveals itself within this character's exploration. Thanks to Oliver's mastery, the lesson comes from the truth of his selfdoubt.
Joe Hernandez-Kolski plays Val. The genius of his performance is the delicate balance of silly yet hopeful. The bright enthusiasm, the showy dance, the ache of growth - all these are shown perfectly. But Hernandez-Kolski continues and builds his character to a rhythmic linking of intertwined essence between him and Oliver that you can almost touch their visible chemistry. By the end of the play, you will no doubt see the importance of Hernandez-Kolski for this commanding performance.
The principle actor for Laura, the assistant stage manager, is Julie Marchiano however, I saw the show with the understudy Marian Gonzalez. Gonzalez's acting feels like the actual assistant stage manager walks on stage. One scene alone, her monologue, is enough to warrant the ticket price. Gonzalez's performance calms and quickly help settle you comfortably in for the next hour.
The team for this production is a list of all-stars. Director Sidney clearly can see the importance of the big picture of the play. Kaitlin D. Chang has an incredible eye for lighting design, apparent with a specific scene that won't be hard to miss thanks to Chang's control of mood. The scenic design by Aaron Francis makes you believe that this is an actual backstage, as if Francis went to a production and stole all their stuff. The realism of Francis's design shows no weakness. Adriana Colón rounds out the team as the sound designer, using music and audio to add another element of immersiveness.
Waiting for Waiting for Godot is an argument that contemporary art has a necessary place alongside more established, respected older works. It's hard to not overstate this production because it felt as close to perfection as theater demands. In today's art-starved world, how theater survives and flourishes should all be based on this production.
--Matthew Rodriguez
Ⓒ 2019 Front Row Reviewers