Waiting for Waiting for Godot
by Dave Hanson
directed by Jacob Sidney
NOVEMBER 8 - DECEMBER 14, 2019
Fridays & Saturdays @ 8pm
Sundays, Nov. 17, Dec. 1 & Dec. 8 @ 5pm
Monday, November 18 @ 8pm
WEST COAST PREMIERE! It is probably not their night. Ester and Val are understudies for a production of Waiting for Godot. They are committed to art, and frustrated by anonymity. They understand their purpose, but not the reasons they stay. They accept their fate, but question each other's motives, all while waiting for "him" to appear...
A "gleefully absurd" (Time Out New York) backstage farce packed with profound insight, existential dread, and shameless punchlines, Waiting for Waiting for Godot is the Beckett companion you didn't know you needed.
Performing on the Broadwater Second Stage (Entrance at 6320 Santa Monica Blvd.)
"...inspired... extraordinary comedic actors... There is genius at work here." -Paul Myrvold's Theatre Notes
"Brilliant... Playwright Dave Hanson's script has captured the essence of the original Godot... Banter and hijinx prevail without a hitch... WFWFGodot is a must see." -On Stage Los Angeles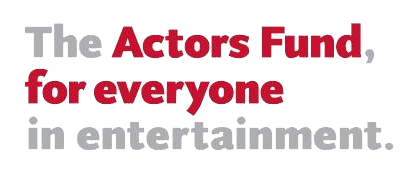 Friday, November 15: DONATE WHAT YOU CAN. It's "Pay What You Can" with a twist! Half of all proceeds for this performance will be donated to The Actors Fund. The Actors Fund fosters stability and resiliency, and provides a safety net for performing arts and entertainment professionals over their lifespan. Purchase tickets now!
Photos
Cast
Bruno Oliver

as Ester
Joe Hernandez-Kolski

as Val
Julie Marchiano as Laura
Understudies
Steve N. Bradford as Ester
Zach Smith as Val
Marian Gonzalez

as Laura
Crew
Produced for Sacred Fools by Travis Snyder-Eaton


Stage Manager - Rachel Manheimer
Associate Producer - Jessie Bias


Assistant Director - Marisa O'Brien


Scenic Designer - Aaron Francis


Prop Designer - Joyce Hutter


Lighting Designer - Kaitlin Chang
Sound Designer - Adriana Colón


Fight Director - Edgar Landa
Physical Comedy Consultant - Stephen Simon
Key Art - FLuX

- Sacred Fools Company Member
Reviews
Paul Myrvold's Theatre Notes
Just thinking about Samuel Beckett's Waiting for Godot makes me smile. I have seen a few productions. I even auditioned for the role of Lucky decades ago at the Oregon Shakespeare Festival. A friend saw the audition and judged it "dynamite." The director wasn't so enthusiastic. Soon thereafter, we packed our bags and headed for New York where I had better luck. But about the play. A look in Wikipedia shows all kinds of interpretations as to the meaning of the show with sages weighing in with all sorts of interpretations - Freudian, Jungian, existential, religious, on and on - smarty pants of all sorts trying to make some kind of sense of it. When asked what it is all about, Beckett has been recorded as saying, "It's all symbiosis... it's symbiosis."
Playwright David Hanson's Waiting for Waiting for Godot is its own inspired tragi-comedy nestled into a backstage dressing room where two understudies wait to be called to the stage to perform their roles of Vladimir and Estragon in Waiting for Godot in the event of an emergency. Hanson's play tilts rather a bit more on the scale towards comedy than tragedy and it soon becomes clear that the two schmucks, Ester (Bruno Oliver) and Val (Joe Hernandez-Kolski) will never get to set foot in front of an audience. The title says it all.
This production is blessed with two extraordinary comedic actors. It doesn't take long to see that, under the inspired direction of Jacob Sidney, the production owes a lot to Laurel and Hardy. Ester is a big man who tries endlessly to fit into a vest that he resolutely maintains is his. The first hilarious ten minutes or so of the play is taken up with his futile efforts to button that vest. Val enters with two cups of coffee and immediately begins comic business with sugar packets. Mr. Hernandez-Kolski is short and slim with a face, I swear, that calls to mind Stan Laurel.
As the play progresses, there is a lot of talk about acting with Ester taking the role of mentor to Val. Energetic physical and verbal comedy abounds that had this audience member chortling, giggling and guffawing throughout. It would take pages to describe the show's inspired physical comedy, but suffice it say that a conflict over Ester's beloved, ill-fitting vest devolves into an intricately fought war of willful physical entanglement that went on and on. And Mr. Oliver's turn as an out of control ape taking on the characters of classic movie heroes would be futile to describe. There is genius at work here.
Throughout the play, indistinct, muffled talking can be heard from far off as Waiting for Godot is performed on the real stage. At intermission, a harried assistant stage manager (Julie Marchiano) enters looking for a vest. It seems that the onstage Estragon has a vest that is two sizes too big for him. Hmmm, I wonder? Ms. Marchiano has a weary, no-nonsense affect that contrasts beautifully with the cloud-cuckoo world of Ester and Val.
Waiting for Waiting for Godot is handsomely mounted with a spot on scenic design by Aaron Francis, lighting by Kaitlin Chang, and a superbly cluttered prop design by Joyce Hutter. Sound design is by Adriana Colón; fight choreography by Edgar Landa; and physical comedy consulting by Stephen Simon. Rachel Manheimer manages the stage with palpable expertise.
--Paul Myrvold
Ⓒ 2019 Paul Myrvold's Theatre Notes
On Stage Los Angeles
Tonight I had the great good fortune to see old friends, Jenny O'Hara and her husband, Nick Ullett. Jenny is the first recipient of the coveted though never before awarded Sheehan Prize for her outstanding work as an actor in the recent Fountain Theatre production of "Daniel's Husband" as well as creating the role of the loopy lady in Stephen Sachs' "Bakersfield Mist." Seeing the Ulletts was just a bonus to seeing this terrific show at the Broadwater. Jenny is up for some Ovation Awards, so I decided to just scoop them and laud her first! Congratulations, Jenny O'Hara!
Having reviewed Bill Irwin's "On Beckett" at the Kirk Douglas recently and being a fan of Waiting for Godot, I arrived ready to be entertained. Just the premise made me smile. Understudies on hand, in costume (more or less) andwaiting for their opportunity to shine.
Playwright, Dave Hanson's script, has captured the essence of the original Godot. (Irwin pronounces it "God O"). The understudies Bruno Oliver as Ester and Joe Hernandez-Kolski as Val present pretty much as Laurel and Hardy and then chew the scenery in various ways, moving their essence of Godot along with similar angst. These actors await The Director to show up to tell them it's their turn to go on. Val's Aunt Mary has come to every performance to support him and Val so wants to make her proud. The actors wait. They don't go on. They should go. They stay.
Banter and hijinx prevail without a hitch including some Buster Keaton moves with a way too small vest that vexs Ester throughout the show.
We are taken to school by the intrusion of ASM (assistant stage manager) Laura (deliberately low key Julie Marcino) who basically declares that actors are simply "deaf puppets" who become tools to the wonderfulness of what she does: calling the show! To demonstrate how easy 'acting' is, Laura reads light cues to bring home the fact that backstage is equally important to those on the stage who strut and bellow.
To demonstrate how an "actor prepares", Ester first becomes a gorilla: declaring that Brando may have prepared in a similar way, emerging as Kowalski. then On the Waterfront, romping through the gamut of not only many of Brando's roles, but famous lines from every movie you have ever seen in your life and then some. Brilliant.
I have a special place in my heart for store front theatre. The mostly grubby 'Theatre Row" area on Santa Monica west of Vine hosts speeding drivers laying rubber; honking impatiently from time to time. But!... inside: the temple: the exposed brick wall. The set by Aaron Francis, I was told, is the actual dressing room from the original Heliotrope Theatre that Sacred Fools used when founding the company. Director Jacob Sidney has this essentially two hander well under control as it bustles a pace. This tight full length one act will charm fans of Samuel Beckett with familiar references and might introduce Godot to folks who may not have heard the good news.
WFWFGodot is a must see. Parking is tough. The corner of Lillian and Santa Monica may have a number of productions going on at the same time, so plan to go early. The fancy bar on the corner looks terrific.
--Sheehan
Ⓒ 2019 On Stage Los Angeles