Timon of Athens is one of Shakespeare's most obscure and least performed plays. It is the story of an incredibly wealthy, powerful and generous man who lives way beyond his means.
When the bills come due and he discovers that he is broke, and turns to his so-called friends to learn life's harsh lesson.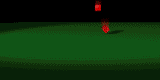 Sacred Fools while remaining true to the text of the play has set Timon in a world that thrives on insincerity and schmoozing: Hollywood & Las Vegas of the 90's. Amongst Timon's friends are screenwriters, casting directors, crooked cops, strippers and burnt out movie stars.
This is a very modern telling of a story that we all can relate to.
What does it mean to be a friend in need?
Check it out!


Cast
Michael Louden - Timon
Jill Bennett - Apemantus
Jon Hamm - Flavius
J. Haran - Alcibiades
Lisette Bross - The Painter, Varros Servant, Timons Therapist
Marc Ian Sklar - The Poet, Lucullus
Joel Christian - The Merchant, Sempronius, The Bouncer
Danielle Surrette - Flaminius, Reporter
Scott McShane - Servilius, Reporter
Bruno Oliver - The Senator, Lucullus's Servant, Hautboy
Desi Doyen - The Jeweler, Isadore, Reporter
Abby Wolf - Caphis, Reporter
Robert D'Entremont - Ventidius, Hostilius, Reporter
Piper Henry - Lucilius, Timandra
Laura Ford - Cupid, Phrynia, First Stranger
and
Jennifer Wu as Jennifer

Production
Scott Rabinowitz - Director, Co-Set Design, Co-Sound Design
Bil Garrity - Co-Producer
Mark TJ Lifrieri - Co-Producer
Danielle Surrette - Creative Consultant
Aaron Francis - Production Stage Manager,
Lighting Design. Co-Set Design
Brenda Price - Assistant Stage Manager, Sound
Tom Roddy - Props
Jee OK - Costume Design
Jenisen Svendson - Assistant Costume Design
Etana Jacobson - Light Board Operator
Philip Sokoloff - Publicity
Casting by - D. Durrette Casting