Finding Your Voice
Sacred Fools' Season 23 Launch Party
plus "Deadly" opening night! FRIDAY, SEPTEMBER 13, 2019
7pm-2am Tickets:
$10 (Party only)
$15 (Party plus "Deadly" - performance begins at 8pm)
Buy Tickets Now!
At the Broadwater Complex, Lillian Way & Santa Monica (Directions)
Step into the light and join in a chorus of celebration at our SACRED FOOLS SEASON 23 LAUNCH PARTY!
Gather with your favorite Fools on the opening night of our original musical DEADLY for our annual season kick-off and fundraising extravaganza.
From 7pm-2am, The Broadwater and The Plunge will be closed to the public for this private event, and guests will be treated to complimentary snacks and sweets. There will be carnival-style fare (including fresh hot popcorn), plus a celebratory cake in celebration of "Deadly" following their opening-night performance. Music and mystery will fill the Black Box while The Plunge will feature your favorite cocktails for purchase.
Choose one of two paths: DEADLY ticket holders will see the show at 8pm while party-goers continue to enjoy mingling and entertainment in our Black Box. DEADLY attendees are welcome to partake in the above before and after the show.
When the show concludes, all guests will have the opportunity for a brief meet-and-greet with the DEADLY cast and crew, including actor extraordinaire FRENCH STEWART, celebrated writer VANESSA CLAIRE STEWART, and award-winning director JAIME ROBLEDO.
Then, stay for the exciting featurette: The FINDING YOUR VOICE Vocal Competition! After inviting Fools and Foolish Friends to pre-enter their singing submissions, we'll take to the stage to present the seven most entertaining vocalists in a spirited competition where YOU, the audience, will be a deciding vote! And you may even have the chance to perform, yourself... and win a CASH PRIZE! Details below!
More merriment to enjoy after the featurette until 2am.
Two options to attend:
1. Your $15 ticket to DEADLY will provide free admission to the event (please check in to the Main Stage for your ticket and wristband).
2. Attending only the party will cost $10 (please check in to the Black Box for your wristband).
This event will have several opportunities to help us raise money for a much-needed new sound system in the Main Stage. Gifts in any amount - large or small - are appreciated.
Three Cheers for Season 23!
PARTY AGENDA
7pm: Door open for drinks, snacks, and fun entertainment (Tarot! Wheel of Destiny! Raffle! and More!)
8pm: Deadly begins (for Deadly ticket holders)
8:30pm: Mini Sing-a-long: The Classics!
9:30pm: Mini Sing-a-long: Season 23!
10:30pm: Mini Sing-a-long: Relive our Birthday Year - 1997!
11:30pm: FINDING YOUR VOICE COMPETITION in the Main Stage! (See below for details)
1:00am: Open Karaoke after the Competition
2:00am: Party Concludes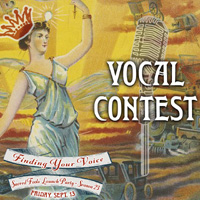 THE "FINDING YOUR VOICE" VOCAL CONTEST!
Seven contestants will sing to win for our panel of Foolish judges in a contest hosted by Amanda Blake Davis.
PLUS - We'll select THREE instant challengers to take the stage to challenge our original seven! If you'd like to be selected, enter your name and selected song at the event, before the competition begins! (Karaoke book will be available to make your selection from.) Deadline to enter is 11:30pm, so get there early!
The winner will be selected by our panel PLUS vital bonus points from our audience! As this is a fundraiser, every $10 donated to Sacred Fools in the name of one of the contestants equals one bonus point for that contestant. Help us raise money while supporting your favorite singer at the show, all while having fun! (All donations are tax-deductible.)
RAFFLE PRIZES INCLUDE:
Photos
Crew
Producers - DeAnne Millais

& Dana DeRuyck


Director & Co-Producer, "Finding Your Voice" Competition - Lauren Van Kurin


Associate Producers - The Sacred Fools Event Committee
Sing-a-Long Piano Man - Richard Levinson
Sing-a-Long Song Leaders - Jennifer Christine DeRosa

, Glenda Suggs

& Lana Rae Jarvis


Tarot Readers - Jennifer Kenyon & Rowan Hall
Competition Host - Amanda Blake Davis
Competition Judges - Aviva Pressman

, Carrie Keranen

& Peter Fluet
DJ - Mark Henkin
Graphic Design - Madeline Walker

- Sacred Fools Company Member