Past Guests
Every THE LEAGUE OF FOOLS WITH HEYDAY & MAX comedy show features a pair of comedy guests. Here are the folks who did their silly things in between our silly things.
Thurs, Nov. 29 @ 9pm: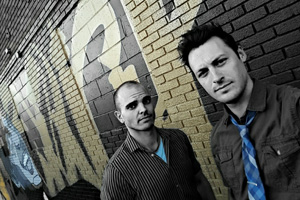 redDoor is a multi award winning comedy improv/writing duo from Los Angeles, California, that performs high octane shows throughout North America. Justin Michael Terry and Ryan Marsico have formed a unique bond that allows for mind blowing physical awareness and a level of trust which leads to completely unexpected and delightful performances. redDoor will take you into their wheelhouse of accents, big characters and crisp space work to show you that anything is possible behind the redDoor. Hitting the stage with high energy, power listening and seamless editing, redDoor is a great example of fast and furious team work.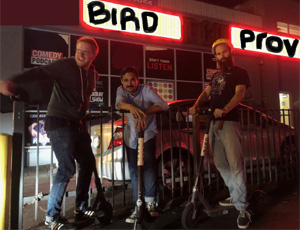 Bird-Prov - Los Angeles's newest Independent Improvisational Long-Format Comedy Troupe (Benjamin Crutcher, Blake Rosier, and Claudio Saavedra)! What makes our Troupe different is we perform Live, Improvisational, Long-Format Comedy all while riding on Bird Scooters. Please come out and support Live Improvisational Long Format Comedy.
Thurs, Nov. 15 @ 9pm: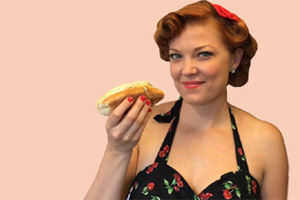 Sexie Veggies, starring Erin Holt, is a vegan comedic web cooking show where pin-up meets vegetables. A retro pin-up model provides foodporn recipes that are real tasty plus some flirt & fun!
The Joe & Joshua Show - Joe Hernandez-Kolski (Emmy Award-winning two-time HBO Def Poet) and Joshua Silverstein ("The Late Late Show with James Corden" and co-host/beatboxer for TBS' hit TV show "Drop The Mic") are a theatrical duo who combine comedy, hip-hop and spoken word poetry to create something fresh. Their material delves deep into issues of masculinity, relationships and what it means to come from a mixed background. "Raucous, raunchy, radical, relevant! Finally out of the box comedy and much more for the new century!" - Ric Salinas, Culture Clash | "Joe & Joshua are hilarious and outrageous, driven by provocative writing and strong performances. An amazing team!" - Stan Lathan, Co-Creator of Def Comedy Jam & Def Poetry
Hosted this performance by Lauren Van Kurin & Molly Erdman
Sun, Oct. 18, 2018:
Cherry Poppins! CherryPoppinsProductions creates contemporary, interactive theatre experiences for Los Angeles audiences. In addition to producing musical theatre burlesque shows all over Los Angeles county, Cherry Poppins has also expanded to produce many musicals and plays. CP's mission as a company is to entertain and tell stories in a fun, relaxed atmosphere in which the audience is not just a witness but a willing and active participant. Cherry Poppins is rejuvenating the live performance/theatre scene in Los Angeles....come to a Cherry produced show with your tie undone and your drink in your hand. @cherrypoppinsla
SCREAMlesque visits your favorite 90's horror flick in a new fashion, Skeet is a woman, Neve is a blonde, first time sex is musical, popcorn is on pointe shoes, Ghostface is a fetish, and the principal is an amazing dancer. While some of your favorite relationships and lines are there, this is a whole new look at what Wes Craven might've considered had burlesque and lgbtq ideals been available for the film! Fridays in November at Three Clubs, across the street from the Broadwater on Vine, just north of Santa Monica!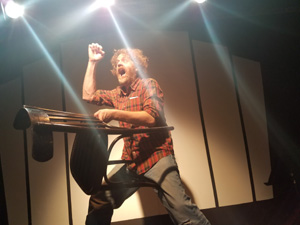 Ed Goodman didn't provide us with a bio, so we wrote one for him:
Ed Goodman is that strange, ranting guy down the road who, when you ask about him, your parents share a brief, frightened glance that they think you didn't catch - but you did - and then tell you that he's just crazy, pay him no mind. But you can't put him out of your head and so you DO listen to him, and he even almost starts to make a kind of sense. But listening to him is dangerous. 'Cause you can't unhear the things he says. And what happens if they're true? You can look for him on social media, but he probably won't be home. But you shouldn't follow him. You should follow yourself. You should follow your heart. You should follow the truth.
(In reality, Ed did not appear, but Brendan Hunt and Peter Fluet did an excerpt from Ed's The Poe Show.)
Thurs, Oct. 11, 2018:
Avalon Penrose does music and comedy, but most of all she is a storyteller. No subject is too personal for her to sing about, and by the end of each song you are going to know more about Avalon than you probably ever needed to know. You will laugh, you will cry, and you may feel slightly uncomfortable, but don't worry, it's all part of the Avalon Penrose experience.
Ari Radousky and his Five Minute Quiz: Ari is an actor, writer, and producer, best known for the Five Minute Quiz. He is a member of Sacred Fools, and the co-host of Tell Me A Story - A Competitive History Podcast.