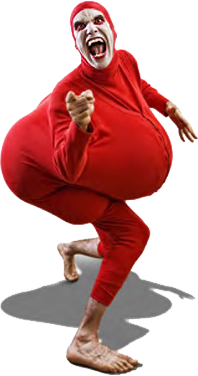 Sacred Fools Spotlight:
Red Bastard
Mondays at 8pm
April 15, 22 & 29 & May 13, 2013
starring Eric Davis of Cirque du Soleil's IRIS
written by Eric Davis, Deanna Fleysher and Sue Morrison
created under the direction of Sue Morrison
with continued direction by Deanna Fleysher
A DANGEROUS, SEDUCTIVE COMEDY MONSTER.
His Mission: Charm, Disarm, Shock and Seduce.
His Target: You.
Hold on to your seats. America's premiere bouffon is about to rip you a new one. Red Bastard is not a clown. He is not here to please you. He has come to make you surrender - to play the audience like the devil does a fiddle.
After 5-star reviews and sold out shows across North America, Europe and Australia, America's premier bouffon comes to Sacred Fools. Experience this exquisite monstrosity as he delicately leads you through a no-holds-barred theatrical master class demanding to know nothing less than the existential query, "Who the hell do you think you are?" Lines will be crossed and laughs will be had in this interactive feast of biting wit, mischievous improvisation, and physical prowess. Anything can happen as Red Bastard lures the audience into raw conversation, provocations, traps, rewards, and catch 22's - encouraging risk and personal discovery.
RED BASTARD has performed to sold-out audiences at Just for Laughs, the Spiegeltent, Dublin Fringe Festival, PS 122, HERE, Joe's Pub, the Orion Teatern (Stockholm), Cankarjev Dom (Slovenia), and the American Repertory Theater, among others.
BEST IN THEATRE - Hollywood Fringe
MOST OUTRAGEOUS SHOW - Hollywood Fringe
Red Bastard Hits the Streets
Reviews
"Bizarrely hilarious, Red Bastard has to be seen to be believed. He cruelly assumes we love him and want to be like him, which, by the end of his set, turns out to be true." -Time Out NY
"Painfully funny, shocking and disarming. I haven't laughed that much in a long time and I don't think I've ever had that much fun as part of an audience!" -British Theatre Guide
"5 Stars. One Funny Son of a Bitch!" -Irish Theatre Magazine
"Amazing... fearless... simultaneously charming and repulsive with peals of laughter - a Red Bastard indeed." -Toronto Star
"Red Bastard earned outrageous laughs with a mix of physical comedy, jokes and audience interaction" -Hollywood Reporter
Review of the Sacred Fools Production
Mad Theatrics
There's a nagging little imp inside our minds that is telling us we could do more, accomplish more, be more. We try to shut him up with pills or alcohol or simply being "too busy," but he's there, waiting for an opportunity to rub our pathetic little failures in our face and say, "SEE? YOU WOULDN'T BE STUCK IN A DEAD-END LIFE IF YOU HAD JUST LISTENED TO ME IN THE FIRST PLACE!"
There's a reason why we keep him shut up in a mental broom closet, why we strive to keep his voice out of our heads. It's uncomfortable to be laughed at -- it's worse when it's us doing the laughing.
Red Bastard is that imp. His wild gymnastics and existential challenges are uncomfortable, but sorely needed.
This isn't entertainment; it's an experience. Eric Davis is entertaining -- please don't misunderstand. He is entrancing and vivacious as the eponymous bulbous buffoon. What I mean to say is this is not some mere show that you just go to see.
Brecht said, "Art is not a mirror to hold up to society, but a hammer with which to shape it." Red Bastard is the mirror and the hammer, and he empowers his audience to join him. He can't force his audience out of their comfort zone; they have to be willing to go on the journey with him. You do not have to be willing to trust him, per se, at least no more than you would trust yourself, but willing to play along. Willing to dance with the devil, as it were.
Does he succeed? It depends upon the audience, I suppose. He certainly gave me pause, and I've been rolling around the Red Bastard experience in my mind since last night's performance. Davis makes a valiant effort at being an agent provocateur and change agent, yet in spite of his monstrous posturing and the maniacal control he exercises over the audience, there is a very human vulnerability just under the surface of the monster. This spark of vulnerability lends a certain ineffable charm to Red Bastard, and provides a sense of safety no matter how risky the dance becomes. His performance hinges an audience willing to play, and it is a courageous risk on his own part.
Go be a part of Red Bastard; be willing to play. Take the clown at face value and he will return the favor.
--Andrew Moore
© 2013 Mad Theatrics