Deadlift
a storytelling play by Aviva Pressman
directed by Zandi Carlson
Friday, May 28, 2021 @ 5pm PT on YouTube Live
Remains online through Mon, May 31 @ 5pm PT
Admission: Donate-What-You-Can | Donate Online
Inviting people to the theater still seems to be attempted murder, and Aviva Pressman has already seen too many dead bodies!
Aviva is an award-winning actor, visual artist, singer, and clown, and instead she invites you to a multi-media performance set and filmed inside her childhood home. DEADLIFT is a brand new show exploring what it is to be weird and Jewish, dealing with grief, and dressing up your father's ashes for Halloween. Classic, no?
Told through storytelling, live visual art creation and song, DEADLIFT will make you feel guilty about how much you're laughing.
Streaming online on YouTube Live! Join us on Friday, May 28 @ 5pm PT for live chat - featuring writer/performer Aviva Pressman and director Zandi Carlson - or watch the replay anytime through Monday, May 31 @ 5pm PT!
About the Storyteller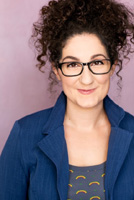 Aviva Pressman is an actor, singer, clown, calligrapher, and medical educator based in Los Angeles. Favorite credits include the National Tour and Madison Square Garden productions of Rudolph the Musical, Amos & Boris at South Coast Repertory, 33 1/3 : House of Dreams (Craig Noel Nomination) at San Diego Repertory, and Pirates of Penzance at Sacramento Theatre Company. She has an L.A. Drama Critic's Circle Award for her live art design and direction of Astro Boy and the God of Comics and an L.A. Weekly Award for Best Ensemble for Absolutely Filthy, both at Sacred Fools Theater.
In addition to theater, Aviva toured internationally with Amazon Prime as a singer and improviser for the show Good Omens, a project which received multiple awards for innovative marketing. Her voice can be heard in animes and Netflix dubs, in commercials, on television and radio, and even in a toy you might have around the house. Next up Aviva will be appearing in Schoolhouse Rock Live and The MeshugaNutcracker at San Jose Playhouse, should the Covid gods permit such things.
About the Director
Zandi Carlson is an acting coach, director, and performer from Seattle, WA. Favorite directing credits include A New Brain with STAGEright, The Long Road with Arouet, and of course DEADLIFT with Aviva Pressman! As a performer, she has worked at theatres including Island Shakespeare Festival, Seattle Shakespeare Company, Sound Theatre Company, and most recently playing Iago in a virtual production of Othello with the Women's Theatre Festival. She previously served as the Director of Education for Bainbridge Performing Arts, and the Education Coordinator for Seattle Shakespeare Company, and has taught and directed youth at many Puget Sound area theatres. Zandi is a mom of two kids, ages 5 and 1.5 years old, and is passionate about supporting parent artists. Website: zandicarlson.com and Instagram: @Zandi_Carlson.

- Sacred Fools Company Member