LA WEEKLY Pick of the Week!
William Inge's Picnic inspired Tina Kronis and Richard Alger's dance-theater spectacle (directed by Kronis). But don't look for the play here. Yes, there are words — plenty of them, from many midcentury writings, including the 1954 McCarthy Senate subcommittee hearings — but they've been pretty much shredded into non sequiturs and ironies, accompanied by, say, a mambo and the actors' campy choreography that's deliberately robotic. The effect is not so much an expression of the arguments that the original writings strove for, but a more generalized and abstracted evocation of an era marked by political paranoia, suburban suffocation and a fledgling women's movement. The effect is also hypnotically beautiful. (The opening scene has the company floating, or marching, or ambling, at different speeds and at different depths, in a singular direction across the stage's expansive width.) The work represents the latest horizon of performance art, inspired by director Anne Bogart. The result is a taut precision of movement with a keen sensitivity to stage pictures and triple-decker irony. For Kronis and Alger, the work also shows an evolution from their Dumbshow of last year (based on Russian writings, and similarly filled with whimsical vistas of fear and loathing). The pristine cast includes Aldrich Allen, Aaron Francis, Corey Klemow, David LM McIntyre, Peter Mattsson, John Wuchte, Melina Bielefelt, Crystal Keith, Kelley Leathers, Julie A. Lockhart, Michelle Philippe and Pogo Saito.
-- Steven Leigh Morris
©2002 LA WEEKLY
LA TIMES
In "Cirque Picnique" at the Sacred Fools Theater, Tina Kronis and Richard Alger once again display the wit, whimsy and rigor that distinguished "Dumbshow," their most recent previous production with the Fools.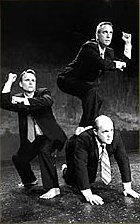 It's no coincidence that the creative duo's production company is named Theatre Movement Bazaar. The typical Kronis and Alger production is a marketplace of movement--riotous, exotic and packed with an eclectic display of goods. A hybrid of dance, theater and performance art, "Cirque Picnique" was inspired by William Inge's "Picnic," as well as other "Cold War texts" ranging from McCarthy hearing transcripts to Betty Crocker commercials.

The dialogue is nonlinear and cryptic, fraught with period paranoia. A blank-faced woman pronounces, "My deepest fulfillment is food preparation and housekeeping." Two men in suits react with alarm to the sound of a ringing telephone. Three men, perhaps government functionaries, obliquely discuss the prerogatives of power.

If that sounds dry, it isn't. Kronis directs with firm hand and tongue in cheek, lacing her austere staging with moments of telling humor.

Obvious lampoons of the era's gender stereotypes abound. To the sound of snappy music, a man removes his perfectly starched white shirt, only to reveal another white shirt underneath, and another and another, in cartoonish succession. Prostrate women are picked up by men and placed carefully on their feet, only to flop lifelessly to the ground as soon as the men leave their sides.

The production design by Kronis and Alger is first-rate, particularly the sound, a perky blend of cha-cha and dissonance that is an effective counterpoint to the atmosphere of underlying dread.

A crack ensemble brings Kronis and Alger's creative vision to full life.

From the opening scene, in which the performers simply walk across the stage at different gaits, to the more intricately choreographed sequences, the actors display such precision and purpose, even their eye movements seem syncopated.
-- F. Kathleen Foley
©2002 LA TIMES